Just when you think that you've seen all of Dubai, an exciting destination comes to blow your mind with fantastic adventure rides. MotionGate Dubai is a one-of-a-kind theme park dedicated to Hollywood blockbusters like Shrek, Now You See Me, The Smurfs, and many more.
 A whole new world of gigantic rides, roller coasters, and interactive play zones was opened for visitors in 2016 and is a part of Dubai Parks and resorts. With its proximity to Bollywood Park and Legoland, the Holly wood MotionGate Theme park Dubai is a must-visit for an incredible experience.
Attractions inside the motiongate Dubai theme park:
MotionGate Dubai offers you more than you can ever imagine from a theme park. The park is divided into four major zones: Columbia Pictures, Smurfs Village, Dreamworks, and Lionsgate. From electrifying roller coasters, water rides, and live shows to fancy retail outlets, these zones have many establishments that will make you go crazy. Let's see what each of these zones has for you :
1. Columbia Pictures:
This zone includes activities based on the supernatural world and zombies. From water rides and coasters to a 4D visual experience, it has all the essential elements to entertain you and your family! Hotel Transylvania, Underworld 4D, The Green Hornet, Zombie Blast-off, and Ghostbusters are popular attractions that will surprise you with heart-pounding actions.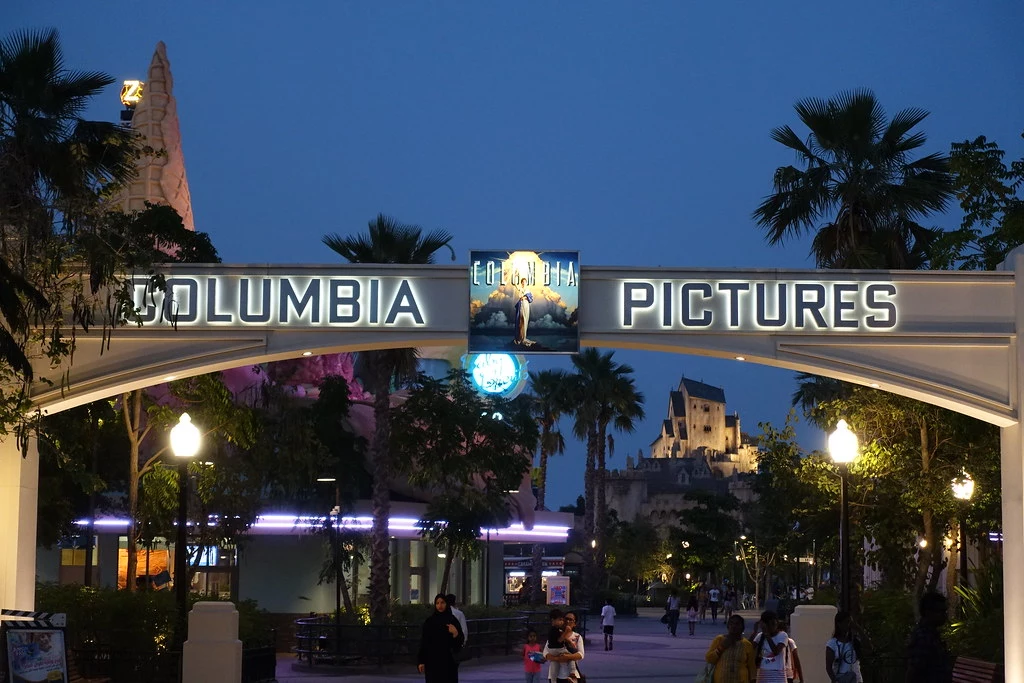 2. Smurfs Village:
Unlike the scary rides of Columbia pictures, the Smurfy Zone is all about the adventures of the friendly Smurf family waiting at the corner of the zone to greet you with love. Explore the fairytale world of the Smurfs, featuring mushroom-top houses and mesmerizing village views on roller coaster rides. Smurfs Village Express, Smurf Studio Tours, and SmurfBerry Factory are worth trying for a magical experience.
3. Lionsgate:
LionGate rides are based on the successful Step-Up franchise. The thrilling adventures of LionsGate zone are named Now you see me, The Capitol Bullet Train, John Wick, and Panem Aerial Tour. The roller-coaster rides in this zone offer extreme fun, and the unexpected twists and turns make it even more exhilarating!
4. Dreamworks :
Based on popular blockbusters like Kung fu Panda, Madagascar, and Shrek, this zone will allow you to soar through the skies. It is all indoor, with awe-inspiring family rides, roller coasters, carousels, and exciting play zones. Dragon Gliders, Melman-Go- round, Penguin air, Shrek's Mary Fairy tale journey, and Madagascar Mad pursuit are enough to fascinate you. The meet and greet sessions with your favorite characters, Shrek and Po, are always overwhelming, and your kids will love you for this.
What's more:
1. Birthday Celebration:
In addition, you can organize your child's birthday celebration inside the theme park. Besides unlimited access to all the rides, you will get an opportunity to pick from four themed restaurants for a private birthday celebration, including the cake-cutting event. 
What makes it more interesting is a chance to meet your favourite Hollywood characters in the Meet and Greet sessions and exclusive add-ons to make your birthday celebration a memorable event. All you have to do is fill out an online form on the official website and book a birthday party at the MotionGate theme park.
2. School Trips:
MotionGate Dubai takes pride in offering educational programs to students with real-life examples. The education programs facilitate children with a behind-the-scenes tour and impart knowledge to students with practical applications of Maths and Science in designing a theme park. Learning inside a theme park is all fun. For more information on how to book a school trip visit the official website of MotionGate Dubai.
3. Shopping and dining:
Besides stimulating rides and roller coasters, the park has several retail shops where you can buy merchandise, souvenirs, and gift items. So, don't forget to pick a souvenir or a gift from these stores on your way out.
In addition to this, you can enjoy delicious cuisines in some of the theme-based restaurants and cafes. The eateries have several options, including American, Italian, Chinese, and Middle Eastern cooking. To name a few are Slimer's Diner, Very Smurfy Cafe, Dragon flame Grill, and Mr. Ping's Noodle Shop.
The park also features a Hollywood Theater with a seating capacity of 1000 people. It features Jukebox Evolution to entertain you with live dance performances on popular tracks from the 1950s to the latest hits.
Motiongate Dubai Theme Park Map:
It is pretty simple to navigate through the MotionGate Theme Park, Dubai. The different zones inside the park have various attractions to give you a hassle-free experience of Hollywood adventures.
MotionGate Theme Park Dubai Location:
The Motionpark Dubai is located inside Dubai's famous tourist attraction Dubai Parks and Resorts, on Sheikh Zayed Road.
MotionGate Theme Park Dubai Tickets:
Select from the ticket options mentioned below and enjoy the series of adventures in this theme park.
Terrific Tuesday Pass: UAE residents can enjoy the MotionGate attraction on Tuesday at a lower price. Terrific Tuesday pass costs AED 198 per person. However, visitors must comply with the terms and conditions before they enter the park.

Standard Day Ticket: MotionGate Entry ticket for a single day costs AED 330 per person.

Summer Pass: Enjoy unlimited access to rides and attractions throughout the season on a single ticket only at AED 330.

Silver Annual Pass: With free access to the theme park attractions for 300 days, the silver annual pass offers Discounts on meals, shopping, and many other services. The silver annual pass costs AED 495 per person.

Gold Annual Pass: Do you wish to enjoy the theme park rides throughout the year? Then get the Gold annual pass at AED 595, free access to all the rides, free popcorn, and discounts on meals, valet parking, and merchandise at the park.

Platinum Annual Pass: The platinum pass gives you unlimited access to park rides throughout the year at AED 795, free meals, complimentary valet parking, and great discounts on merchandise.
MotionGate Theme Park Dubai Timings: 
The park timings may vary on some days, so check the timings before planning your visit to the park.
Sunday To Thursday: 12:00 pm To 9:00 pm
Friday and Saturday: 12:00pm To 10:00pm
Best Time To visit the MotionGate Theme Park Dubai :
Regardless of winter, rain or summer, the park can be visited at any time of the year because it has 22 indoor rides that offer unlimited fun for the entire family.
Tips before you visit the MotionGate theme park Dubai:
You will get good discounts if you buy tickets online. Also, it will save you time as you will not need to stand in long queues.

Try to arrive early so you can spend more time in the park and enjoy more rides and attractions.

As the park is divided into different zones, navigating through the park is relatively easy. Each zone has several attractions to entertain you. Although you might find some rides under maintenance, they'll open soon when the job finishes.

If you're planning to visit this park with children, ensure that you follow the safety instructions and accompany your children when needed.
MotionGate Dubai offers a complete entertainment package for people of all ages. If you love speed, action, and drama, then the Hollywood-inspired MotionGate theme park is a must. So, don't wait anymore and book your tickets for the MotionGate Theme park today!