Dubai has entertained tourists with many gigantic adventure theme parks in recent years. The latest addition to this list is the Motiongate Dubai, a new world of adventure rides based on renowned Hollywood franchises. It was opened in 2016, and since then, it has become a popular tourist destination. A must-visit for thrill-seekers and Movie-buffs, the theme park offers memorable experiences with exhilarating rides, fascinating studio tours, and mesmerizing live shows.
Why should you visit the MotionGate Theme Park:
With its proximity to Bollywood Park, Legoland, and Legoland water park, the Motion gate indirectly becomes an integral part of Dubai Parks and resort. The park has been a hit among the residents and tourists and is rightly named "Hollywood in the desert" for bringing Hollywood to Dubai. Unlike many other theme parks in Dubai, this Motiongate is built in an open space. Hence, it can be best enjoyed in winters.
Motiongate Dubai Attractions:
The park is divided into four different zones, each based on the famous Hollywood studios. Lions Gate, Columbia Pictures, DreamWorks animations, and Smurfs Village.
1. Columbia Pictures:
Inspired by the Columbia Pictures films, this zone has thrilling rides, including Ghostbusters, The Green Hornet, Underworld 4D, Hotel Transylvania, and Zombieland Blastoff. The rides in this zone are based on the Zombie and supernatural world and include roller coasters, water rides with the family, and a meet and greet event.
The Green Hornet: Enjoy an electrifying rollercoaster ride inspired by the "Green Hornet" movie. It is a genuinely action-packed adventure that will take you through a hazardous scrapyard full of stimulating leaps.
Hotel Transylvania: Watch the world's deadliest monsters, Dracula and Family, hiding inside a giant castle to scare you as you ride on coffin-like carriages.
2. Smurfs Village: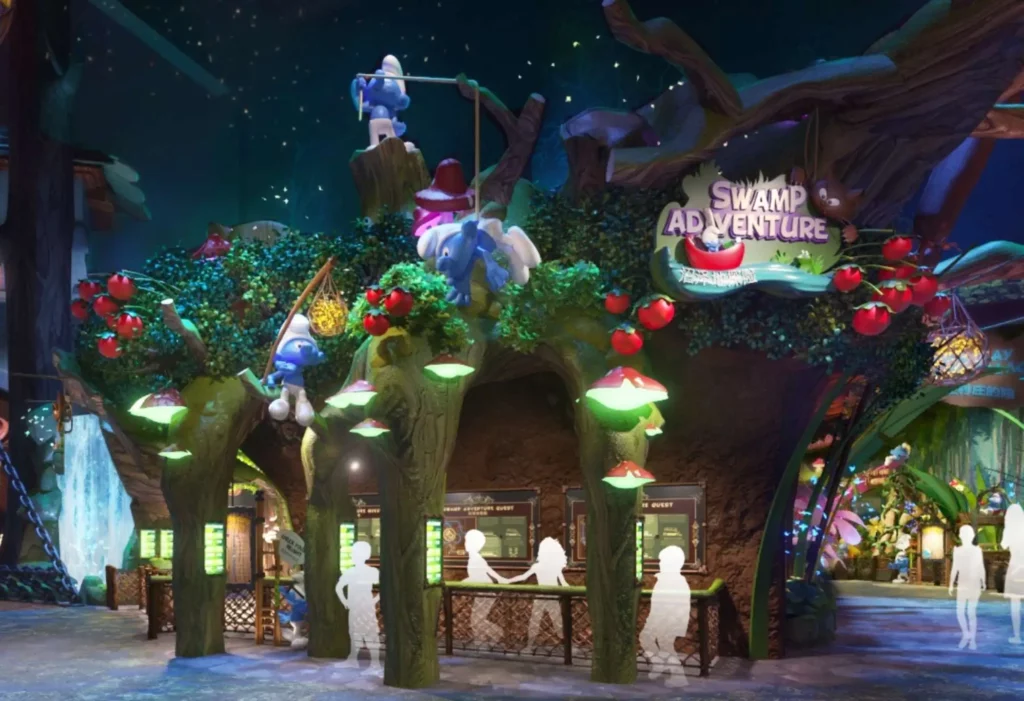 For all those who love the famous animation movie Smurfs, you can now enjoy rides and attractions dedicated to the lovely fictional characters. The friendly blue Smurfs will welcome you into a fairytale world with mushroom-style houses and a play zone with exciting family rides. Some of the attractions in this zone are:
Smurf Village Express: Get your little ones ready for their first-ever roller coaster ride. A breathtaking adventure ride will take you through a lovely village covered with beautiful farmyards. But, be cautious; the Howlibird is ready to disturb your experience by throwing stones at the town.
Smurf studio Tours: Hop on the fun ride to explore the spectacular Smurf Studios. A ride will surely mesmerize you with an outstanding experience. But watch out for the Gargamel, who is ready to interrupt you in -between.
3. Lions Gate: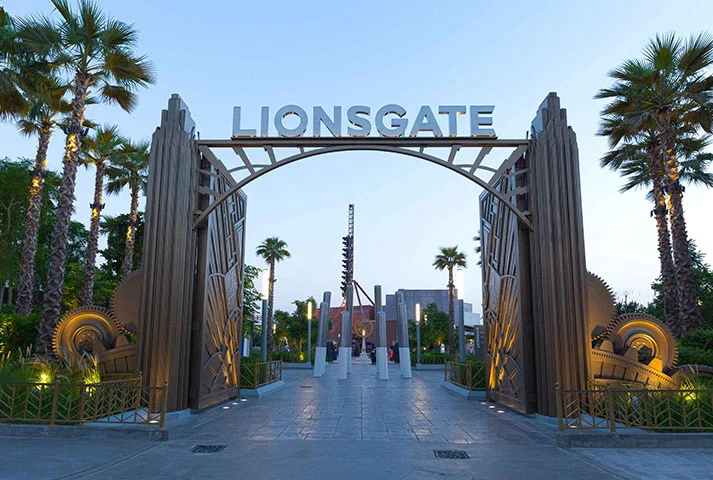 Die-hard John Wick fans will have fun in this zone. Thrill-seekers will love the action-fuelled attractions such as
Now you see me-High Roller: Named after a renowned Hollywood Franchise, this roller coaster runs at a top speed of 70km/h. This spinning coaster is the world's speediest single-car spinning coaster.
Capitol Bullet Train: Those taller than 130cm can enjoy this adrenaline-filled roller coaster ride that launches you to the Capitol. Adults must accompany children to enjoy this ride.
4. Dreamworks: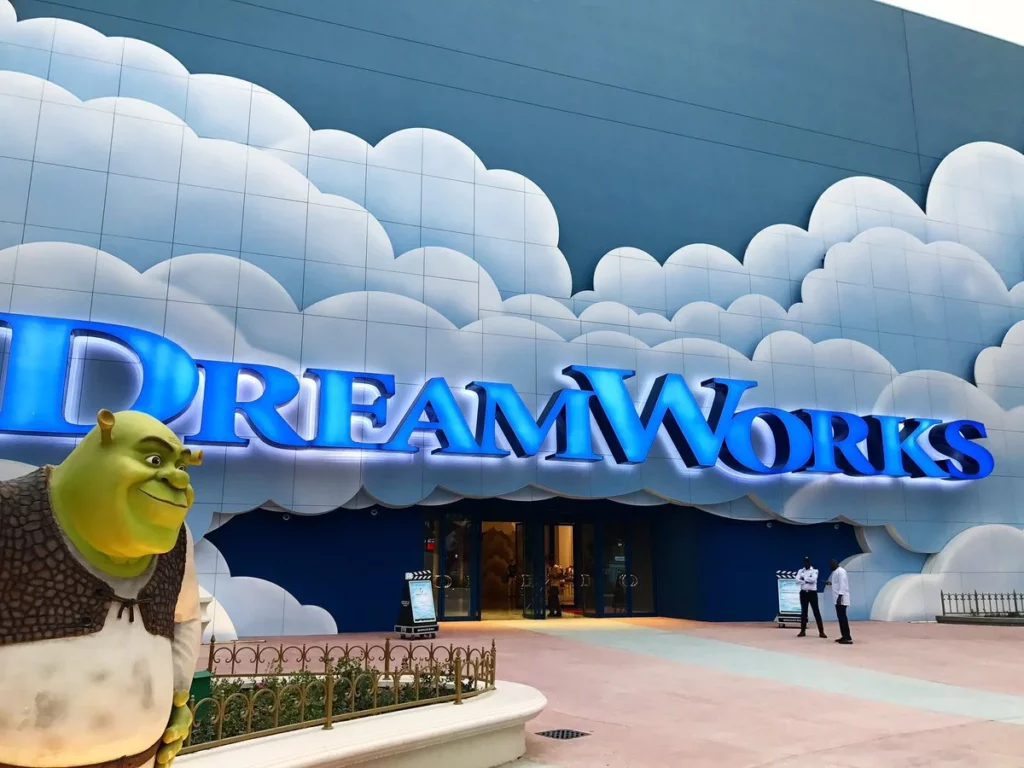 Get a thrilling experience in an indoor arena and explore four unique lands based on classic Hollywood films like Kung Fu Panda, Madagascar, and Shrek. This array has an array of exhilarating roller coaster rides, carousel, interactive play zones, and fun family rides. To name a few are Melman-Go-around, Madagascar Mad Pursuit, Dragon Gliders, and Swamp Celebration.
Shrek's Merry Fairy Tale journey: As its name suggests, this attraction takes you to an imaginary world, where Shrek and Fiona tell their little ones about their surprise meeting in a puppet show. The show gets even more interesting as it comes to an end. So, don't miss it!
Dragon Gliders: Experience the incredible joy of flying high over the skies in a suspended roller coaster. Hold on tight as this ride will take you through caves, and you'll see the beautiful village of berk from the top.
5. Hollywood Theater:
Enjoy the "Jukebox evolution" through live dance performances on retro classics to the latest blockbuster songs. This attraction is included in tickets on Tuesdays and Fridays.
Dining Options at the Motiongate:
The park has some excellent eateries to fuel up with mouthwatering food after an exhausting session of adventure activities. These are located inside different park zones and serve American, Italian, Middle Eastern, and Chinese cuisines.
Relish different flavors in the Hollywood-inspired ambiance of these restaurants. The names include:
Supporting Rolls bakery
Mr. Ping's Noodle shop
Slimer's Diner
Very Smurfy Cafe
Dragon Frame Grill
Shopping: Buy a t-shirt with your favorite Hollywood character printed on it from the retail shops inside the theme park. More than ten retail shops sell merchandise and souvenirs to gift to your friends back home. To name a few are:
Creature Comforts
Sweet Sweet Nothings
Lens Fair
Studio Store
Shrek Shack
Smurfy Studios Store
Ghostly Gifts
Motiongate Dubai Ticket Price:
There are a variety of ticket options for entry into the park.
A ticket for one day at the park costs AED 330 per person.
A silver annual pass for AED 495 offers 300 days of unlimited park access, discounts on meals at restaurants, retail shops, and many other services.
The gold annual pass costs AED595 per person, and it offers unlimited access to the Motiongate park throughout the year, with free popcorn and discounts on meals, apparel, and valet parking.
An annual platinum pass costs AED 795 and offers many perks, including free meals, unlimited access, valet parking, and many more.
Location:
The theme park is conveniently located between Dubai and Abu Dhabi, in the Jebel Ali area.
How to get there:
One can choose from several options to get to the Motiongate theme Park.
By Metro: From Dubai Airport Terminal 3, take a Red Line Metro Service to Jebel Ali. Once you reach Jebel Ali, hire a taxi to get you to the Motion gate park. It will take approximately one hour to reach Jebel Ali from the Dubai airport via metro line.
By car: If you wish to drive from Dubai airport to the Motiongate theme park, it will take approximately 42-45 minutes in a private vehicle. The distance from Dubai airport to the park is around 59 km.
Opening Hours:
Although the park is open all seven days of the week, we advise you to check the timing before you head to visit the park.
Sunday To Thursday: 12:00pm to 9:00pm
Friday and Saturday: 12:00pm to 10:00pm
After enjoying all these attractions at MotionGate Dubai, if you wish to have some more fun, then you can explore the nearby attractions, Bollywood Park, Legoland, and Legoland Water Parks. If you are a movie buff, a visit to MotionGate Dubai must be on your Dubai itinerary.