Dubai offers a variety of attractions that dazzle tourists with their uniqueness. The city has provided many iconic places to entertain visitors in the last few years. Dubai mall is one of them, and it has gained a lot of praise among the shopaholics. The Dubai Mall is the world's largest shopping and entertainment destination, and it never disappoints visitors who enjoy and explore this place.
Located in the center of Dubai, the mall is close to popular attractions like Burj Khalifa and the astonishing Dubai Fountain. In more than 1200 retail shops in Dubai's largest shopping mall, one can find anything and everything. The mall also has the world's largest aquarium and underwater zoo to entertain your kids and family. The stunning shopping mall also has two 5-star hotels, Address Dubai Mall and Address Boulevard. It also features international dining outlets, fascinating virtual reality displays, and many other leisure facilities that you can't afford to miss!
Location
The mall is situated at a prime location on the financial center Road in Downtown Dubai and it is close to the famous architectural marvel Burj Khalifa. Other attractions in the nearby area are Dubai Fountain and Burj Park.
Shopping at the Dubai Mall
A paradise for those who love to purchase branded products, the mall provides ample opportunities to select from an extensive range of products. From women's outfits and assorted accessories to stylish apparel for your little ones, there are popular outlets that will never fail to catch your attention.
The Dubai Mall Fashion Avenue is the latest addition to the mall initiated after a large-scale improvement in 2019. The fashion avenue embraces famous labels like Chanel, Cartier, Ralph Lauren, BVLGARI, Adidas, Prada, Dior, and many more. One can also find an exclusive variety of electronics, perfumes, and home furnishing inside the retail shops.
Dining in Dubai Mall
The mall boasts hundreds of fine dining options for its visitors. Delicate cafes and internationally renowned restaurants present mouth-watering delicacies to fuel you up. A few are New Shanghai, Social House, Katsuya, tribes, and The Cheesecake Factory. You can relish food from different parts of the world. Different cuisine options include Japanese, Indian, Italian, Chinese, Middle Eastern, and much more. The Dubai eateries will surely please your taste buds with different flavors and great ambiance. After a long day of walking inside the mall, you can not resist yourself with freshly cooked food served in front of you.
Dubai Mall cinema
Dubai has some large-screen theaters you can not find anywhere in the world. The Reel cinemas in the Dubai Mall is one of the largest theaters worldwide. Located on level 2 of the mall, the Reel cinemas offers a full panoramic view of a movie with ScreenX. An audio system by Dolby Cinemas enhances the visual representation of the movie, making it more live and happening.
The Reel cinemas redefine the standards of luxury with extreme comfort in the reclined seats and 5-star menu options. Platinum Suites gives you a VIP experience while enjoying your favorite movie with your loved ones.
Dubai Dino Display
Besides these elements, some kid-friendly attractions like the Dubai Dino display, Kidzania, and underwater zoo keep them entertained. The Dubai dino display showcases the skeleton of a 155 million-year-old dinosaur that is free for all visitors. Apart from clicking pictures with this prehistoric animal, you can also learn about this creature's diet, features and habitats through the data shared near the wonder.
Kidzania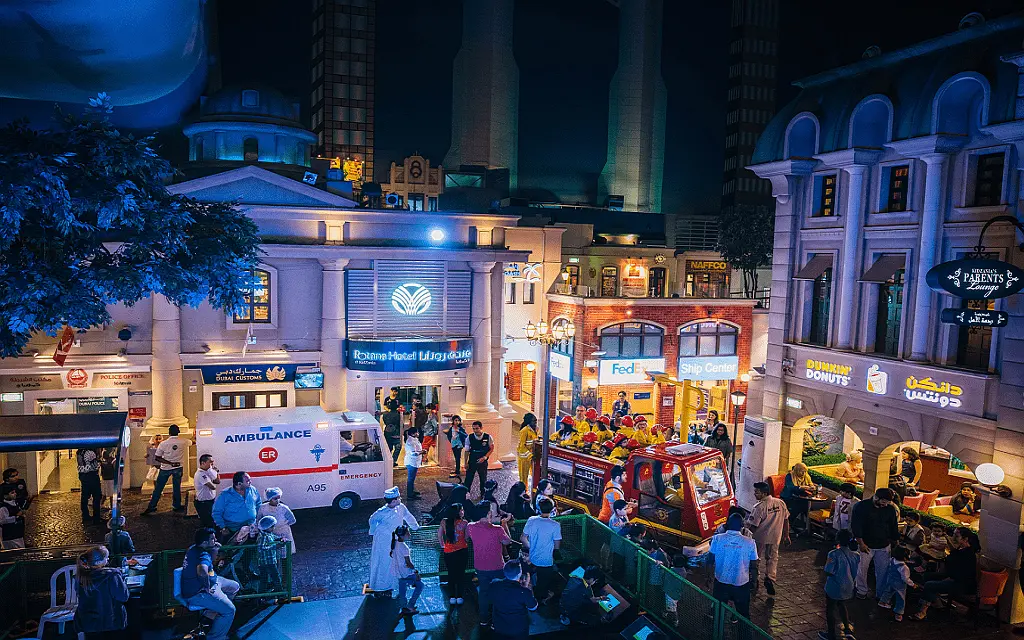 Kidzania is very popular among kids, and it offers 60 real-life activities for children, including crafts, sports, and role-playing. An imaginary world of a real city will surely drive your kids crazy with several playful activities and games.
Facts about the Dubai Mall
1. Dubai aquarium inside the mall is the world's largest suspended aquarium and home to thousands of aquatic species.
2. Another most giant thing is the candy shop, which spans over 10,000 feet and is the largest sweet shop in the world.
3. The area covered by the Dubai Mall is approximately equal to 50 football pitches, with a total area of 1,124,000 square meters and 14,000 undercover car parking areas.
4. Located on the ground floor and extending to the second floor is an Olympic size ice skating rink inside the Dubai Mall. The rink also hosts Emirates Hockey leagues.
5. A striking feature nestled in the heart of the mall is a waterfall with human sculptures. The human divers are designed dramatically as if diving into a waterfall. The eye-catching attraction is undoubtedly a crowd-puller attraction.
6. The mall also has a luxury hotel with 250 deluxe rooms for guests to rest and enjoy their stay.
7. The recently launched VR Park is becoming popular with tourists for its interactive sessions. The high-tech area on Level 2 of the mall is filled with augmented reality rides beyond your imagination.
Opening Hours
Dubai Mall is open from Monday to Sunday, between 10 am to 12 am on most days of the week.
How to reach there
The destination is well connected to all modes of public transportation and can be easily accessible by road, buses, and metros.
By Metro: Located in the heart of Dubai, the Dubai Mall is directly connected to the Dubai Mall metro station, and you can also walk through a glass tunnel.
By Bus: Easy access is provided by two buses, Route 27 from Deira Gold Souk and Route 29 from Ghubaiba station. The buses arrive at the station every 15 minutes in an hour.
A must add to your itinerary, the biggest mall in Dubai offers many exciting activities, including skating in the Ice Rink, exploring the underwater world, watching movies in a 26-screen theater, and dining in the world's finest eateries. The Dubai mall takes pride in being the largest mall in the world considering the vast area that it covers.
Every year more than 70 million visitors stop by this place to shop from the famous retailers. An ideal destination for spending a fun-filled day with your family, the Dubai Mall redefines Dubai's Identity with luxury and entertainment.Exclusive limited-edition watches, aromatic perfumes, and fashion accessories can be ideal presents for your loved ones and friends. We hope you enjoyed our blog and started planning your trip to Dubai.