Looking for a fun place to celebrate your children's birthday can be a cumbersome job for many of us. But, here is a piece of great news for you. Kidzania Dubai offers you an exciting opportunity to double up your celebration with a fun venue and an exclusive birthday package. Kids love to have fun and have a party with their friends. At Kidzania Dubai, you will create beautiful memories of your kid's birthday and cherish them for a lifetime.
What is Kidzania:
Kidzania replicates a real-world city that allows children to play and mimic more than 40 professional roles. It is a safe, engaging, and entertaining center that imparts your child life skills like finance, time management, and communication.
From DJ, doctor, dentist, and pilot to a firefighter, children will get to play many exciting roles at Kidzania. Kids can also play billiards and other games in the Games room and test their physical skills through various challenges. Activities at Kidzania are approved by child physiologists, play professionals, and teachers.
Kidzania engages your child in a creative learning atmosphere and develops life skills that will encourage them to pursue a profession when they become adults. Birthdays at Kidzania are full of fun and excitement. Your child and their friends will explore the real-world challenges and create ever-lasting memories with active playing sessions.
Kidzania Dubai Birthday Celebration:
Kidzania Dubai assists you in organizing hassle-free and fun parties for children up to 16 years old. The birthday package includes:
A reserved area for birthday party
Free entry and birthday badge for the celebrant
Invitation cards
One exclusive private activity
Souvenir photos
Kids meal
Besides this, parents can also include special add -ons to make it an unforgettable moment for their little one. The add-ons include face painting, magic tricks, photo and video coverage of the special occasion, goodie bags, RightZkeeper appearance, and dance performance, all at an extra cost.
The birthday celebration package costs AED 190 per child and free entry for an adult accompanying two kids.
Kidzania Activities:
Children can engage in various role-play activities at Kidzania and earn Kidzos at the end of each activity. Depending upon the task they have to pay a kidzo or earn a kidzo.
Arts: Kids can actively participate in the Acting Academy and learn how to play different characters on screen. As another part of the entertainment, children will learn to combine different music compositions and show their love for music at the DJ corner.
Cooking: An excellent alternative for those who love to cook their meal. Try your hands at Pizza Express or prepare a happy meal at McDonald's. Most favorite among the kids is the Kinder Chocolate factory that teaches them how to make your Kinder bar. You can also treat your family and friends with hand-made bars.
Health and wellness: The world will need scientists and doctors to fight against the deadliest diseases in upcoming years. This activity will create future doctors, dentists, and scientists as a group of children together work for a better cause. Choose from American Hospital, Dental clinic, and Microsafe infection control center to serve the community with your excellent treatment.
Radio and Television: Kids can join Al Alan TV to host television programs or work as floor managers. Entertain the city with your radio channel programs using your communication skills.
Services: Join the Government services at Dubai Police Station, and give your effort to keep the city safe from criminals. You can also join the NAFFCO and rescue the town from fire emergencies. Get a driving license from Emirates Driving Institute and drive fancy cars on the streets. Masdar Eco Villa allows you to learn about different elements of construction.
Transportation: Join the Aviation academy and accomplish your dreams of becoming a pilot or co-pilot. Take the RTA City Bus Tour to learn more about public transportation and road safety.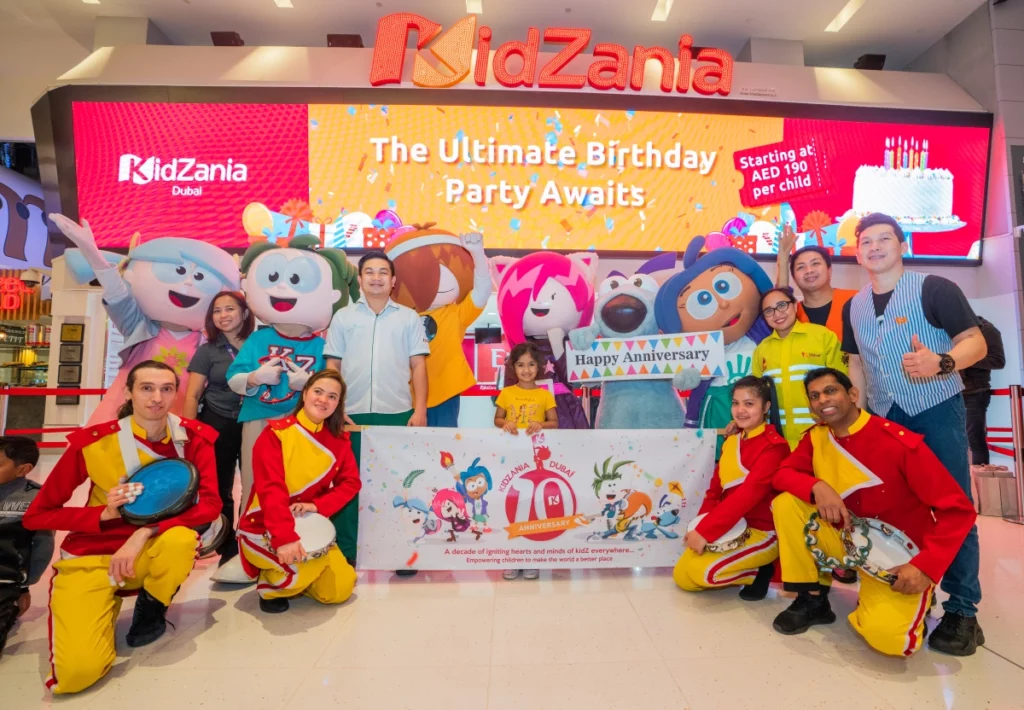 How to book the venue for a birthday party:
To organize your kid's birthday party at Kidzania, call 0564092193 / 0566824805 or email birthday@kidzania.ae.
Other services offered by Kidzania:
Besides interactive role-play activities and establishments, Kidzania Dubai offers the following services:
Prayer rooms
Lounge
Restaurants
CCTV surveillance
First-aid facilities
Zupervisor, are trained professionals and will look after your children.
Location:
Kidzania is located on Level 2 of the Dubai Mall. It has nearly 24 branches in 19 different cities around the world.
How To reach there:
One can quickly get to the Kidzania Dubai Mall from the Dubai airport by taking a bus, metro, or taxi.
Bt Taxi: The fastest way to get there is to hire a taxi, which takes around 15 minutes from Dubai airport and charges AED 45-AED 60.
By Metro: From Dubai Airport, one can board the Red metro line from terminal 3(T3) and terminal 1(T1) to reach the Dubai Mall Metro station. Feeder buses from the Dubai Mall metro give easy access to the mall.
By Bus: Commute to Dubai Mall from Dubai Airport via Line 27 bus that will get you to the mall in 32 minutes.
Birthdays are not about being at home. It is all about exploring new things and activities that foster creativity in your kid. A birthday celebration at Kidzania is a safe and perfect alternative to make your little ones happy on their special day. Your kids and their friends will love you more for organizing a fantastic surprise for them. Kidzania not only offers an exciting opportunity to have fun, but it also improves mental and physical strengths in your child through various activities. To know more about this place, check out our other blog, Kidzania Dubai – Fun Inspired Learning.