Dubai, the shining star of the Gulf, is a divine abode for tourists. From the Burj Khalifa (the world's tallest building), the Burj Al Arab (the world's most iconic hotel), the Museum of the Future, to the Palm Jumeirah (an artificial archipelago that's even visible from space), this Arabian Riviera harbors some of the most exemplary and magnificent construction that attracts tourists from across the globe. But like a suave magician, Dubai always has a trick up its sleeve–a tourist destination that is the first ever para-dimensional world of augmented reality (AR) and virtual reality (VR) that #ChallengeReality. In this segment, we bring you VR Park Dubai Mall.
About VR Park Dubai Mall
Based on the futuristic concept of shared escapism, VR Park Dubai Mall is the first of its kind and the largest indoor VR park in the world. Spanning over 7,000 square meters across two levels of the world's biggest mall, VR Park Dubai Mall offers unparalleled experiences of the futuristic world. With around 30 immersive rides, interactive games, and educational journeys across genres, this AR/VR park blurs the line between perception and reality. Not an avid gamer or thrill seeker? No worries! VR Park Dubai Mall houses delightful and distinct attractions that'll make everyone's itinerary special.
Things to Do in VR Park Dubai Mall
1). APE-X
Are you a King Kong fan? Ape-X is a first-person player game that offers you a chance to be like him. It's a VR game that allows you to be a heavily armored cybernetic ape who wants to escape captivity from his creator. Here, you will have to fight a swarm of drones and battlebots sent by the evil doctor to take you down while you latch onto the skyscraper. Wait till the sense of internal vertigo kicks in!
2). John Wick Chronicle
Gear up! It's time to role-play as the feared hitman (virtually). John Wick Chronicles is a VR game built around missions for John Wick to take down the assigned targets in a challenging setting with his MP5 submachine gun.
3). The Walking Dead VR Outbreak
Does thinkling about a catastrophic and dystopian world put your adrenaline on overdrive? If yes, then put your game face on and try out the "The Walking Dead"-inspired VR game. Put your survival traits to the test and survive waves of zombies. Are you ready?
4). Dubai Drone
What will the future be like? Come and indulge in this futuristic and immersive experience. Dubai Drone is a VR experience that is set in the year 2050, when drone taxis are a real thing. Utilize your game-ready skills and intelligence to fly your drone taxi out of the aerial traffic.
5). Burj Drop
Imagine it's a sunny day. You're a window cleaner at one of the most iconic buildings in the world, the Burj Khalifa. You're listening to country music when suddenly a basket cable snaps. In no time, other cables start snapping one after the other. What will you do? Burj Drop is a VR set with immersive tactics that allow one to feel the drop. Act quickly in the given time; otherwise, the end will be tragic!
6). Arena AR1
Not big on VR gaming or seeking adventure? VR Park Dubai Mall has something for everyone. If you're looking for an educational experience, Arena AR1 is a must-try for all ages. Get up close with a polar bear, leopard, or dinosaur, or join a space crew mission to explore the cosmos with a hyperreal experience.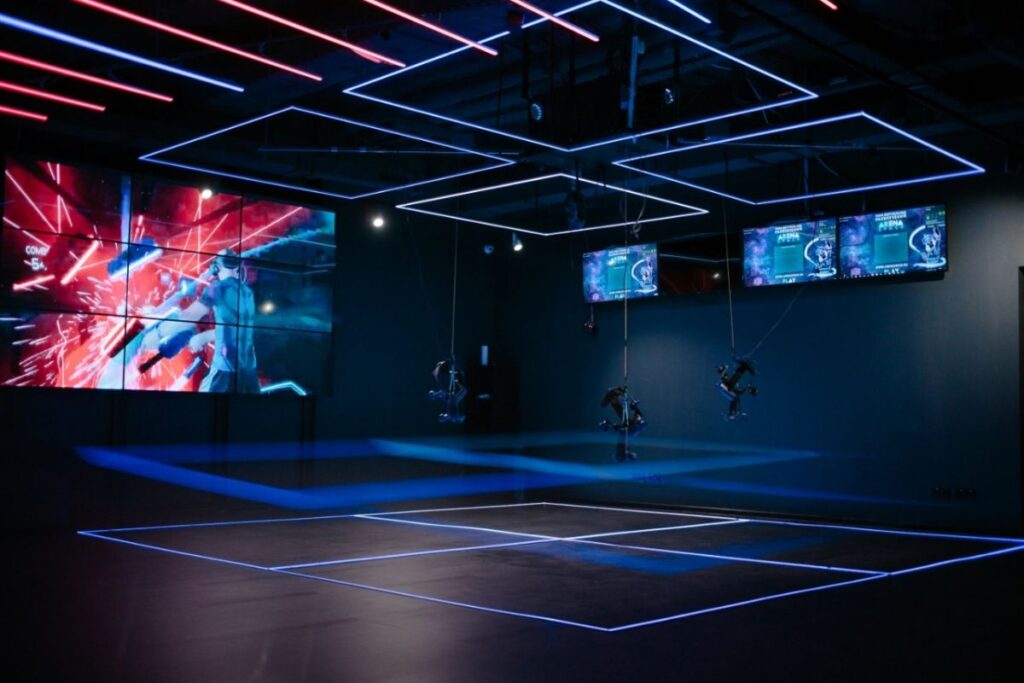 Other Things to Do in VR Park Dubai Mall
1). PAYDAY
2). Dune Bash
3). Speedway
4). Para Drop
5). VD Dark Ride
6). PVRK Cafe (for food and beverages options)
VR Park Dubai Mall Timings
Sunday – Wednesday (10 AM – 10 PM)
Thursday – Saturday (10 AM – 12 AM)
VR Park Dubai Mall Location
The Dubai Mall – Financial Center Road – Downtown Dubai – Dubai – United Arab Emirates
How to reach VR Park Dubai Mall?
1). By Metro
Are you planning to visit VR Park Dubai Mall via metro? Dubai has some of the most exceptional travel options, especially the metro, which can help tourists get around Dubai. If you want to reach VR Park Dubai Mall by metro, board M1 Metro Line (Rashidiya Metro Station – Jabel Ali Metro Station) and deboard at Burj Khalifa Metro Station. VR Park Dubai Mall is a 21-minute walk from the metro station.
2). By Bus
Want to ditch a metro ride for a bus? The bus network system in Dubai is quite extensive and well connected, which can take one anywhere in the city. If you want to reach VR Park Dubai Mall via bus hop onto Bus 29 (Ghubaiba Bus Station – Business Bay Metro Bus Stop Landside) and depart at The Dubai Mall – 01. Also, you can take Bus 98E (Satwa Bus Station – Al Quoz Bus Station) and deboard at Dewa Sub Station, Holiday Inn Hotel – 01. VR Park Dubai Mall is a 30-minute walk from the bus station.
3). By Taxi
If you want to ride comfortably, you can hail a cab from renowned cab service providers Uber and Careem to take you from your stay to VR Park Dubai Mall.
What is the VR Park Dubai Mall Ticket Price?
One can visit VR Park Dubai Mall for free, but to indulge in the activities and experiences in different zones there are associated credits that range from AED 15 to AED 45. If you run out of credits, you can add credits to spend on the games and activities.
What's the Best Time to Visit VR Park Dubai Mall?
Wondering when to visit VR Park Dubai Mall? Though VR Park Dubai Mall is open almost around the year, it's best to visit during the weekdays and that too in the early morning hours to avoid the rush created otherwise.
We hope this segment helps you to make your Dubai visit, and especially your visit to VR Park Dubai Mall, a bit more special and fill your Dubai diaries with memories.