Are you a wildlife lover planning a trip to Dubai? Green Planet Dubai, a plant and animal sanctuary within the city of Dubai, is worth a look. The attraction offering much-needed relaxation and insights into the green world is ideal to visit with family and friends. Let's learn about the attraction and its unique features.
The Green Planet is a captivating indoor forest in Dubai that offers nature lovers an exclusive voyage. The one-of-a-kind botanical museum houses over 3000 plants and animals, letting you immerse yourself in nature and get close and personal with truly magnificent animals.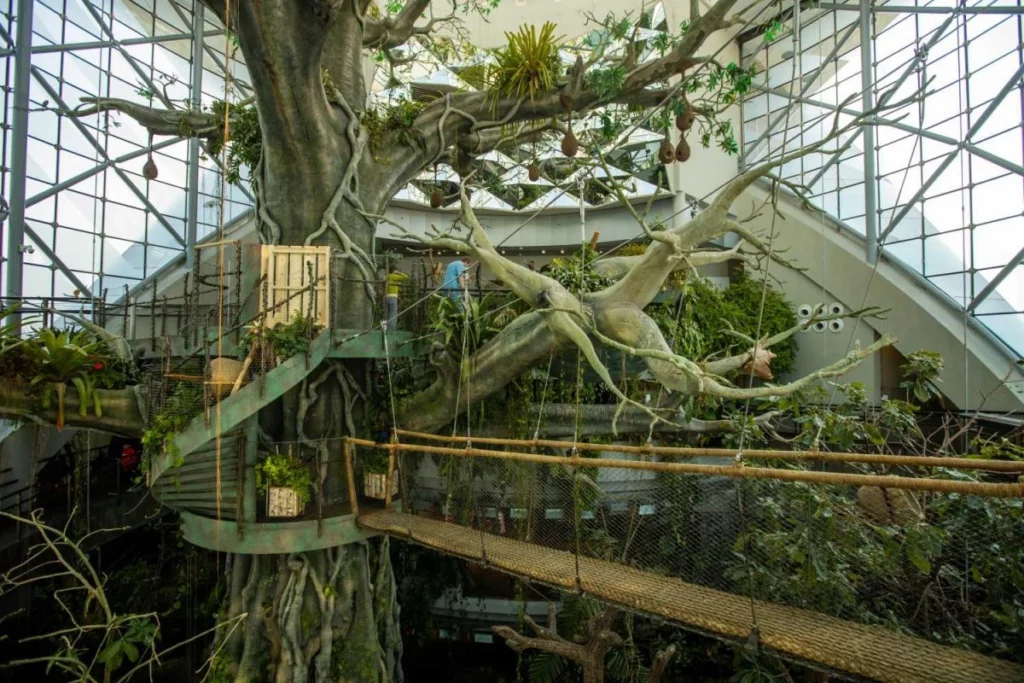 The Green Planet, which is surrounded by superb educational and recreational facilities, is home to numerous lovely creatures such as fish, pythons, squirrels, parrots, turtles, monkeys, and many more.
The attraction is appropriate for all ages and includes the world's largest man-made tree as well as a mind-boggling variety of flora and fauna. The Green Planet Dubai too has a team of skilled biologists on hand to guide wondering visitors peep into the lives of their favourite beings. 
Things to do at the Green Planet Dubai
The Green Planet allows guests to spend a night in the middle of fascinating animals. From 7:00 p.m. to 8:00 a.m., the once-in-a-lifetime experience gives visitors access to the rainforest's marvels. The activity is ideal for adventures and nature lovers because it offers a unique encounter opportunity that may not be possible during the daytime. Camping at Green Planet Dubai allows you to interact with the cheeky primates, see the red bellied piranhas, and encounter the region's only Tamandua Anteater. Camping is only available on Fridays and Saturdays and includes breakfast and dinner at the Green Planet Cafe, as well as a variety of fun activities.
Swimming with Piranhas is a thrilling experience available to people over the age of six. The activity allows visitors to closely interact with thousands of red bellied Piranhas. Access to the Flooded Rainforest, Forest Floor, Creatures of the Night, Mid-story, and Canopy is also included in the package. To participate in the activity, visitors must be proficient swimmers. During the ultimate session, adventurers can feed Pacu fruits and vegetables to the creatures and learn a lot about them. Snorkeling with Piranhas is a one-hour session that takes place between 4:00 and 5:00 p.m. and is limited to four guests per day.
Experience the Thunderstorm
The Green Planet lets visitors experience the thunder and have better insight into the charm of the tropics. The activity is offered twice a day, at 1 p.m. and 5 p.m. During the activity, you can notice the rumbles, see the electric flashes, and enjoy the breeze. The authentic experience, bestowing guests with an unforgettable time, not only delights visitors but animals too.
In a 20-minute bird encounter, you can engage with Toucans, Caiques, and other small parrots. The activity, which begins at 11:30 a.m. daily, enables you to know about the diverse habitats of birds. You can get close and personal with birds as well as take pictures with them. Expert biologists are available to help you have a better experience. The price of a ticket begins at AED 290 per person (including the entry ticket). The activity is limited to a maximum of 5 guests.
The reptile encounter, which is open three times a day at 12:30 p.m., 2:30 p.m., and 4:30 p.m. is a 20-minute session that allows visitors to gain knowledge about fascinating reptiles such as lizards, geckos, and snakes. Tickets start at AED 290 and are available both online and at the gate.
The 30-minute session, held daily at 1:30 p.m., provides an opportunity to learn about sloths, the extremely slow-moving mammals. During the activity, you can get close to them and take photos with them. The one-of-a-kind experience costs AED 335 per person. (including the entry ticket). Maximum of 8 members can participate in one session.
The small nocturnal mammals can be encountered at 3:30 pm in a 20 minutes session. The activity allows you to know more about the sugar glider and catch them on camera. Experts are there to assist you with the details and make your experience more interesting. The ticket price starts from AED 290 per person (including the entry ticket). 
Restaurant at the Green Planet
To satisfy your hunger after or in between the thrilling and enthralling activities, you can visit the Green Planet Cafe. The one-of-its-kind cafe within the renowned indoor tropical bio-dome is the ideal spot for a satisfactory family breakfast, lunch, or dinner. Green Planet Cafe, which is open from 10 a.m. to 6:30 p.m., provides kid-friendly food and dedicated kids play area, nourishing kids with a wonderful time. 
The Green Planet Dubai tickets
The Green Planet Dubai offers different packages allowing you to choose the one as per your interest. The different Green Planet Dubai ticket options are given in below table
| | |
| --- | --- |
| Day Ticket | AED 140 |
| VIP General Admission Pass | AED 199 |
| Sloth Encounter Package | AED 335 |
| Bird Encounter Package | AED 290 |
| Reptile Encounter Package | AED 290 |
| Sugar Glider Encounter Package | AED 290 |
| Camping in the Rainforest | AED 700 |
| Snorkeling with Piranhas | AED 350 |
| Exclusive Zookeeper Experience | AED 410 |
Note: the above prices may vary based on the visitor's age, mode of purchase, available discounts and other possible factors.
Apart from the above, Green Planet Dubai also offers summer camp (for a specific time period) full of exciting activities for children aged from 5 to 12 years.
The Green Planet Dubai timings
The Green Planet Dubai is open all year, but the hours of operation may vary depending on the day of the week. In general, the attraction is open from 10 a.m. to 7 p.m. Sunday through Wednesday and from 10 a.m. to 8 p.m. Thursday through Saturday.
The Green Planet Dubai location
The Green Planet Dubai is located in City Walk – Al Wasl – Dubai, UAE. The attraction is conveniently located and can be easily reached by taking a taxi, metro or bus.
Important points to remember
As certain activities allow a very limited number of guests per day, booking the tickets ahead of time is highly recommended.
To claim the full refund, tickets should be cancelled atleast 24 hours in advance.
Outside food is not allowed.
Smoking is not allowed.
Littering is not allowed.
There is no entry fee for children under 2 years.
Always carry an ID proof as it may be required anytime.