Dubai has been in the limelight for its luxurious lifestyle and breathtaking skyline for the past few years. The city attracts millions of tourists every year and awe-struck them with its rich heritage and hospitality. The Atlantis Palm Hotel in Dubai, which is nestled between the gleaming skyline of Dubai, offers a comfortable and luxurious stay to give you an unforgettable experience. Situated on the world-famous Palm Island, the Atlantis Palm Hotel is an eye-catching combination of Arab and Western influences.
The iconic resort on the man-made island of Dubai was opened to guests with a grand opening ceremony in 2008. The larger-than-life celebration was held in the presence of world-famous celebrities and featured the world's largest fireworks display after an electrifying performance from Bollywood Diva Priyanka Chopra.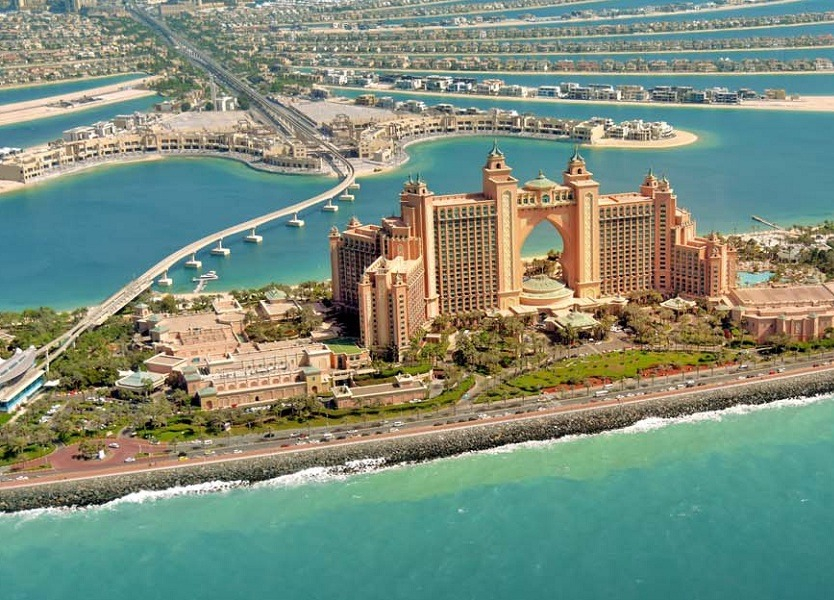 Luxurious Rooms and Suites:
Atlantis on the Palm has attracted holidaymakers worldwide to offer a lifestyle extravaganza with unique experiences. The resort offers stunning views of the pristine waters of The Palm, beaches and a glamorous skyline along the Arabian Gulf.
All the rooms and suites at Atlantis palm offer a fresh look with excellent features and amenities to spoil the guests with choices.
Guest rooms: The guest rooms are designed in one king and two Queen bed formats with spectacular views of The Palm or The Arabian Gulf. Covering an area of 45-47 square meters, the rooms include a large bathroom with a separate bath, a perfect retreat for couples and small families.

Suites: Those looking for extra space and a hassle-free stay can opt for the lavish suites at the hotel. A suite guest will make you feel at home, with outstanding facilities like daily breakfast, afternoon tea, complimentary airport transfers and free access to Imperial Club Lounge.
Signature suites: Signature suites will transport you into a whole new world, with some of the magnificent views on earth. Whether you want to celebrate a special occasion or you are on a magical getaway, the suite services will overwhelm you with exceptional treatment. Besides daily morning breakfast, afternoon tea and evening drinks, the signature suites offer a visual treat to the guests with private beach access.
Underwater Suite: Imagine you wake up with an incredible world of aquatic creatures around you. It is now possible in the Underwater suite of the Atlantis Palm hotel, which features floor-to-ceiling windows that look into an aquarium with more than 65,000 marine creatures.
Presidential Suite: Intricately detailed and immaculately decorated Presidential suites are purposefully designed to satisfy all your needs during your stay. A 220sqm Presidential suite is ideal for those seeking extra comfort and luxury. The suite aesthetically incorporates separate office space and a walk-in closet. Enjoy the stunning views of the Atlantis beachfront and the Palm as you soak in an oversized jacuzzi.
Grand Atlantis Suite: Enter through an exquisite marine-theme-based fountain; the 2-bedroom grand Atlantis suite has every element that makes a pleasant stay. The master bedroom has separate bathrooms for him and her and a large tub from where you can enjoy ocean views. The second room has a spacious bathroom, which makes it an ideal choice for large families.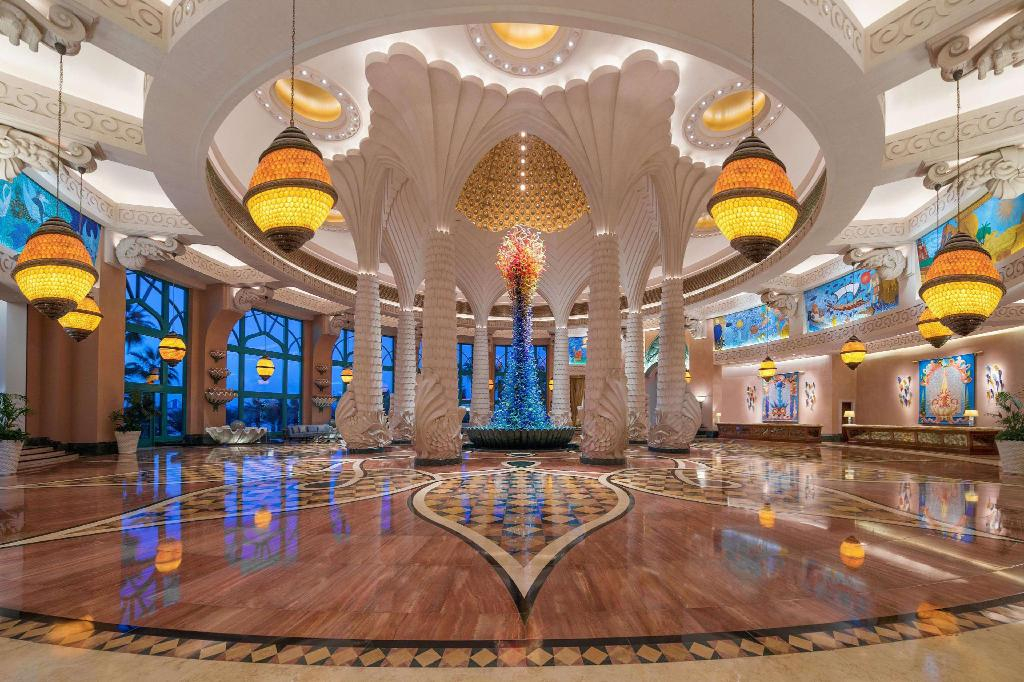 The Atlantis Palm Jumeirah- A blend of luxury and entertainment:
Aquaventure Waterpark:
The Atlantis takes pride in presenting the world's largest waterpark, with more than 105 electrifying rides and experiences, including the gigantic Leap Of Faith, Aquaconda and many more. Perfect for a fun-filled getaway, aqua venture rides are the best combination of thrill and family fun time. You and your friends will enjoy the monstrous rides at the Aquaventure Park that will splash you hard in the pool.
The Lost Chambers Aquarium
Unveil the mysteries of the lost city of Atlantis in the Ambassador Lagoon, which is home to 65,000 aquatic species. Learn exciting facts about marine life, take a behind-the-scenes tour or dive into the bottom of the aquarium to enjoy an unforgettable experience of your life.
Spa and Wellness:
Pamper yourself with the royal treatment at the Shuiqi Spa and Fitness Center. Enjoy dedicated treatments with premium-quality products that will rejuvenate your body and soul. Glowing facials and body massages at the beachside Shuiqi spa and Fitness centre offer ultimate spacation.
When it comes to Fitness, the resort also hosts an underwater yoga class at the Lost Chambers Aquarium. It welcomes guests who are keen on improving their flexibility, balance and strength. With an additional charge of AED 160, guests are advised to book in advance.
Dining:
From Casual to celebrity restaurants, the Atlantis boasts several popular eateries for exotic and refreshing flavours. The world's best chefs present their culinary skills in the finest restaurants of Dubai. From Japanese and Lebanese to traditional Middle Eastern recipes, the restaurants serve mouth-watering delicacies on your table. Some of the famous restaurants at The Atlantis are:
Nobu
Hakkasan
Gordon Ramsay's Bread Street Kitchen
Ayama
Saffron
Clubs, bars and lounges:
As the day ends, your stay at the Atlantis resort becomes more delightful with exotic beach clubs, pool parties and vibrant nightlife. Instagram -worthy outdoor locations, infinity pools and sophisticated bars are sure to give an electrifying vibe. X Bar, Arabian Terrace, Cloud 22 and White Beach club are famous bars and clubs.
Atlantis Kids Club:
Let your little ones explore the world at the Atlantis Kids Club, which has fantastic activities for kids between 4 to 12 years, while teenagers can play, dance, chill and make new friends in a dedicated area – The Zone. The Kids Club has a Play Zone, games room, Creation Zone and an underwater theatre to connect your kids with marine ecology.
Events:
Besides clubs, bars and entertainment areas, the hotel is an ideal venue for hosting corporate and private events, including weddings. Luxurious ballrooms at the hotel cater for extravagant events with appealing decor and adjustable floor plans.
Atlantis The Palm room Price:
Guests can choose from different packages to enjoy their holidays at the Atlantis.
The average room price per night at the hotel starts from INR 40,830 for an Imperial Club King room and can go up to INR 3,61,000 for one night stay at the Poseidon Underwater Suite.
The Atlantis Palm Dubai is an ideal holiday destination redefining your definition of luxury with dreamlike living rooms and suites. A great place to escape from the bustling city life, the resort beautifully combines breathtaking ocean views, outstanding dining experience, entertainment and vibrant nightlife. Check out packages and offers available and add luxury to your stay with out-of-the-world experience at the Atlantis Resort.