Wild Wadi Waterpark is a fantastic adventure waterpark in Dubai, and it is extremely popular for thrilling water activities. If you want to escape from the striking heat of Dubai, then make a splash in the cool waters of the amusement park and enjoy the fun rides with your family and friends. The waterpark features 30 exciting water rides that give a wholesome experience to everyone.
Wild Wadi waterpark- A theme-based waterpark in Dubai-
The concept of a waterpark revolves around the tales of Juha, a fascinating character from Arabian Folklore. From Juha's Dhow and Lagoon to Tantrum alley, most rides in the waterpark take inspiration from this famous character.
Wild Wadi rides:
Are you ready to experience the thrill and speed of exciting water rides on the Wild Wadi? Then let us take you on a virtual tour of this fantastic theme park.
Tantrum Alley: What can be more fun than high-speed waterslides and exciting tornados? Get on a four-person ring and feel the excitement as the first tornado hits you and slides you back and forth. If that is not enough to excite you, wait for the second and third tornado strike, which splashes you hard in the pool.
Minimum Height requirement: 1.1 meters
Master Blasters: Master blaster rides will surprise the guests with gravity-defying aquatic roller coaster rides that shoot you up to 15m from the ground. The adventure continues with high-powered water jets. Children weighing less than 50 kg must be accompanied by an adult in a double ring.
Minimum Height requirements: taller than 1.1 meters
Maximum weight limit: Single ring -120kg
Wipeout and Riptide: Wipeout and Riptide is one of the only four Flowriders in the world, giving the best surfing experience. It is perfect for body-boarding, knee-boarding and even surfing. A wave effect is produced by shooting approximately seven tonnes of water in a thin sheet across a moulded form, giving the riders a thrilling speed.
Minimum Height: Over 1.1meters
Wave Pool: Guests are often fascinated with this attraction. The largest of its kind, Breaker's Bay, is a wave pool that allows one to swim across 1.5 meters high parallel and crossing water waves. Visitors of all ages can swim and play inside the Breaker' Bay. However, parents must supervise their children at all times.
Action River: Enjoyed by visitors of all ages, this ride will move you along the waves created by sudden surges of 1,00,000 litres of water. If you are not a confident swimmer, ask for a lifejacket and enjoy the river rapids!
Juha's Dhow and Lagoon: With 100 plus water activities, Juha's Dhow and Lagoon is an interactive play structure designed for families with little ones. Colourful water slides, racing slides, water guns and a dumping bucket excite the young. Juha and his friend on the Dhow Sindbad will offer you fun-filled family rides.
Juha's journey: After so many action-packed rides, if you want to relax in the gentle waters of the park, then Juha's journey is best for you. It is a 360-meter-long river with calm waters; hence it can be enjoyed by the entire family. Lie on a float and swim along the gentle tides. It features a few small waterfalls, which makes the attraction interesting.
Burj Surj: Get your place secured in a shared tube, and the adventure begins with a downhill waterslide, which drops you in another downhill waterslide after two spins. The second waterslide will make it more fun by splashing you into the pool. It is a family ride and can be enjoyed by a maximum of 5 people.
Minimum Height: Over 1.1meters
The combined weight of the ring should not exceed 365kg.
Jumeirah Sceirah: Climb up the 32m tower, where you can catch a glimpse of the entire waterpark. This ride has two capsules, so you and your partner can have more fun. Cross your arms and legs and get into the capsule, unaware of what will happen next. Before you get time to breathe, a floor underneath the 120 m long ride opens, and you will rush to the bottom of the slide at an electrifying speed of 80km /h.
Minimum Height: 1.1 meters
Maximum Weight: 136.4 kg
Opening Hours:
The adventure waterpark is open from 11:00 am to 7:00 pm From Tuesday to Sunday. The park remains closed on Mondays.
Location:
The fantastic adventure waterpark is in front of famous landmarks such as Burj Al Arab and Jumeirah Beach Landmark in Jumeirah.
What's more:
Besides stimulating activities, the waterpark has a few eateries that will make your day memorable with various options from burgers to freshly-baked Pizzas. Children can enjoy a kid's meal at Julshan's Burgers.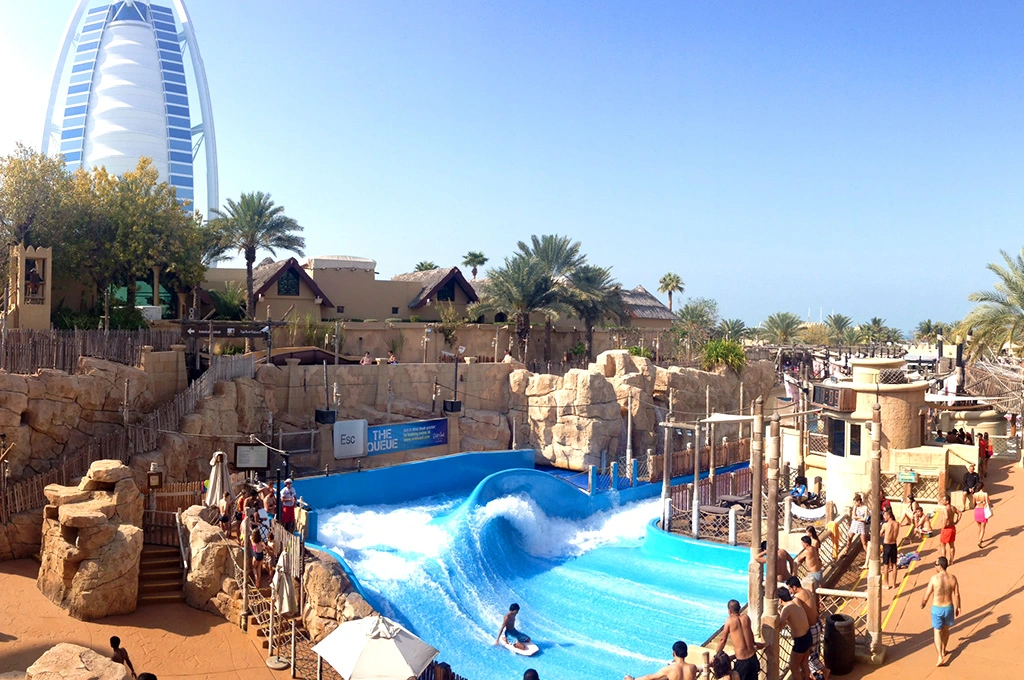 Wild Wadi Water Park Tickets Price:
Guests can choose to buy tickets online or from the park's main gate. Entry tickets are fixed based on the heights of the visitors.
The park offers free entry to kids below 3 years. But, you must present valid ID proof
Also, note that guests staying at Jumeirah Hotel get complimentary tickets to the Wild Wadi adventure water park.
Ticket Price purchased from the main gate:
AED 299 for individuals with heights 1.1 meters and above
AED 249 for individuals with heights less than 1.1 meters
2. Online Ticket Price:
AED 269 for individuals with a height of 1.1 meters and above
AED 199 for individuals with heights less than 1.1 meters.
3. VIP Cabanas:
Guests can also book VIP cabanas to enjoy a luxurious experience with premium sun loungers in a private setting. You get 50% off entry tickets, with cabanas over AED 2100 and above.
Tips for your visit to the Wild Wadi adventure park:
Use a good quality ( with no less than 30 SPF) sunscreen lotion before you head to the pool.
It is advised that you drink enough water. But, do not drink pool water in any conditions.
Toddlers and babies must enter the pool with special swim diapers. They do not cost a penny, so don't hesitate to ask the staff.
All the guests must wear appropriate swimwear.
Restrict yourself from participating in the rides if you have any medical conditions.
Purchase your tickets online to avoid standing in long queues.
Small, medium and large lockers for rent are available at additional charges.
Wild Wadi waterpark is a family adventure park with many exhilarating water rides for adults and kids. So, book your tickets today and splash into the water with your family and friends.