Dubai is a paradise for thrill-seekers who are never afraid to try something new in their life. Whether an adventurous desert safari or speed racing at the world's largest indoor park, the city will give you goosebumps with exhilarating adventures. iFly Dubai offers an opportunity for you to enjoy skydiving in an entirely safe indoor setup. This attraction is located at City Center Mirdif, giving an outstanding skydiving experience. All the free -spirits can learn a new skill with the indoor flying activity at the iFly Dubai indoor skydiving.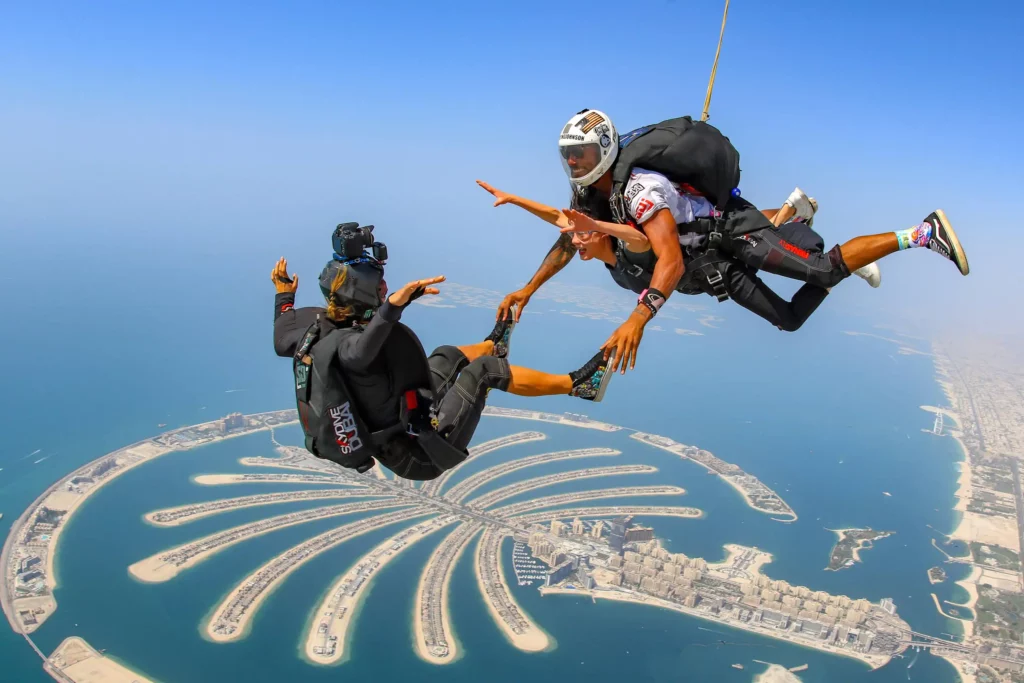 iFly Dubai Indoor skydiving:
Unlike outdoor skydiving, which is performed in an open space from an aircraft or parachute,iFly Dubai skydiving gives you a genuine flying experience in a safe indoor environment. Let's give you all the information that will prepare you for your free fall experience without creating any more suspense on how it works.
Indoor Skydiving Setup:
The indoor flying experience inside a 10-meter high vertical air chamber/tunnel. The tunnel incorporates 2 powerful fans, producing impressive air pressure, which moves upward at 200 km per hour. The pressure thus generated is sufficient to force any human weighing less than 115kg into the air and keep them suspended.
Those nervous about jumping or falling from a height can confidently enjoy the fearless game of indoor skydiving. The acrylic chamber is regularly inspected and certified to avoid any hazardous incidents. The certified instructors will support your flying experience at the iFly Dubai.
Highlights:
Get a super cool flying certificate.
Challenge your fears with a gravity-defying adventure that will make you fly freely in the air.
Enjoy the heavenly experience similar to actual skydiving in a safe and enclosed environment.
With the latest technology of VR, you may now experience the thrill of skydiving over breathtaking locations, including The Palm, Burj Khalifa and Dubai Creek.
An incredible Skydiving experience at iFly Dubai
Once you reach the location, a friendly staff member will guide you to the kiosks where you can collect your tickets. They will provide you with the iFly gear, and you'll then enter a training room, where a professional trainer will instruct you on how to maintain a steady position in your skydiving task. You'll also watch a detailed video on body postures that will give you an incredible flying experience.
The adventure begins as soon as you enter the tunnel. A sudden blast of air will shock you for a moment, and in no time, you will fly in the air. The trainer will guide your body movements so you can defy gravity while enjoying the flight. In a fraction of a second, your nervousness and fear of heights will disappear, and you will fly freely like a bird. The instructor will also ask you to perform flips and turns when you feel more confident in the air.
The best thing about this attraction is the low-risk factor, making it safer for children to enjoy this experience. Yes, it's true. Kids above two years can enjoy the superman feeling by flying high in the air and learn new skills through this activity. Although,the ideal age to skydive is 5 years.
Where is iFly Dubai?
The state-of-art indoor skydiving attraction is located at the PlayNation area of City Center Mirdif on Sheikh Mohammed Bin Zayed Road.
How to get there:
One convenient way to get to the destination is by taking a metro. The nearest metro station to the destination is Rashidiya Metro station on the Red line, and then take a bus F10 from the station to reach this attraction in Mirdif City centre. However, private taxis and cabs will offer a hassle-free commute to the destination. Try to reach the end point at least an hour before your actual flight begins.
iFly Dubai Timing:
Monday to Thursday: 12:00 pm to hrs to 9:00 pm
Friday & Saturday: 12:00 pm to 10:00 pm
Saturday: 12:00 pm to 11:00pm
ifly Dubai ticket price
First-time flyers can go for the standard package, which gives you a 2-minute flying experience inside the tunnel, costs AED 220 per person, and includes the following:
Flying gears, helmet and flying suit
A pre-flight training session with certified trainers.
A flying certificate from iFly indoor skydiving
One-on-one personal trainer to make guide you inside the tunnel
The ticket price for a unique VR ifLy Skydiving costs AED 350 per person, and it covers the following:
A training session with certified trainers
Complete flight gear with VR equipment
One-on-one personal instructor
Flying certificate
You can enjoy up to four flights.
You can also buy an iFly gift voucher for your friend or family member to give them a lovely surprise. We advise you to book your tickets online for great price discounts.
Tips for your indoor SkyDiving Experience:
Wear comfortable running shoes or sneakers that fit properly.
Remove jewellery and accessories that hang loosely like watches, bracelets, and neckpieces.
You don't need to dress up fancy. Wear casual clothes like t-shirts and pants.
Pay attention to safety tips and pre-flight instructions given before your flight.
Do not panic if you feel breathlessness inside the tunnel. It is very common during the flying experience. Inhale before you enter the tunnel and ask assistance from your instructor if you are not confident.
A complete flying gear with a flying suit and helmet will be provided.
Look for the hand gestures from the instructor, you will not be able to hear anything inside the tunnel.
Please note that you can not take cameras and mobile phones in the tunnel. But cameras are installed at vantage points that click your pictures and record your activity inside the tunnel. All your photos and videos will be transported to the central server. You can choose your favourite photos and videos of skydiving and take them home by paying additional charges.
Whether an expert or a beginner, indoor skydiving at iFly Dubai gives you a memorable experience with a safe flight inside the tunnel. You will conquer all your fears and be more confident and proud after defying gravity in a different environment. Indoor skydiving at iFly Dubai is a must-be on your bucket list for a fun-filled and sensational adventure during your Dubai Trip.