One would undeniably agree beaches are the best holiday destination we visit during our travel. The palm trees, the white sand, the crashing waves spraying salt on the face, and the unique odor of the ocean seem to help you completely unwind, let loose, and wash away the stresses of life. In this segment, we bring to you one of the best beach destinations in the world – Kite Beach Dubai.
Book your tickets, start your packing, and fly into paradise!
About Kite Beach Center Dubai :
Usually known for its cloud-kissing skyscrapers and modern-day marvels, Dubai has a new tourist attraction and is not artificial. We are talking about Kite Beach Dubai. Sharing its coastline with the landmark Burj Al-Arab, this pristine white sand beach is perfect for sun-seekers, foodies, and the water sports enthusiast.
THINGS TO DO IN KITE BEACH CENTER
1). Kite Surfing and Lesson
If you're planning to visit Kite Beach Dubai and are clueless about the experience to involve in, Kitesurfing is hands-down the most exhilarating activity you'll ever come across. A popular sport and probably the best place for kite surfing in Dubai, this wild ride will get your adrenaline pumping through the veins.
New to the sport? Kitesurf School Dubai provides lessons and training who are starting it out. Professional kite surfer? You may be required to produce certification before you put up a show for the visitors.
Kite-Surfing Single Lesson – AED 350/person (for 1 hour)
Group Kite-Surfing Lesson – AED 500/two people (for 1 hour)
Complete Kite-Surfing Lesson – AED 2800/person (for 8 hours)
Rental of Kite-Surf Equipment – AED 50/hr to AED 350/hr
2). Paddle Boarding / Kayaking
Want to go for something subtle? You can opt for paddle boarding or kayaking. Stand-up paddleboards (SUPs)/kayaks are available for single, couples, and groups. Want to explore more? Kite Beach organizes tour for adults and kids to the nearby mangroves.
Mangrove Tour (Kids) – AED 100
Mangrove Tour (Adults) – AED 160
Kayak (Single) – AED 75
Kayak (Double) – AED 100
Stand-Up Paddleboard (SUP) (1 Hour) – AED 60
Stand-Up Paddleboard (SUP) (2 Hour) – AED 100
Stand-Up Paddleboard (SUP) (Full-Day) – AED 200
3). Waterpark
Kite Beach Dubai has two fantastic waterparks – Aqua Parks Leisure and Splash 'N' Party to shred stress and dive into the pool filled with fun and madness. Escape the heat and experience thrilling splash pads and water slides. Not only that, both waterparks host events like birthday parties & celebrations and private booking for families/corporates to beat the heat in style.
Admission Cost – AED 100 (one Adult gets free entry)
4). Fine Dine
Are you feeling hungry after all the fun? Satiate your hunger pangs at the food trucks/stalls offering local and international delicacies and cuisines. From healthy breakfast and refreshing smoothies to lip-smacking kebabs and sinful desserts, you can get overwhelmed with too many choices and if you want to make it memorable, make sure to grab some sliders and lotus softy from SALT Kite Beach.
5). Beach Library
Hitting the beach helps you to unwind, but now that you're at Kite Beach Dubai, why not kick back, relax, and read a book that will make you feel good. Kite Beach Dubai has an open-for-all beach library kiosk with English and Arabic books to bask in, which is also free of cost. Get hold of a book, grab a bean bag, and get lost in the literary world with the noise of waves crashing on the beach in the backdrop.
OTHER THINGS TO DO IN KITE BEACH CENTER:
Sole Mio – Enjoy an outing at the Kite Beach like a VIP. From extra-large towels & umbrellas and a range of inflatable toys to sunscreen and food delivery to the beach, your stint will be memorable – and royal – for sure.
Workout at the Magnum Fitness Beach (Outdoor Gym) – Regarded as the iron paradise for gym and fitness enthusiasts, gym rats can hit the gym for their perfect workout regime – by the sea.
KITE BEACH CENTER TIMINGS: Kite Beach is an open-for-all beach for tourists open 24*7. However, retail and leisure attractions are available (10 AM – 10 PM) (Sunday to Saturday), while food and beverages restaurants/hotels/stalls are open from (10 AM – 10 PM) (Sunday to Wednesday) and (10 AM – 12 AM) (Thursday to Saturday).
KITE BEACH CENTER LOCATION: 2 Al Nessnass St., Off Jumeirah Beach Road, Behind Saga World Mall, Umm Suqeim 1, Dubai, United Arab Emirates
HOW TO REACH KITE BEACH CENTER?
1). By Metro – If you want to travel comfortably and on a reasonable budget, the best choice is to travel via metro. How to go to Kite Beach by metro? Check for the nearest metro stop, board the M1 Metro Transit Line (Rashidiya – UAE Exchange), and de-board at Emirates Tower Metro Station.
2). By Bus – Want to make your travel experience more enjoyable and unforgettable? Opt to travel via bus. If you are traveling via bus, there are numerous transit lines available:
8 Bus Transit Line (Gold Souq Bus Station – Ibn Battuta Metro Bus Stop),
88 Bus Transit Line (Deira City Center Bus Station – Dubai Internet City Seaside Metro Bus Stop),
C10 Bus Transit Line (Hamriya Port Control Tower Terminus – Hassa Bint Al Murr Masjid)
Reach to tour the nearest bus station and board the above-mentioned transit lines and make an exit either at Hassa Bint Al Murr Masjid Metro Bus Stop or Rashid Al Hadees Masjid Metro Bus Stop.
3). By Taxi – Love your personal space and comfort? Hail a cab. Cab service providers like Uber and Careem operate throughout the city.
WHAT IS KITE BEACH ENTRY FEE?
Entrance Fee – Free (Kite Beach Jumeirah doesn't charge an entry fee)
Rental Price (Umbrella, Loungers, Towel, Beach Food Delivery, etc.) – AED 120/person
Rental Price (Umbrella, Loungers, Towel, Beach Food Delivery, etc.) – AED 200/couple (Sunday – Thursday)
Rental Price (Umbrella, Loungers, Towel, Beach Food Delivery, etc.) – AED 240/couple (Friday – Saturday)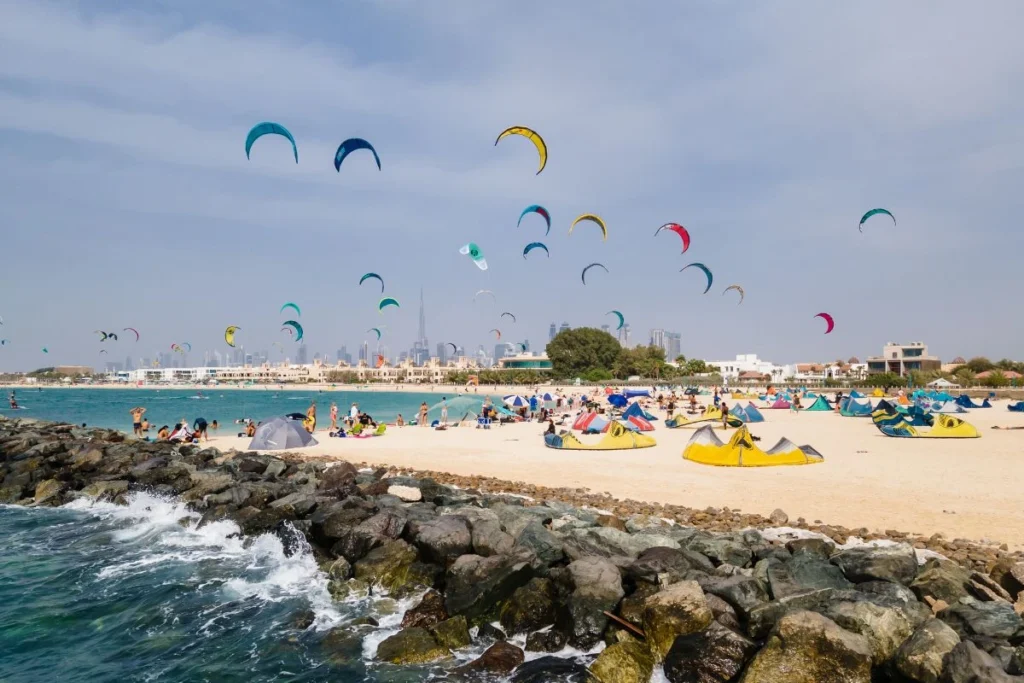 WHAT FACILITIES ARE AVAILABLE AT KITE BEACH CENTER?
Restroom
Shower (post-swim in Sea)
Baby Changing Facility
Towel Rental
Beach Lounge Rental
Public/Private Parking
Wi-Fi and Charging Area
TIPS TO FOLLOW WHEN VISITING KITE BEACH CENTER:
1). If you're traveling with a pet, it's important to note that Kite Beach Dubai is "NOT" pet friendly. Pets are not allowed on the beach.
2). If you want to swim, snorkel, or perform water-based activities, make sure to reach early as swimming and all water-associated activities are prohibited after sunset.
3). Kite Beach Dubai has a specially reserved zone for swimming called Kite Zone. Therefore, it's advisable to restrict your swimming activities to the spot itself.
4). Carry high SPF sunscreen when visiting Kite Beach Dubai.
5). Kite Beach Dubai is open for all and operates round-the-clock but overnight stay/camping is strictly restricted.
6). Dress according to the authority's established guidelines and norms.
7). Lighting fire/campfire/barbeque party/smoking sheesha is prohibited on the beach.
8). Without prior permission from the authority, photography isn't allowed on Kite Beach Dubai.
9). Though lifeguards are available around the beach, it's inadvisable to let the children be in the water by themselves as the tidal current can sometimes be intense.
WHAT'S THE BEST TIME TO VISIT KITE BEACH CENTER?
The best time to visit Kite Beach is in-between November to March. You can enjoy water-based, sunbathing, and recreational activities without facing the summer heat.
To know more about Dubai destinations, Follow us on :