Jumeirah Emirates Towers is one of the iconic tallest structures in Dubai that offers the best business services combined and stunning views this architectural marvel offers a luxurious stay for all the visitors. Located on the Sheikh Zayed Road, the emirates towers Dubai celebrates Dubai's grandeur and booming tourism. The two stunning towers Emirates Office Towers and Jumeirah Emirates Towers glorify Dubai's cultural origins with modern-day architecture. A luxury business hotel is a place where guests can effortlessly switch between corporate deals and leisure.
Emirates Towers- An iconic landmark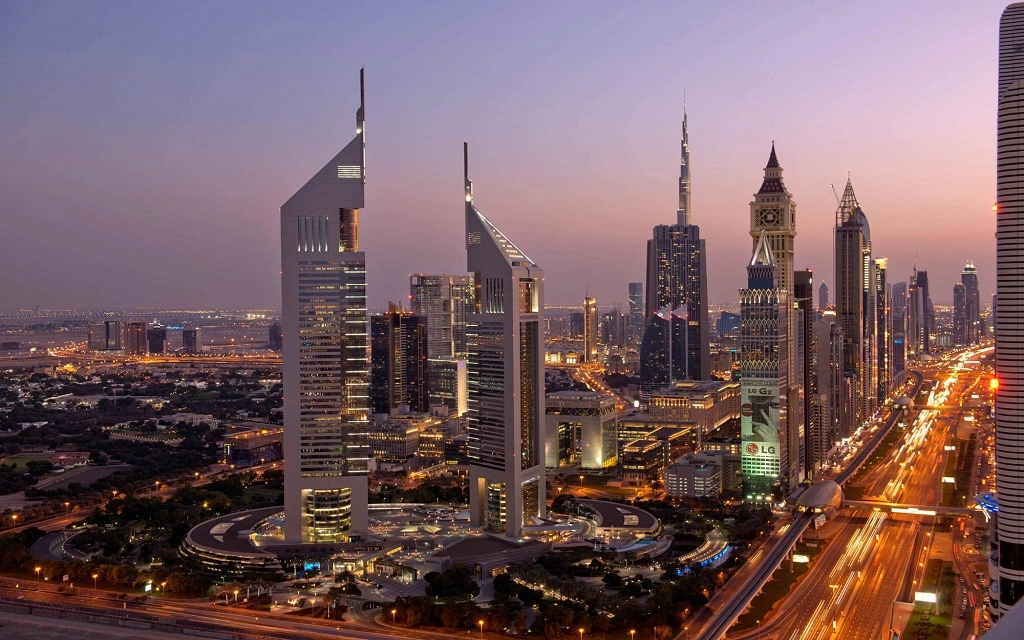 Designed in two equilateral triangular-shaped buildings, the two towers stand parallel to each other in Dubai downtown's prime location. The construction of Emirates Towers was started in 1996 and the project was completed in April 2000. The unique pair of geometrical-shaped tall structures were designed by well-known architect Hazel Wong, who cleverly blended the Islamic region's traditions with modern architectural concepts. The towers are well-connected by a two-story retail complex, the Boulevard which offers outstanding shopping options to the visitors. The exterior of the tower captures the sunlight in daytime and illuminates the city at night with its silver and copper reflective glass.
Emirates Office Tower
The 54-story building is a classic example of flawless architecture combined with advanced technology to facilitate business functions in modern times. It is also known as Emirates Tower one and offers stunning panoramic views of Dubai City. High-speed elevators and computer-operated centralized lighting offer convenience to the business professionals. Many international organizations including BMW, Rolls Royce and Cartier have set their offices in Emirates Office Center.
Jumeirah Emirates Tower Hotel
The Jumeirah Emirates Tower hotel is a 5-star hotel with 56 floors and 400 rooms where guests can relax and enjoy their leisure time. The hotel is at walking distance from the Emirate Towers metro station and 12 km away from the Dubai international airport. The Jumeirah offers furnished rooms and suites combined with hi-tech facilities for business tycoons and guests. Depending upon your preference you can choose from different room options including Deluxe Room, Club Premier Room, Club Suite, Presidential Suite, and Royal Suite.
Amenities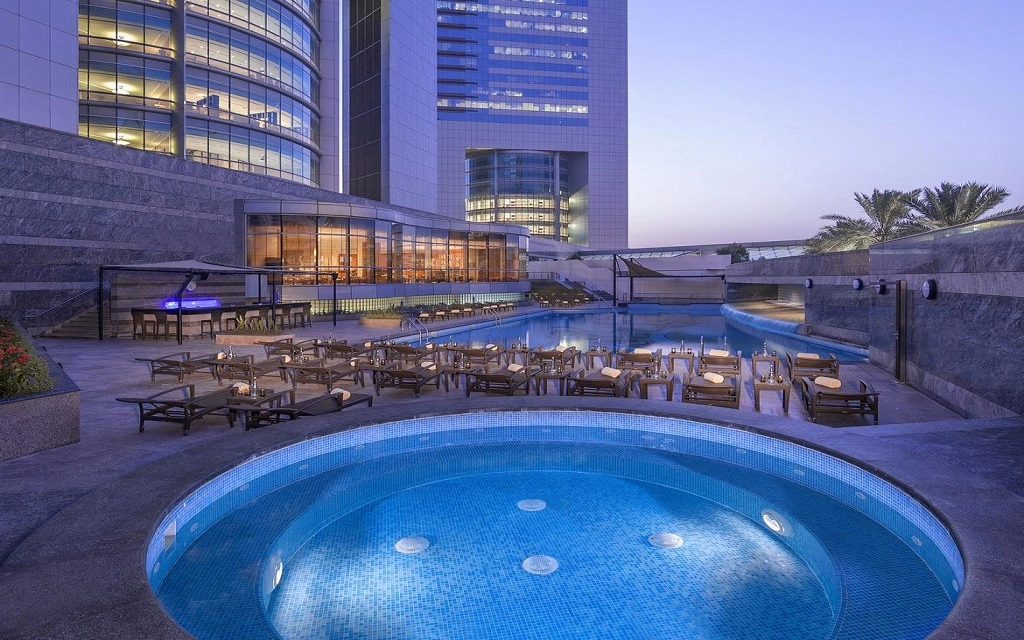 Besides an outdoor swimming pool and wellness center, the hotel features a Talise Spa which has a flotation pool and five treatment rooms. It is a perfect place to rejuvenate yourself with relaxing body massages and beauty treatments.
The hotel boasts a number of world-class restaurants and bars that serve international cuisine to the guests at the hotel premises. While The Rim Boom is famous for its mouth-watering variety of meat platters and beverages, Mundo serves Middle Eastern, Asian and Mediterranean cuisine. Alta Badia offers delicious Italian food with stunning views. French cuisine and Lebanese are also available at some of the restaurants.
Other amenities include stunning waterfalls, lush green landscapes, lounge, night club and a parking lot that is large enough to accommodate more than 1500 cars. Besides this, the hotel offers an opportunity to host corporate, social and private events and provides sophisticated venues such as Godolphin Ballroom, congress rooms and The BIz Hub. Outdoor space can be conveniently decorated to cater small events.
The Boulevard
Discover your favourite labels including Montblanc, Armani, Lanvin and Gucci in a high-end retail space that is spread across 13,000 square meters, bridging the two tall structures. The shopping center is home to 30 fashion outlets and has numerous cafes, bars and restaurants. The Boulevard also flaunts a popular men's salon, stylish nail spa and fitness club. A complete package of luxurious treatment, the Boulevard pampers the guests with grooming and styling services.
Interesting facts about Emirates Towers
Jumeirah Emirates Tower is the only hotel in Dubai that offers its guests free access to the Wild Wadi Waterpark.
From its opening till today, the hotel has won numerous awards which include Business Traveler Middle East Award-2019, Best Business Hotel in Dubai, WOW Awards Middle East -2019, and Best Venue for MICE /Business events.
From Deluxe rooms to two-level Royal Suites, the Emirates Towers offer 400 rooms with seven different room categories.
The hotel tower takes pride in being the third largest hotel in the world.
The Office Tower is 350m high and the hotel tower is 305 m high, and both are linked together by a central Boulevard.
Upon their completion in 2000, the Emirates Towers were the tallest structures in the UAE and Europe.
The hotel rooms are spacious and follow minimalist interior design. Although they feature classic pieces of decor which include the popular Eames Lounge chair.
The internationally acclaimed event, which involves running up to 52 floors of the hotel, is hosted at the Jumeirah Emirates Tower every year. It is a very popular charitable event and named as Dubai Holding SkyRun Event.
The most surprising factor is that both towers have a similar number of floors, the Emirates Office center has 54 floors and Jumeirah Emirates Hotel has 56 floors. The reason contributing to this is the height of individual floor levels is higher in the office tower as compared to the height of floor levels in the hotel tower.
Launched in May 2016 and nestled in the business tower "The Office of the Future", is recognized by Guinness World record for being the world's first 3D printed office.
Located in close proximity to Dubai's main attractions such as Dubai Mall, Dubai Future Museum and Dubai International Financial Center, the Emirates Towers are one of the most captivating structures in Dubai and it offers the most scenic views of Dubai. The towers define Dubai's superior lifestyle with outstanding working environments, modern technology and numerous entertainment options. If you are planning to visit Dubai for your next venture, then book your luxurious suite at Jumeirah Emirates Hotel and enjoy the breathtaking views of the city.