IMG Worlds of Adventure is more than what you can imagine from an amusement park. From Marvel, Ben 10, to Powerpuff girls, watch all your favorite characters entertain you in the world's largest indoor theme park. Spread across an area of 1.5 million sqft, the theme park is one of the best recreational spots among locals and tourists. With a capacity of welcoming 20,000 visitors a day, the park is facilitated by many exciting adventure rides and other attractions.
The gigantic rides inside the theme park are sure to give an adrenaline rush. The biggest temperature-controlled indoor theme park is a great place to have fun with the family on weekends for many reasons.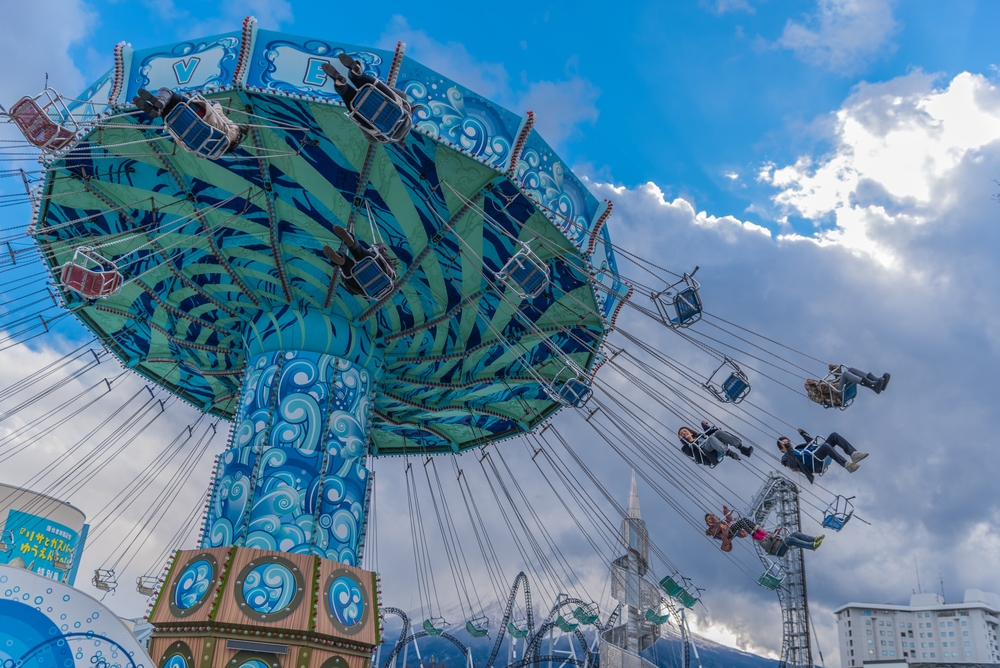 IMG world of adventures Rides:
The Amusement park is divided into different Epic zones: Marvel, Lost Valley, Cartoon Network, IMG Boulevard, and the Haunted Hotel, and each zone has adventure rides and roller coasters based on a specific theme.
Dino Carousel : Enjoy the spin with your friends on a dinosaur theme carousel. Nothing is better than riding on the friendliest dinosaurs of the Lost Valley.

Velociraptor : Thrill-seekers can get on Dubai's fastest and tallest roller coaster through the deep, dense jungles of the Lost Valley to the desert. With a speed of 100km/h, Velociraptor gives you an immersive experience that is beyond your imagination.

Thor Thunder Spin : Just as the name suggests, the ride spins you here and there. The very famous character of the Marvel series, Thor, will attempt to save you from Loki, the villain in this game.

The Haunted Hotel : Are you not scared of horror movies? Then this zone is for you, but think before you enter, as escaping from this place isn't easy. A hotel with empty corridors and the scariest backdrops can frighten even fearless humans. Although this attraction is only for visitors 15 years and above, children below 18 must present their ID at the entrance.

Forbidden Territory : Explore the bygone era of the prehistoric period, when the dinosaurs used to roam freely on the earth. Watch more than 60 prehistoric animals from up close (animated in life-size replicas) and get the feeling of Jurassic World.

Ben 10 5D Hero time : Get on the ride to enjoy Ben's experience as a Plumber trainee. Enjoy his battle with the villain Khyber the Huntsman, and enjoy the action scenes between them.

The Powerpuff Girls : Do you love the PowerPuff girls? Well, we all do. So enter Townville and support the Powerpuff girls to help them defeat Mojo Jojo's evil robot. Blossom, Bubbles, and Buttercup will join in your fight for the truth.

Avengers flight of Quinjets : This ride is for all who love to take control of their life. You will fly a two-seat quinjets with your friend and race with other quintets to make it fun.

Lazy Town : The lazy Town is full of fun; it offers a world of adventure as you climb up with a rope and ladder. Enjoy the dance performances at Stephanie's dance school and join them to have fun, and don't forget to check out Robbie Rotten's lair.

Avenger's Battle Of Ultron : Join the famous characters of the Marvel series, including Iron Man, Thor, Captain America, and The Hulk, in their battle against villain Ultron.
IMG worlds of adventure location:
The theme park is located on Sheikh Mohammed Bin Zayed Road in City Of Arabia , Dubai.
IMG World of Adventures Timing:
Sunday to Wednesday: 11:00 am to 8:00 pm
Thursday to Saturday: 11:00 am to 10:00 pm
The IMG-World of Adventure is open throughout the year and can be enjoyed in any season.
IMG World Ticket Price:
Img World theme park tickets start from AED 120 and can go up to AED 350 depending upon the ticket choice.
Children under a height of less than 1.05m can enjoy complimentary access to the park activities.
You can also avail an annual pass that gives you unlimited access to the park at AED 725.
As the park is quite popular among locals and tourists, you may have to stand in queues for a long time. To avoid this, we advise you to book an online ticket.
What's more:
1. Food:
Besides hyper-adrenaline roller coaster rides, the park also offers a fine dining experience in themed restaurants. From American -style burgers to the pan -Asian cuisine, the park boasts multiple cafes and restaurants that serve mouth-watering food to your tables. Some of the eateries at IMG world theme park are:
Tony's Skydeck
Chang's Golden Dragon
Downtown Shawarma
Hotdog Express
Mr.Smoothy
Spice Valley
2. Shopping:
Buy your favorite cartoon character t-shirt and accessories from the merchandise or get a souvenir as a memory of your visit to the theme park. Check out the fantastic collection of theme-based products in Img world of adventures retail stores. To name a few are:
Marvel Vault
Daily Bugle company store
Epsilon command
Avengers Exchange
3. Movies:
Nothing can beat the movie experience at the Novo Cinemas. IMG world offers an exciting opportunity to watch a blockbuster movie with more than ten screens and LASER technology. Three- VIP screens, a private lounge, and 7-star service will overwhelm you with joy and excitement. The IMAX theater at the park also makes a perfect venue to host business events and meetings.
4. Meet & Greet:
Die-hard fans of Spiderman, Thor, and Powerpuff girls have a chance to meet your favorite Cartoon Network and Marvel characters at the meet and Greet zone.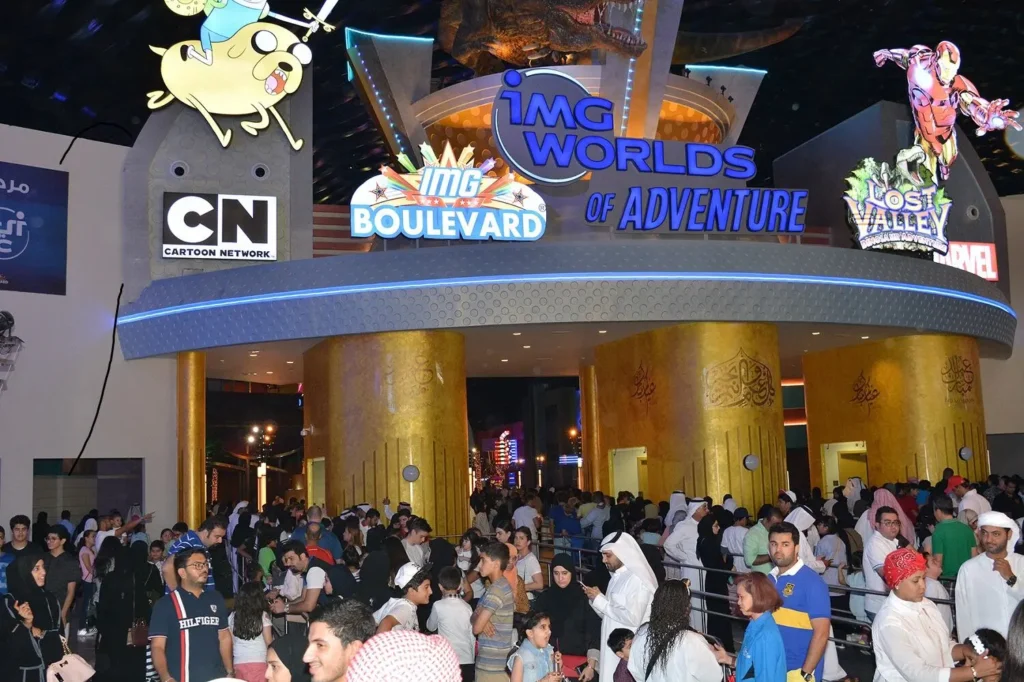 Other facilities:
Valet parking is available with some additional fees.
Lockers to store your belongings are available, SED 45 for the small ones and SED 60 for Jumbo lockers per day.
At the park's main entrance, there is an ATM service to make your experience smooth and hassle-free.
Besides clean public toilets in different parts of the park, there are bathrooms for people with disabilities.
The park has baby changing facilities and provides single and double-size strollers for rent.
Wheelchair facilities for elderly persons are available on a first-come, first serve basis.
Conclusion:
IMG -World theme park is a wonder and a place worth visiting for extreme fun activities. A one-stop destination to entertain your family with thrilling roller coaster rides, IMG Theme park must be on your Dubai itinerary. We hope you have enjoyed our blog on the outstanding amusement park. Check out our other blog, IMG World of Adventures-Best Theme park, for more information.