We all know that Dubai is known for its luxurious lifestyle, iconic landmarks, and exhilarating adventure theme parks. Among all the adventure parks in Dubai, IMG World of adventures tops the list of UAE's most popular theme parks, and offers The theme park is the largest indoor theme park around the globe and fascinates visitors with thrilling rides which portray your favorite Marvel and cartoon network characters exceptionally well.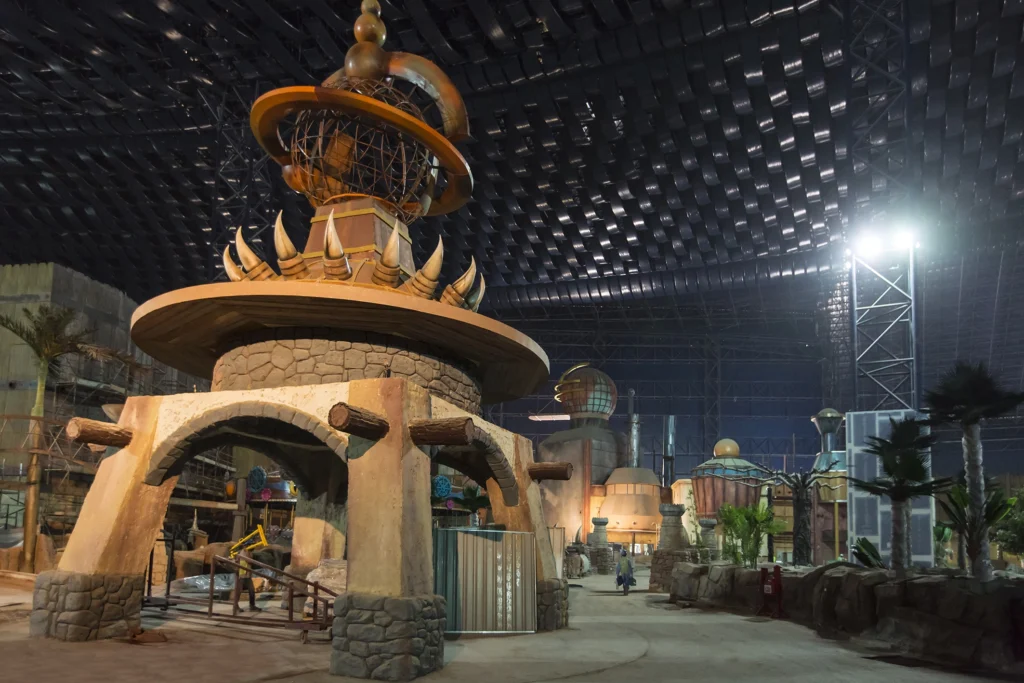 Spread across a massive area of 1.5 million sqft, almost equal to 28 football grounds, the IMG World of adventures offers indoor air-conditioning with thrilling rides and adventures. The IMG theme park features famous cartoon characters like Spiderman, the Hulk, PowerPuff Girls, The Avengers, and many more. The park is divided into five zones: Marvel, Lost Valley, Cartoon Network, IMG Boulevard, and The Haunted Hotel. The park also has several restaurants to provide a fine dining experience. Do not forget to purchase t-shirts from concept retail stores with your favorite cartoon characters and logos.
Adventures inside IMG World Theme Park Dubai:
All the zones inside the park have different rides and attractions that present a unique theme.
1. Marvel :
Whether or not you are a great fan of the Marvel Universe, you will have extreme fun in the Marvel-themed zone. The rides based on the Marvel theme are exhilarating, and you will also have a chance to meet Marvel Avengers in the Meet and greet events throughout the day. Some of the popular attractions in this zone are:
Avengers -Battle Of Ultron: Want to join your favorite heroes from Marvel, such as Iron man, Thor, Captain America, and Hawkeye, in their battle against evil Ultron? Then this ride is best for you.
Hulk Epsilon Base 3D: In this ride, You will witness Hulk's battle against the dangerous enemies on a 360- degree projection screen.
Thor Thunder Spin: The Thunder spin ride will spin you here and there, and Thor will try to rescue you from the evil Loki.
Avengers Flight of the Quinjets: More like a fun race, in this ride, you will be accompanied by an adult in a 2-seat Quinjet to compete with other Quinjets.
2. Lost Valley:
Ever thought you could roam around a dinosaur theme park that reminds you of Jurassic World? IMG World of Adventure has it all for you in the Lost Valley zone, featuring rides and activities based on prehistoric animals.
The Velociraptor: Experience thrill in Dubai's tallest and fastest roller coaster ride. The adventure will start from Lost Valley's jungle to the desert and back.
Forbidden Territory: Enjoy a jungle safari that will take you back in time with more than 70 animatronic dinosaurs, giving you an unreal experience of Jurassic World in real life.
Predator: Predator is a fantastic ride that will take you through the jungle of a lost valley with loops and exciting roles. Adventure-seekers must try this ride for unlimited fun.
Dino Carousel: Would you like to ride on a dino theme carousel? Dino carousels are more fun with some friendly dinosaurs.
Adventure Fortress: This ride is more like a movie scene; you will protect the village from the deadly dinosaurs in an adventure playground with tunnels, slides, bridges, nets, etc., for your help.
You could own a Dinosaur Egg from The Explorer's Supply or purchase a t-shirt and mugs from Raptor Outpost.
3. Cartoon Network :
Get an opportunity to meet your favorite Cartoon Network characters. It has fun rides, food, and adventure, perfect for family entertainment. Your kids would love this corner, and the following are the most popular rides in the Cartoon Network zone.
Ben 10 5D Hero time
The Powerpuff girls
The fantastic ride of Gumball
Adventure Time-Ride of OOO with Fin and Jake
Lazy Town
4. IMG Boulevard :
IMG Boulevard is an exciting area where you can treat yourself to delicious pastries, samosas, and Arabian food. You can also spend your leisure time shopping at the retail outlets.
5. The Haunted Hotel:
IMG theme park has a separate zone for those who love horror movies and are ready to enter the Haunted Hotel, which has a scary backdrop. This attraction is for children above 15 and adults. Visitors between 15 to 18 years must present their ID cards to enter.
IMG World Timings:
If you visit the theme park for the first time, please remember that park timings vary according to the day of visit.
Sunday to Wednesday:11:00 am to 8:00 pm
Thursday to Saturday:11:00 am To 10:00 pm
Best time to visit the IMG theme park :
The theme park is open throughout the year. With its temperature-controlled system, you can visit the park in any weather conditions. However, this attraction gets crowded with tourists during festivals, public holidays, and peak seasons.
IMG Theme park Location :
E311, Sheikh Mohammed bin Zayed Road, City of Arabia, Dubai.
IMG World of Adventures Tickets:
The basic ticket price for entry to the park is AED335. Children under 1.05m in height get free entry to the park. The ticket includes access to all the major rides in the park. The ticket price may vary for juniors and senior citizens.
Interesting facts about IMG Theme park:
The construction cost of the entire theme park is estimated to be over USD1 Billion.
The in-house wifi network can connect to more than 25,000 mobile devices at a time.
The park is large enough to accommodate 20,000 guests in one day.
The park features a Velociraptor ride, which moves at 60 miles per hour.
The park also offers theme-based fine dining options at some of the restaurants.360 Express, spice Valley, Tony's Skydeck, and Chang's Golden Dragon are some famous restaurants inside the park.
Quick tips before you visit the IMG World of Adventures :
The place is massive in area, so make sure you wear comfortable shoes when you visit the park.
Plan and book your tickets online to avoid standing in long queues that can ruin your experience.
Try to reach the location beforehand and explore the place before it gets crowded with visitors.
Besides all these attractions and activities, IMG World of Adventures will give you an extraordinary cinema experience with a 12-screen multiplex Novo cinema. The cinema features three VIP screens with a private lounge, gourmet menu, and fully reclining leather seats that assure great comfort and luxury. Hence, IMG -World of Adventure is now a complete entertainment package for the entire family. So, add this place to your bucket list and get an outstanding experience. Enjoy the never-ending fun and excitement only at the IMG World theme park.