Dubai offers endless opportunities to experience thrill and excitement with many adventurous activities. Zip lining, dune bashing, quad biking, and hot balloon ride, the city has an extensive range of activities that will make you go crazy. Another addition to this list is indoor Skydiving in Mirdif City Center mall. iFly Indoor Skydiving Dubai will meet your expectations of an extraordinary skydiving experience with an indoor setup designed to suit people of all ages.
A 10-meter high vertical glass tube tunnel attached to the mall will give you a more secure option to skydive than in the exterior environment. The tunnel comprises two powerful fans that generate air pressure in the upward direction at 200 km per hour. This speed exerts force, propels any diver weighing less than 115Kg up in the air, and keeps them suspended. Training instructors will support you during your iFly indoor Skydiving in Dubai to ensure your safety. The acrylic chamber is regularly inspected and certified to give you a sense of security.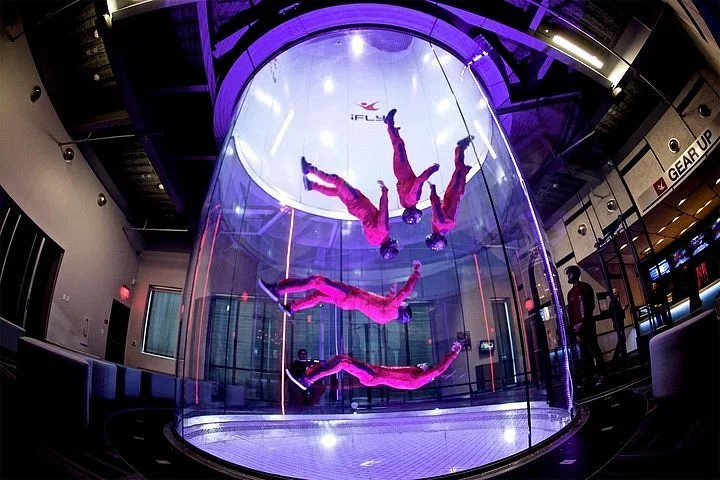 iFly Dubai Indoor Skydiving:
Once you reach the location, you will be welcomed by the hostess, and she will guide you to the kiosk where you can buy your tickets. Then you will be given your skydiving gear-wind suit and eye protection to cover yourself while diving. You will then enter the training room, where you will get instructions on how to make hand, leg, and body movements in the tunnel. The instructor will check your gear for safety and ensure that you have a memorable experience at the skydive.
Once you are ready to fly, the staff will guide you to the tunnel. In no time, you will feel shocked by a sudden thrust of air that will take you up in the air. Although it seems exhilarating, you will fly comfortably once lifted to a certain height. The instructor will constantly monitor you, who will correct your body movements and give you the right direction to fly freely in gravity. The experience is beyond your imagination as you will overcome the fear of falling and fear of heights.
You may feel like a bird confident in flying on its horizon. You obviously want to capture these thrilling moments with your camera and iPhone. But, please remember that taking a camera and phone inside the tunnel is prohibited in any conditions. You can collect these photos from the iFly kiosk on your way out. Cameras are installed at vantage points, and you can choose your favorite photos and videos from the display kiosk. The instructor will also ask you to do spins and flips while inside the tunnel for fun, but these movements will make the best photos if you do it correctly.
iFly indoor skydiving in Dubai gives equal opportunity to experience indoor flying to all individuals above three years old. Anyone with physical disabilities who is passionate about Skydiving is welcome at the iFly Dubai, a great initiative. However, pregnant women are not allowed to fly.
iFly Indoor Skydiving VR Experience:
The VR effect has undoubtedly improved our lives in the past few years and has also enhanced the skydiving experience. This latest feature of iFly allows you to enjoy flying over Burj Khalifa, The Palm, The creek, and many more iconic locations. With VR equipment installed on your head and a camera attached to your eyes, you will get a view of an outdoor location, even while you are skydiving indoors.
Also Read : Plan Thrilling Vacation with Best Things to Do in Dubai
Useful Tips for your iFly Indoor Skydiving Experience:
Try to reach the location at least an hour before your actual flying session starts.
Although iFly Dubai indoor skydiving is a low-risk activity, avoid flying under the following circumstances:
If you're pregnant.
You have ailments related to your neck and shoulders.
If you have a plaster cast.
If you have a backbone impairment or shoulder dislocation.
Try to pay full attention to the safety instructions and pre-flight tips the expert trainer gives.
There are some height and weight criteria for a safe flying experience inside the tunnel.
Weighing less than 105 kg and shorter than 180cm.
Weighing less than 115kg and taller than 180cm.
You must contact the experts if you do not fit into the conditions.
Children under 18 years must present a consent signed by their parents on the consent form.
If you have any physical issues, inform your instructor before the flying begins.
Please wear comfortable clothing, which makes it easier to wear a Sky suit on top of it. You can choose to wear light jumpers and casual clothing.
Do not wear heavy jewelry or watches, as they may fall on the ground with high air pressure inside the tunnel.
You may feel breathlessness initially, but you don't need to panic. You'll be okay soon. Your instructor will give a detailed explanation of this.
Any intoxication is not allowed before the flight, as it can make your body unresponsive.
iFly Dubai Location:
The iFly indoor skydiving Dubai location is in City Center Mirdif, Mirdif, on Sheikh Mohammed bin Zayed Road.
iFly Indoor Skydiving Dubai Timings:
Sunday to Wednesday: Between 10:00 am to 10:00 pm
Thursday to Saturday: Between 10:00 am to 12:pm
IFly Indoor Skydiving Dubai Ticket Price:
As a beginner, you can choose the standard package to book iFly Dubai tickets, which gives you a 2-minute skydiving experience inside the tunnel. This package covers:
A training session with expert professionals
A complete set of flying gears, including a flight suit and helmet, are provided.
A Flying certificate is offered.
One-on-one personal instructor to assist you inside the tunnel.
This package will cost AED 220 for an individual. We advise you to book in advance if you plan to skydive at iFly Dubai. And do not forget to read the instructions online.
If you want to enjoy outdoor Skydiving while flying inside the tunnel, you can go for the iFly Dubai VR package. The package includes.
A training session.
Complete flight gear with VR equipment
One-on-one personal instructor
Flying certificate
You can enjoy up to four flights.
All these services for VR skydiving are available at AED350.
Besides this, iFly Skydiving Dubai offers Gift vouchers for your family members and friends who have the same passion for flying as you. iFly also offers group packages and corporate packages. iFly indoor skydiving in Dubai provides you a memorable experience with flying times from 2 minutes to 60 minutes. So, what are you waiting for, book your iFly Dubai tickets for indoor Skydiving and get a genuine flying experience in a safe environment .iFly Skydiving is an experience that all the family members can enjoy.