There is something about the concept of thrill, but does anyone really know what it's all about and what it means?! For someone, it's the way of life, it can be the thrill to experience adrenaline-pumping (to jump from the plane without blinking an eye) for somebody, or it can be a mean of excuse from the day-to-day monotony.
In this segment, we bring you the place of adventuresome odyssey – The Ferrari World Abu Dhabi. Buckle up coz' the ride is bumpy ahead.
ABOUT FERRARI WORLD ABU DHABI
Being the world's biggest indoor theme park, Ferrari Park is among the top center of attractions located in Abu Dhabi.
The first-Ferrari theme park in the world situated on Yas Island, Ferrari World Abu Dhabi houses 40 spine-chilling, heart-racing, state-of-the-art rides, Ferrari stores, authentic Italian culinary trattoria, a racecourse to flaunt one's driving skills, and more to provide fun for all ages which operate round the year.
Ferrari Park is not only about the thrill and the need for speed but a sight to behold and experience the true bastion of velocity amid luxury.
THINGS TO DO IN FERRARI WORLD ABU DHABI
1). Formula Rossa
Manufactured by Intamin, Formula Rossa is touted as the fastest roller coaster in the world. Certainly not for the faint-hearted, Formula Rossa blasts off at the top speed of 240 kmph (149 mph). While maintaining its course, Formula Rossa scales 52 meters within 4.9 seconds, letting the rider experience a stomach-churning 4.8 G's (FYI – space shuttle experience maximum of 3G during shuttle launch and orbit re-entry). Whoo, that's epic fast!
Height Restriction – 140 cms
2). Flying Aces
Next up is the Flying Aces. Flying Aces is yet among the top tourist attraction site at Ferrari Park. Known for boasting the world's tallest non-inverting loop, Flying Aces draws its inspiration from the Italian ace aviator, Count Baracca. True to its ideal, Flying Aces lets the rider scale whopping 63 meters at a 51-degree incline and reach the top speed of 120 kmph (75 mph) through its scary twists, turns, and spiral journey. Insane, right?
Height Restriction – 130 cms – 196 cms
3). Turbo Power
This gravity-defying ride is the mini version of Turbo Track. Standing at over 13 meters in height, Turbo Power is a family attraction that allows both children and adults to experience the fascinating aerial view of Ferrari World Abu Dhabi with their hearts pounding. That's one hell of a ride, for sure!
Heigh Restriction – 105 cms
4). Scuderia Challenge
If you're an avid arcade racing game lover, it's your chance to take the shine. Get your game face on, participate in the racing simulation Scuderia Challenge, and have first-hand experience of what it takes to be a Ferrari F1 driver. It's wild, it's thrilling, it's fantastic. It's a timed attraction, so make sure to book your seat beforehand.
Height Restriction: – F1 Simulator – 130 cms
F1 2.0 Simulator – 150 cms
Ferrari F430GT Simulator – 150 cms
5). Speed of Magic
One of the most immersive attractions in Ferrari Park is "Speed of Magic." It takes immersion cinema altogether to an altogether another level and is one among the "not to be missed" attraction. A 4D fantasy journey captained by the notorious virtual driver, Nello, takes one on an exhilarating journey through the turf, terrain, cliffs, and everything one hasn't seen or sensed before.
Height Restriction – 100 cms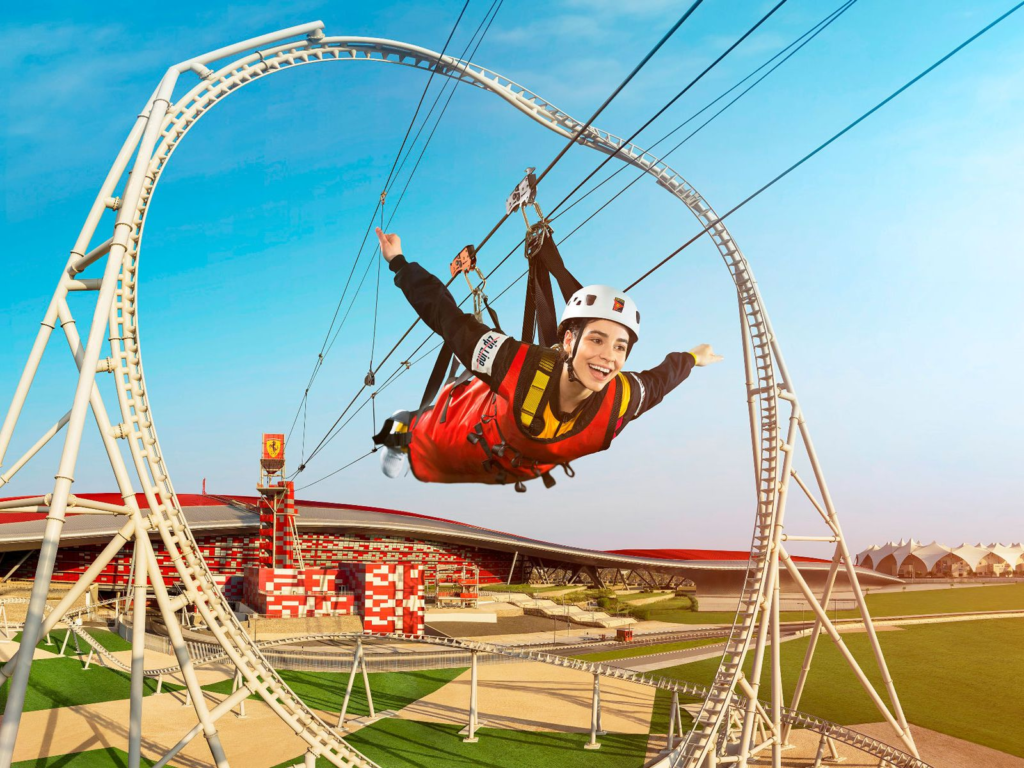 THINGS TO DO FOR KIDS IN FERRARI WORLD ABU DHABI
1). Junior Grand Prix
Ferrari Park has a dedicated racing school for the future F1 champs called Junior Grand Prix. Here, the young ones can watch the junior Grand Prix educational film before strapping the buckle of a scaled-down version of a track-ready Ferrari F1 car to hit the tracks. There are amply trained instructors on-site to ensure kids' security while guiding them to hone their track racing skills.
Heigh Restriction – 110 cms – 140 cms
2). Junior Training Camp
If you're on a trip to Ferrari World Abu Dhabi with your little Dennis the Menace, then there shouldn't be a chance you miss Junior Training Camp. Built by Ferrari, Junior Training Camp has a vast play area with different challenges to tackle. It's like a paradise for the young ones. While Hexagonal Tower challenges the older kids to brave new heights, young kids can master their climbing skills on a low suspension bridge which helps to foster agility and quick-minded skills.
Heigh Restriction – 120 cms
3). Formula Rossa Junior
While there's a dedicated fastest roller coaster on the planet for the adults, why should the kids miss out? Ferrari peculiarly built a minuscule version of the Formula Rossa roller coaster for the kids to enjoy the thrill, just like the grown-ups. It reaches the top speed of 45 kmph (28 mph) with subtle thrust and turns. Why should only adults have the fun done, right?!
Height Restriction – 90 cms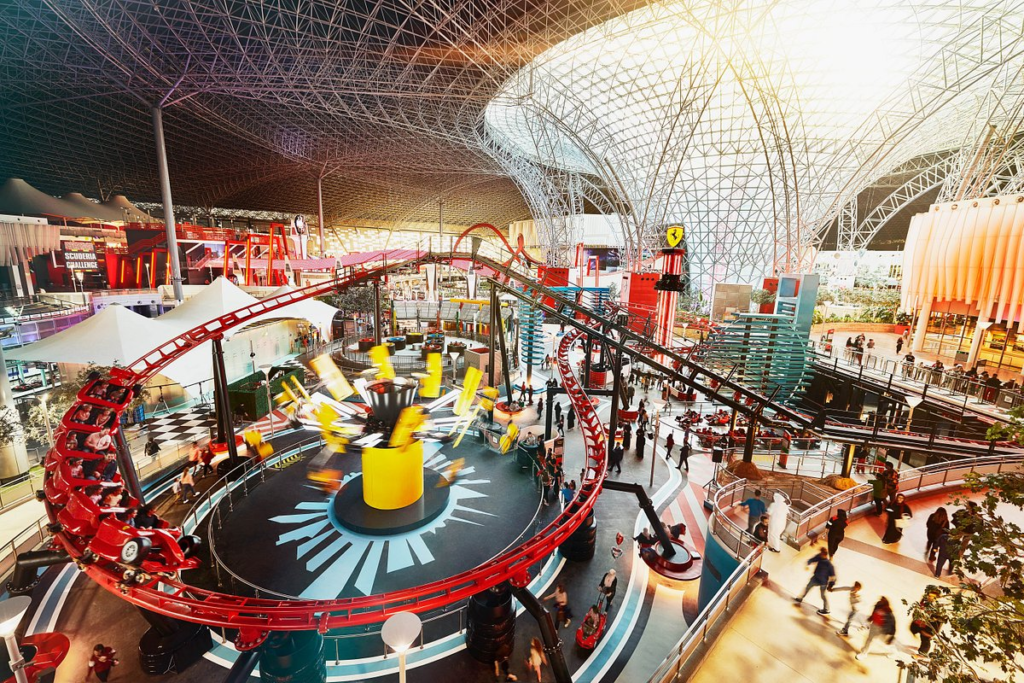 OTHER POPULAR ATTRACTIONS IN FERRARI WORLD ABU DHABI
1). The Ferrari Store
2). Karting Academy
3). Bell' Italia
4). Nello's Adventureland
5). Made in Maranello
6). Galleria Ferrari
7). Tyre Twist
FERRARI WORLD TIMINGS: Thursday – Tuesday (12 pm – 8 pm), Wednesday (10 am – 8 pm)
Note: Selected rides are open from 10 am to 12 pm.
HOW TO REACH FERRARI WORLD ABU DHABI?
1). By Metro – If you love traveling via public transport, the best option is to board a metro. Reach your nearest metro station and board the M1 Metro Line ( Rashidiya – UAE Exchange ), and deboard at Jebel Ali Metro Station. Ferrari World Abu Dhabi is 46 minute walk from there. One can either hire a bus or a taxi to reach Ferrari park.
2). By Bus – If you love hitching a ride on a bus, board 218 Bus Transit Line ( Channel St / Al Raha Mall – St 10 / Abattoir ) and deboard at Yas Mall West. Ferrari World Abu Dhabi is 8 minute walk from there. You can also hail free shuttle buses from Dubai or Abu Dhabi City (Route B) to Yas Island.
3). By Taxi – If you love to travel at your comfort disposal, you can hail a taxi on a private basis. There are internationally-renowned cab services providers like Uber and Careem to take you from your stay to Ferrari Park.
4). By Yas Express – One can also avail of the complimentary shuttle bus services on Yas Island, which connects the main attractions and landmarks on the island and runs on a daily basis.
HOW MUCH DO FERRARI WORLD TICKETS COST?
Ferrari World tickets cost varies according to the type of visitor and the package deal they select.
General Admission:
Single Day Ticket – AED 310
Family Ticket – AED 930
1 Day, 2 Parks (Any) – AED 395
2 Days, 2 Parks (Any) – AED 435
3 Days, 3 Parks (Unlimited) – AED 545
Annual Pass:
Silver Yas Parks Annual Pass – AED 995
Gold Yas Parks Annual Pass -AED 1095
Diamond Yas Parks Annual Pass – AED 2895
Quick Pass – AED 150 (valid only in conjunction with an entry ticket)
VIP Experience – AED 1995 (inlcusive of VAT)
VIP+ Experience – AED 2595 (inclusive of VAT)
WHAT FACILITIES ARE AVAILABLE AT FERRARI WORLD ABU DHABI?
Home to adrenaline-rushing and scary rides, Ferrari World Abu Dhabi is all about experiencing cutting-edge and futuristic technologies and feeling the speed Ferrari style. Apart from its world-class architecture and pulsating rides, Ferrari Park offers facilities, including
Parking
Locker Room / Luggage Room
Baby Changing and Feeding
Prayer Room
Stroller
ATMs
Smoking Zone
WHAT'S THE BEST TIME TO VISIT FERRARI WORLD ABU DHABI?
April – September – It's recommended to visit Ferrari Park during the summer spell (April – September) or in the middle of the week as you can ditch the otherwise long queue and experience the rides without any hassle and scream to the top of your decibel.
October to November – But, if you like seasonal events, Ferrari World Abu Dhabi organizes the Festival of Light from October to November.
December to January – Also, Winterfest is held in-between December to January. So, choose your time to visit suited to your taste!
So, that's it for now! We're at the end of this segment, but if you're planning to visit Dubai, read our comprehensive blogs on it to make your visit "khalab."