Camel ride in the sandy dunes of the Emirates is the most traditional and fun way of exploring the vast desert. Dubai is often seen as a city of modern architecture and eye-catching souks. Still, the perception of urban Dubai changes instantly as you take a Camel ride in the Dubai desert. You will get a glimpse of traditional Arab culture in an endless desert as you drive away from the city.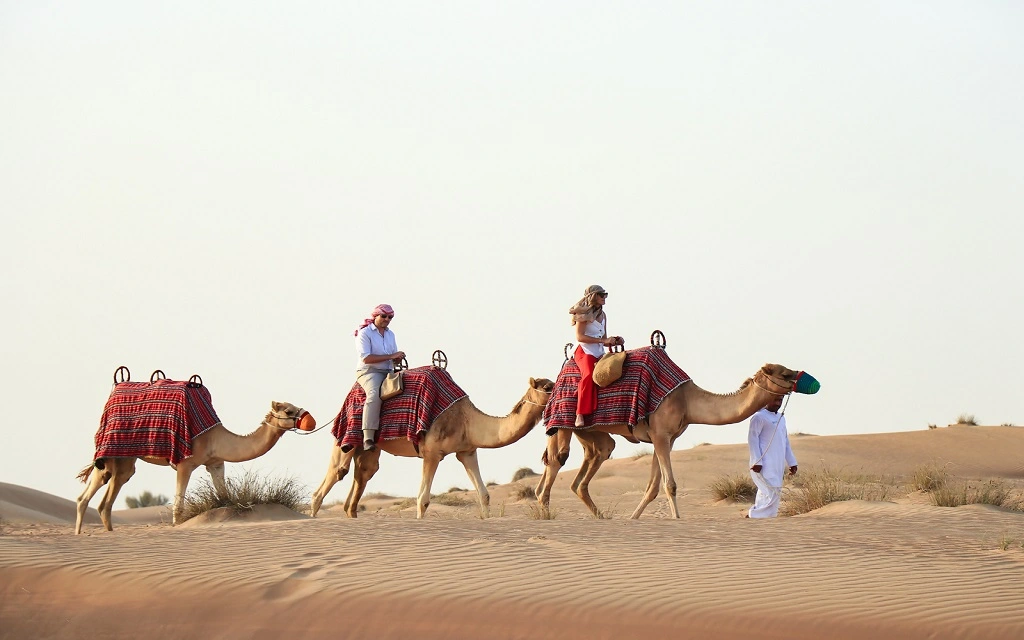 Camels, often known as the ships of the desert, are the oldest and most indispensable modes of transport in Arabic history. The animal can store sufficient amounts of food and water in their bodies, allowing them to carry out long journeys in the hottest weather. Camel ride is usually an essential activity in Desert Safari Dubai, as the endearing animals make the best way of exploring the desert. Your journey through the desert traces the footsteps of Bedouin travellers and gives you an unforgettable experience.
Camel Ride- A must-do thing in the Dubai Desert
While the other adventures in desert safari Dubai give you a thrilling experience in a 4*4, the camel ride will take you on a completely different and delightful joyride. The kids and adults equally enjoy this activity. Take a ride on the back of this calm animal and indulge yourself in the beauty of the endless desert horizons. Your trip to Dubai is incomplete without this fun experience.
While most people believe that deserts are dry and barren, you may find some rare wildlife species like Arabian oryxes. Riding a camel will take you back in time, when people used to find happiness in simple things.
A typical Camel ride in the Arabian desert
Your typical camel ride starts with a pick from your hotel in a 4*4 vehicle. You will then drive through the desert and commence your desert safari with dune bashing for an incredible adrenaline rush.
Once you reach your Bedouin Camp, you can pick up a wide range of desert activities for extreme adventure. Some of these activities include quad-biking and sand surfing.
When you are ready for a camel ride, the expert guides will tell you about the dos and don'ts of camel riding. The guides will ensure that you have a smooth and relaxed camel ride. Most guides are aware of animal welfare policies and offer ethical camel safari in the desert. All you have to do is sit back and enjoy the stunning views of the desert.
Best camel ride in the Dubai desert:
1. Morning camel safari
Morning camel safari starts with a camel ride in the middle of the desert, and an hour-long riding session on camels is extremely fun. It includes pick up and drop back from /to your hotel. The professionals ensure that you have a lovely experience in the desert. Morning Camel ride will give an amazing view of the sun rising through the sandy dunes, spreading sunshine everywhere.
2. Evening camel safari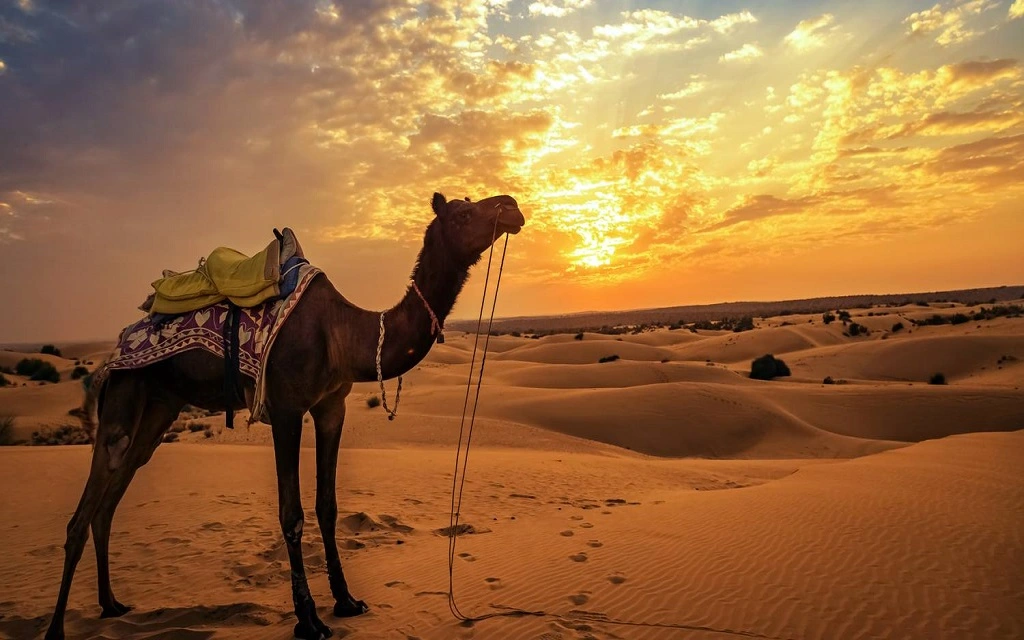 In this safari, you will explore the desert in the evening, and you will also get to try a wide variety of desert activities. Sandboarding, henna painting, and smoking hookah are some of the events included in this safari. Besides, belly dance performances and Tanoura Dance will make a magical night for the visitors. Sunset camel ride Dubai comes with the best views as you will get to see the beautiful sky colored all in orange as the sun spreads the bright rays all over the desert.
For a beautiful camping experience, you can pick an overnight desert Safari Dubai that incorporates many traditional events like henna painting, sheesha, and belly dance performances to light up your evenings. You will be served authentic Bedouin dinner with vegetarian and non-vegetarian options.
3. Desert nature safari and camel farm visit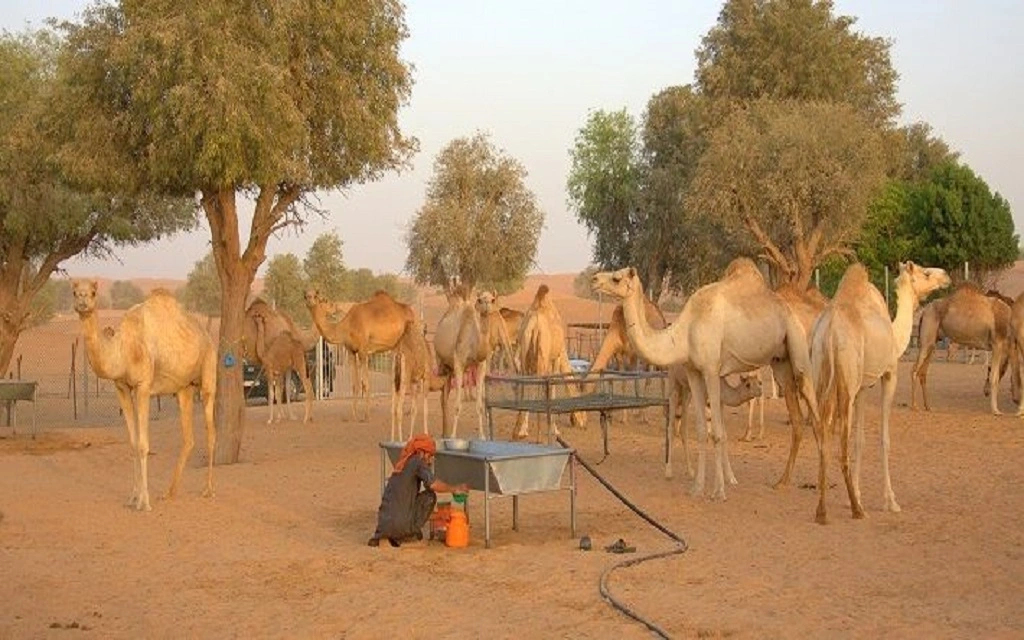 This safari offers a drive to the beautiful Dubai desert conservation reserve in 4*4 vehicles. You will then visit a camel farm for a camel ride.
As you explore the reserve, you will find Arabian oryxes and gazelles that manage to survive in the harsh environment. The safari also includes a traditional breakfast before heading back to the city.
4. Luxury VIP desert safari
Experience the thrill of Dune Bashing while you travel to the Desert conservation reserve in a luxury Land Cruiser. The luxury desert safari offers a variety of desert activities like sandboarding, falcon display, top-quality shisha, a three-course buffet dinner, and a camel ride.
How much does a camel ride in the Dubai desert cost
Desert safari Dubai Tickets for camel rides have different options depending upon age and tour types. Here is a list of Camel ride Dubai Prices:
| | | |
| --- | --- | --- |
| Tour Type | Price per Adult | Price Per kid |
| Camel ride with evening tour | AED 230 | AED 200 |
| Camel ride with morning tour | AED 300 | AED 300 |
| Camel ride with overnight our | AED 330 | AED 300 |
| Camel ride with Dune Buggy Tour | AED 750 | Not Available |
Tips for Camel ride and Desert safari:
Wear casual, light clothes for a comfortable ride on a desert safari.
Carry a jacket or a cardigan as the desert gets cold at night.
Listen to the instructions from the professionals for a safe adventure trip.
Have a light lunch as the desert safari, and camel ride involves a lot of movements.
Camel Ride- A great way to enjoy the beautiful Arabian desert while in Dubai
While the sand boarding and quad biking on the lofty dunes thrills the visitors, a camel ride in the Dubai desert gives a smooth ride on the uneven dunes. Camel rides are fun for everyone. As most kids love animals, they will enjoy the ride on this calm animal.
Do not forget to click amazing pictures with your family while you rest on the humps of this endearing animal. The photographers will capture beautiful vacation moments while you have the best time with your family.
Enjoy the beautiful evening colours in the desert and soak up the Bedouin culture with traditional belly dance and Tanura performances and a 3-course Arabic dinner. Dubai is a must-visit for making unforgettable memories. A camel ride in the Dubai Desert is a whole new experience for those seeking an escape from the modern lifestyle.
Put the Heritage Desert Safari Dubai on your bucket list to enjoy the best of Bedouin culture, and plan to go on a camel ride when you visit the never-ending desert.