Dubai is a city of man-made wonders, theme parks, adventurous desert safari and eye-catching shopping markets. The journey of transformation of this city has been long and fascinating for all the visitors who come to its shores seeking exciting and memorable activities. Dubai Aquarium and the underwater zoo is one more appealing attraction that will awestruck you with many delights. Let's dive into this beautiful coral beauty and explore what it has to offer to visitors.
About Dubai Underwater Aquarium
Dubai aquarium is the world's largest suspended aquarium, with more than 33,000 marine animals and home to over 140 aquatic species. Located on the ground floor of Dubai Mall, the aquarium is spanned over three levels with a massive 10 million litre tank that measures 51 metres in length, 20 metres in width and 11 metres in height.
A 48-metre walk through a tunnel is designed to present a 270 degrees view of distinct living creatures flying in water over your head. The magnificent aquarium has 300 sharks, stingrays, and the world's highest number of sand tiger sharks. Piranha, giant catfish, playful otters, penguins and many more animals will come to find you as you walk along the rainforest and rocky shore at the underwater zoo.
The "lunar-cyclic" lighting system adds a special theatrical effect to the ambience of the Dubai aquarium, depending on the time of the day.
A whole new world of exotic animals- An underwater zoo
On level two, above the aquarium, is an underwater zoo with three different ecological zones: Rainforest, rocky mountain and living ocean. Explore different species of Humboldt Penguins, Otters, Archerfish, Lionfish, Piranha, African Dwarf Crocodiles, Seahorses, the Arapaima, Giant Spider Crabs, Garden Eels, and Water Rats within these zones.
The best part is when you observe a gigantic animal King crocodile, which weighs 750kgs and is over 5m in length. It is a golden chance to meet this powerful animal from a striking distance. King croc is
one of the giant reptiles in the world.
Adventures in Dubai Aquarium and underwater zoo
The biggest underwater aquatic zoo is home to thousands of marine species and allows you to experience a series of breath-taking and thrilling adventures that are beyond your imagination. Here are some crazy adventures you might wish to enjoy while visiting the underwater world.
1. Animal encounter
While you enjoy a gentle encounter with the playful Otter, the King croc encounter is filled with thrill and excitement. Nothing is more exhilarating than getting up close with the fascinating sharks and rays. You will get to witness a shark feeding programme.
2. Shark Dive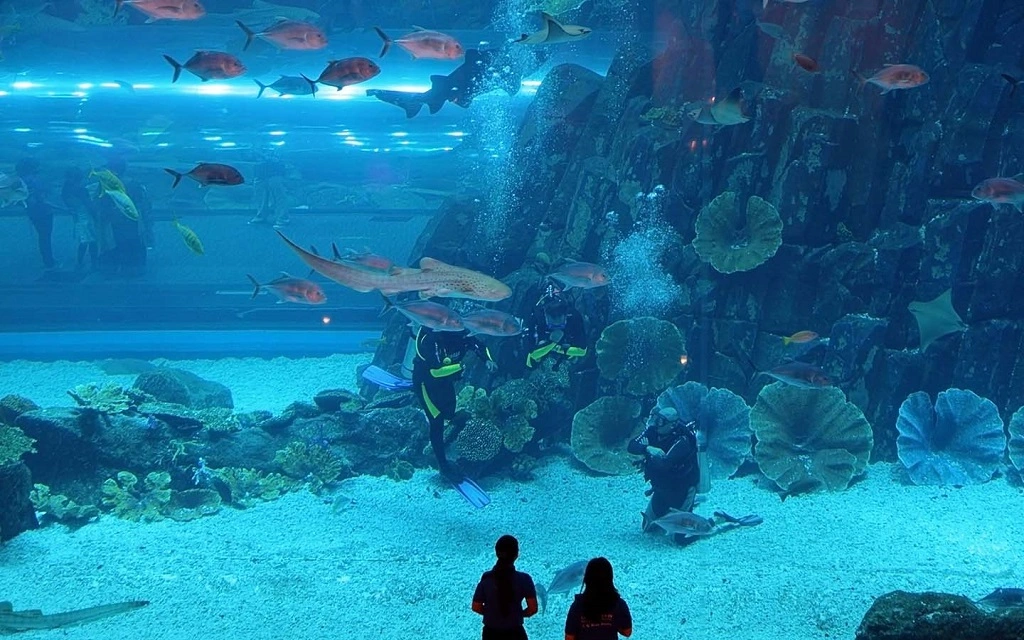 Those with a spirit of adventure can dive into the massive tank for a close encounter with the sand tiger sharks at the Dubai Aquarium. This exhilarating adventure activity is performed under expert supervision.
3. Cage snorkelling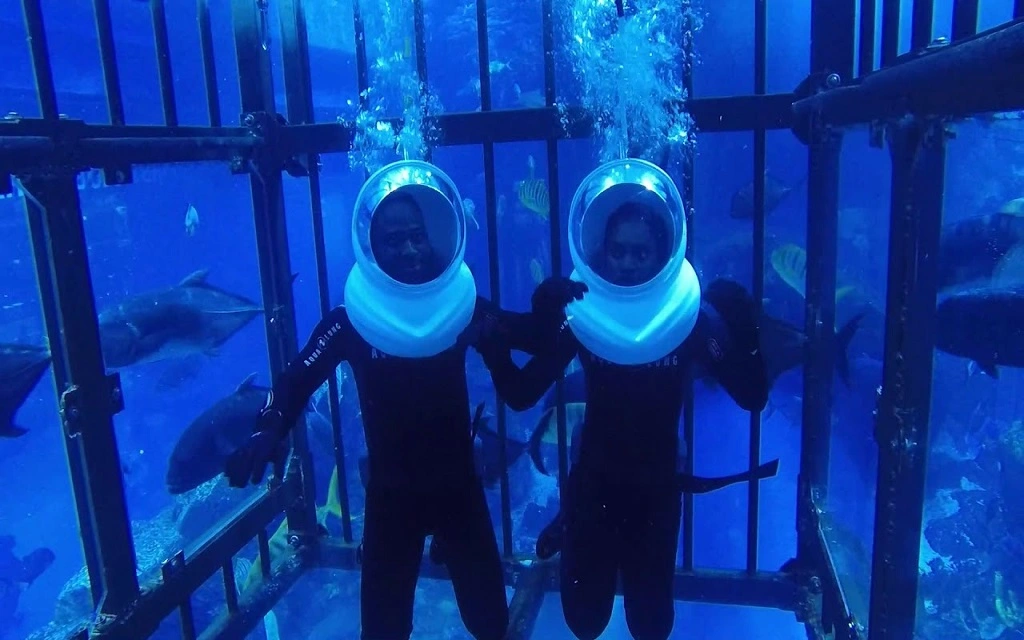 Watch the beauty of the aquatic world come to life, while you are trapped inside a safe cage. Cover yourself with the snorkelling gear to watch turtles, stingrays and colourful fishes moving around you.
4. Scuba diving
Make your dream come to life as you take a 2-Day PADI certified scuba diving course. Discover the spectacles of the aquatic world by learning from an expert trainer, who will teach you theory sessions and basic safety guidelines.
5. VRZoo experience
Escape from reality for a second and enter into a whole new world to meet the whale sharks in the Maldives, the natural forests of Africa or the tigers of India through a virtual display. The innovative and thrilling VRZOO experience on the ground floor of Dubai Mall is a visual treat for all animal lovers.
6. UAE's night creatures
There is also a special exhibit for the nocturnal animals of the United Arab Emirates. Take a journey through this exotic world of wild animals and observe how the creatures such as giant camel spiders, bats, toads etc., thrive in the hot, sandy desert conditions.
7. Glass-bottom Boat ride
Another feature in the Dubai underwater world is a glass-bottom boat ride that offers a view of the fishes from the top of the aquarium. The glass boat ride is 15-20 minutes long and is not recommended for pregnant visitors.
Excellent learning activities for children:
The aquarium provides an exciting opportunity for junior and senior kids to learn about marine ecology.
1. Junior aquarists(5-15 years old)
This program allows children to experience the life of a professional aquarist and involves fun activities such as shark feeding, ray feeding and riding on the glass-bottom boat. AED 157.50/child. Booking is required.
2. Senior aquarists(8-15 years old)
This programme is for slightly older children and includes a cage snorkelling experience in addition to the abovementioned activities. These programs develop your child's interest in this fantastic world and its creatures. Price: AED 262.50/child. Booking is required.
Dubai Aquarium tickets
The basic tickets for Dubai Aquarium include access to the tunnel, underwater zoo and behind-the-scenes tour, which cost AED 210 per person. However, children under three years old can enter free of charge. Tickets for Dubai residents cost 120 AED.
How to get there
Dubai Aquarium is located on the ground floor of Dubai Mall. The mall has easy access from the main areas of Dubai. Take the metro to the nearest station Burj Khalifa/ The Dubai Mall station.
Alternatively, you can also use buses 27 and 29 to the mall. Some of the hotels in Dubai arrange their shuttles for the guests.
A visit to the Dubai aquarium and underwater zoo is nothing less than a roller-coaster ride. Dive into this fantastic coral beauty for engaging activities such as shark diving, cage snorkelling, animal encounters and many more.
This fantastic world of marine animals also educates kids, guests and the community about marine ecology conservation and other environmental issues. This colourful underwater world is breath-taking and a must-have in any animal lover's itinerary. Do not forget to click photos of the vibrant aquatic creatures as they amaze you with their acts in the water. Add the Dubai Aquarium and underwater to your bucket list for a memorable experience.