Residents of Dubai love Laguna water park, and it is worth the attention for all the right reasons. Dubai is popular among tourists worldwide for its stunning architectural marvels, high-end theme parks, and electrifying waterparks. Laguna water park is the latest addition to this list and an elite destination to enjoy a fun-filled holiday with your friends and family.
Divided into four different zones, this waterpark lets you surf, Splash, slide, and relax in five major rides. But before you visit this place, let us inform you that this waterpark is not just limited to water activities; it has so much more to explore. Thus, ensure that you have only one thing planned for the day when you visit Laguna Waterpark.
Why should you visit Laguna Waterpark:
Laguna Waterpark is a heaven for thrill seekers and a complete entertainment package for people of all ages. Located in La Mer, this water park is divided into four zones: surf, Splash, slide and relax. From an array of thrilling rides to fine dining restaurants and shopping, it has everything for everyone. The spectacular beachfront location with exhilarating waterslides and excellent dining options make the waterpark worth visiting when in Dubai.
Major activities at Laguna Waterpark:
With so much to enjoy and explore, we are sure you will have a great time with your loved ones at this waterpark.
1). WavesOz 180: Experience one of the world's only three 180-degree surfing simulators. It is a surfing ride ideal for guests with different levels of expertise. Best to enjoy with your friends, this gigantic ride is a must try for a next-level experience of surfing. A ride that spans 187 feet wall to wall is enough to give you goosebumps with an enormous riding surface. Whether you are a beginner or an expert, WavesOz 180 gives you a delightful experience with unlimited fun.
2). Manta: Enjoy the adrenaline rush with unexpected twists and turns in a circular raft that is even more fun when accompanied by your friends and family. The thrill in a massive Manta Wing and the excitement before you splash down the pool can't be expressed in words. This gigantic ride's last few seconds of zero-gravity experience will make you scream with joy!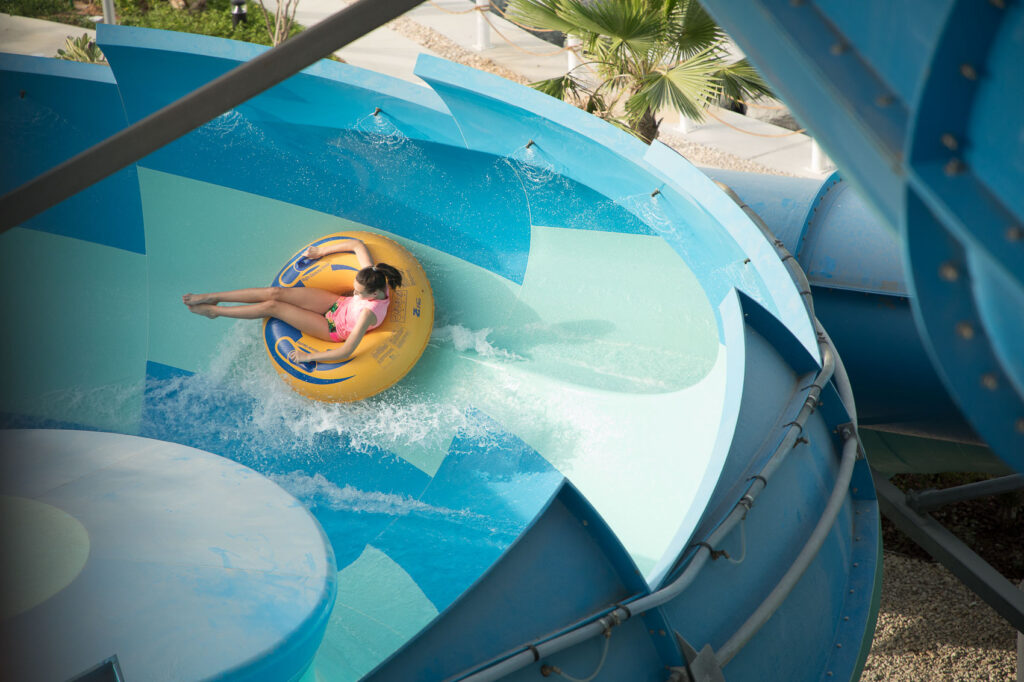 3). The Loop: Loop is everyone's favourite and one you can't afford to miss! Get inside an aqua launch capsule and loop down a translucent tube until you feel the ultimate fun as you splash down. It takes you down through a 360- degree horizontal loop, and daredevils love to experience this fun over and over again.
4). Splash Pad: An absolute fun for toddlers and little ones, it has interactive elements such as splash pools, squirting water, and a few more kid-friendly attractions to entertain them. This area ensures unlimited wet fun for kids while parents supervise them from the sidelines.
5). Cabanas and The Infinity pool: Want a place to chill and relax after exhausting activities on the rides? Cabana at the waterpark offers a great place to soak up the sun while enjoying spectacular ocean views. Each cabana has four sun loungers, beach towels, a safe box, and a welcome drink for each guest and is equipped with a fridge. The Lazy River and The Infinity Pool are located in the same zone, allowing you to switch off for a while and escape from the bustling crowd.
6). Mad Racer: What is more fun than having a challenge with your friend? A side-by-side, double-lane slide ride is filled with a series of exhilarating bumps and turns as you slide to race to the bottom. Ask your friend to join you in Mad Racer for unlimited fun.
Laguna Water Park Ticket Price:
Different ticket prices are available for visitors at the waterpark. You don't have to buy tickets for infants below two years. You can book your tickets online or buy them at the counter when you visit the waterpark. However, we recommend booking your tickets online to take maximum advantage of the deals and offers available.
The general admission tickets for Laguna Waterpark costs AED 210 at the gate, while the same is available at a much lower price of AED 145 when you book it online.
A VIP package at Laguna Waterpark starts from AED310 and includes unlimited beverages, two meals from a premium menu, ice cream, valet parking, and much more.
You can also rent a Cabana that can accommodate upto four people and offers premium services to guests at tickets starting from AED1399.
If you are tired and hungry after enjoying draining activities in the park, take a break and head to the on-site restaurants and bars offering mouth-watering snacks and meals to rejuvenate your energy.
What's more exciting are the park's retail stores that allow shopaholic visitors to shop for sports-themed merchandise, souvenirs, sunscreen, and much more!
Laguna Water Park Timings:
The Laguna Waterpark is open from 10:00 am to 6:00 pm from Tuesday to Sunday. The park is closed on Monday.
Location: Home to fun and exhilarating rides, Laguna Waterpark is located on the coolest beachfront of La Mer, where you can enjoy the ocean's and Dubai's skyline views.
How To Reach:
By bus: Hop onto buses 8, 9, 88, C10, or X28, get down at Century Plaza one or century Plaza 2, and walk straight towards Laguna Waterpark beachfront.
By shuttle bus: Complimentary bus services to Laguna Waterpark are also available for guests staying at major hotels of La Mer.
By car: Travelling by car is definitely one of the easiest and most convenient options to commute to Laguna Waterpark.
Things You Need to Know Before Visiting Laguna Waterpark Dubai:
Complimentary lifejackets are available on request.
The height restriction in some of the rides is limited to 1.2m. One must adhere to the height restrictions strictly.
Visitors must be dressed in appropriate swimwear and show a respectful behaviour when enjoying their time at the waterpark.
Diving is restricted for safety reasons.
Make sure to check the timings before you visit the Laguna Waterpark.
The park has baby-changing rooms, changing facilities, and showers.
Lockers rental facilities are also available, but the administration does not take the authority for the loss of your belongings.
The park has more than 1000 car parking spaces and an underground parking space.
Laguna Waterpark undoubtedly offers the best way to beat the heat in dubai. It is a must-visit on your next Dubai trip, with plenty of opportunities to have fun, relax and enjoy quality time with your friends and family. We hope this blog helps you to create the best moments of your life at Laguna Waterpark.