INTRODUCTION:
Serene, Tranquil, Calm, Soothing, Peace, Spiritual, Divine, Emotional, Peace, Love, Life. These aren't just a bunch of random adjectives, but rather a resurgence of ambiguous feelings/emotions one feels at Bur Dubai Grand Mosque.
ABOUT BUR DUBAI GRAND MOSQUE:
Bur Dubai Grand Mosque, also known as the Grand Bur Dubai Masjid/Grand Mosque in Dubai, is the most iconic and distinguished landmark of worship and religious sanctity in Dubai.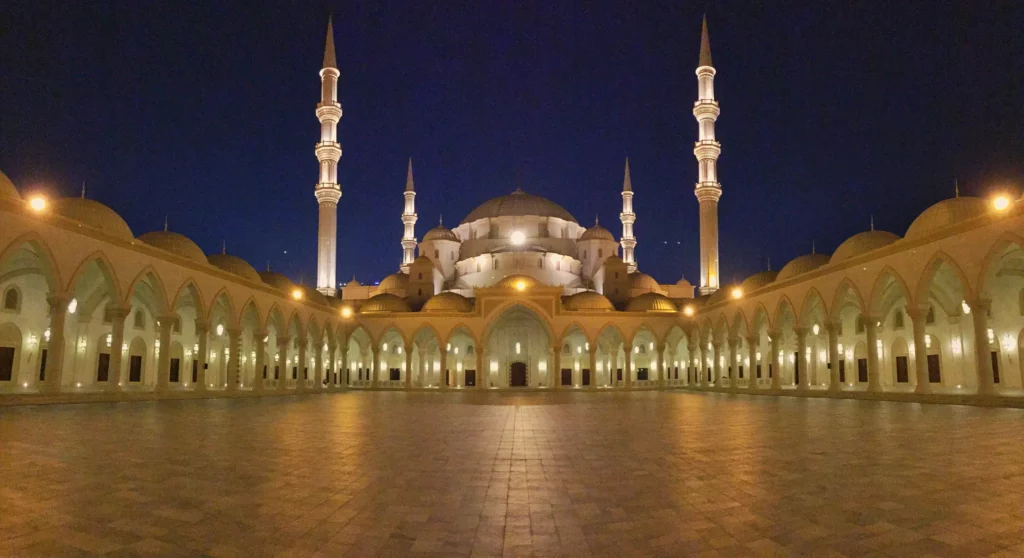 Initially constructed in 1900, Bur Dubai Grand Mosque was referred to as "kuttab", where students learnt the Quran by rote. But, it was replaced by a new mosque on the same site in 1960. In the year 1998, the mosque was remodelled to its original form and stands tall as the most famous mosque in Dubai as we all know it today.
BUR DUBAI GRAND MOSQUE ARCHITECTURE
As described earlier, Grand Mosque in Dubai was remodelled in 1998 in Islamic architectural style. The sandy-grey walls and the blue mosaic work on the mosque comes to life during the night. There are five large Quranic inscriptions on five columns at the entrance facade.
Entering the mosque, one will find the nine large domes and forty-five small domes with fine carvings on them depicting the finesse of the artist in the artwork. Grand Mosque in Dubai has 82 vaults with 24-carat gold overlaid fixtures adding grandiose to the architectural marvel. There are wooden windows with hand-made stained glass which adorn the mosque's architecture.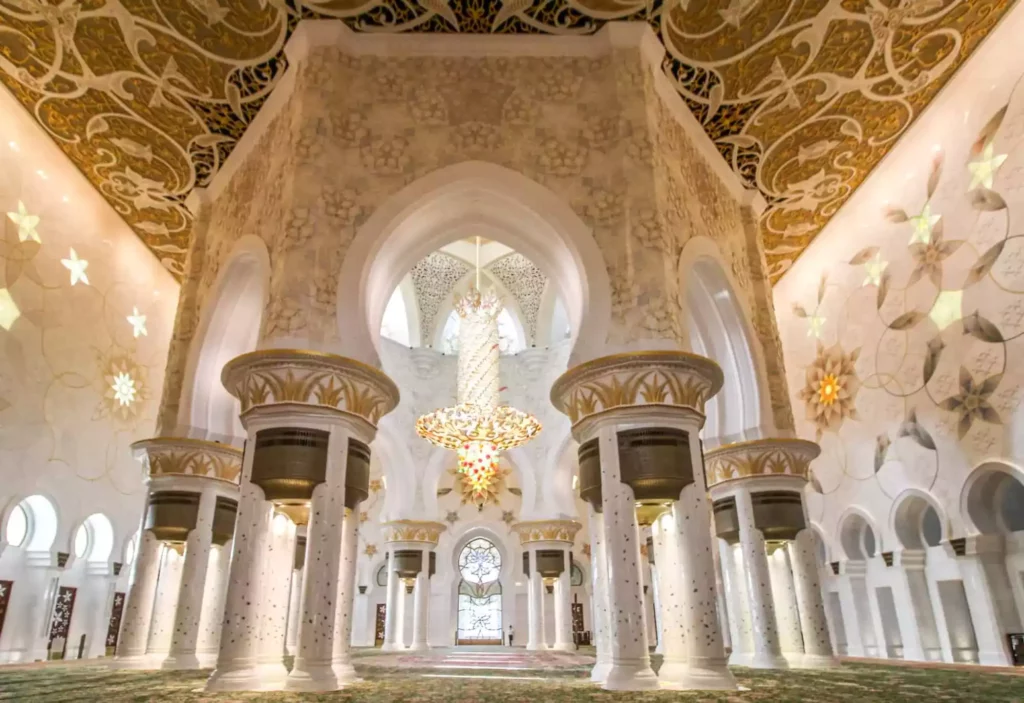 Bur Dubai Grand Mosque swanks the tallest minaret in Dubai; heighing about 70 meters in height, it is built-in Altonian style and stands tall as a lighthouse.
WHAT TO EXPECT AT BUR DUBAI GRAND MOSQUE?
Basic Terminology
It's always beneficial to acquaint yourself with the culture of the visit. Upon entrance into a Mosque or Masjid, as the Islamic people refer, one can expect an Arabic greeting of "Assalamu Alaikum", meaning "Peace be upon you". And the visitor should respond by saying "Alaikum-as-salaam", meaning "Peace be upon you, too."
Entrance
Enter the mosque in silence. After entering, remove the shoes and seat yourself on the floor. If you're a non-Muslim, you can enter the premise and visit the minaret but cannot participate in the prayer.
Clothing
Regardless of gender, one should wear modest clothing during the visit. Men should have their heads and knees covered. Women should wear loose and preferably full-length clothes and have their headscarves on. If they don't have the required attire, they're provided with Abayas (traditional Emirati dress).
Most of the women remain at home for religious prayers. So, expect a large congregation of men in the mosque.
During Festival
Bur Dubai Grand Mosque operates during religious festivals like feasts during the month of Ramadan, where one can join in for the dinner (non-Muslims cannot participate). Non-Muslims can enter and ask questions about rituals for better awareness and understanding of Islamic culture.
BUR DUBAI GRAND MOSQUE TIMING
08 AM – 10 PM (Saturday-Thursday)
04:30 PM – 10 PM (Friday)
BUR DUBAI GRAND MOSQUE LOCATION
Opposite Dubai Museum, Near Ruler's Court Office – Ali Bin Abi Taleb Street – Al Fahidi – Dubai
HOW TO REACH BUR DUBAI GRAND MOSQUE?
1) BY METRO
If you love to travel via Metro, go to the nearest metro station and board a metro which goes to Al Fahidi Metro Station. Bur Dubai Grand Mosque is a 10-12 minutes walk from there.
2) BY TAXI
As Grand Mosque in Dubai is in one of the popular neighbourhoods in Dubai, the private commute wouldn't be a hassle. One can book a one-way/round-trip ride with Uber or Careem to visit the mosque with family and friends.
3) BY BOAT
Ditch the conventional medium of commute and rather opt for a boat ride. Make your way to Deira Old Souk Abra Station (facing Dubai Creek) and get on an Abra (traditional small-ferry like boat). Drop off at Bur Dubai Old Souk and Water Bus Station. Bur Dubai Grand Mosque is a 17-20 minute walk from there.
HOW MUCH DOES THE GRAND MOSQUE DUBAI TICKETS COST?
There are absolutely No Entry Fees to enter the Grand Mosque in Dubai. But, if you want to understand more about the mosque and its history and enjoy a detailed guided tour, you can join the combined tour of Bur Dubai Grand Mosque and Jumeirah Mosque for 25 AED.
WHAT IS THE BEST TIME TO VISIT BUR DUBAI GRAND MOSQUE?
Bur Dubai Grand Mosque operates round the year, and anyone can visit the mosque in-between the operational hours. But, to have a divine yet enthralling experience, it is best recommended to visit during the month of Ramadan.
The best time of the day to visit the mosque is from late afternoon to evening, when the temperature is pleasant with less jostling.
POPULAR ATTRACTION NEAR BUR DUBAI GRAND MOSQUE
There are numerous popular tourist attractions near Bur Dubai Grand Mosque that one can visit, including:
Dubai Museum
Jumeirah Mosque
Dubai Creek
Gold Souk
Dubai Mall
Dubai Waterfall
Burj Khalifa
Planning a trip to Bur Dubai Grand Mosque? Connect with the Holiday Square team for an enhanced travel experience.