Dubai is famous for breaking all the records in the world with its impressive architecture and unique attractions. This time, it has surprised residents and international tourists with the highest Ferris wheel, which overlooks the city's glittering skyline. Ain Dubai is believed to offer an unbelievable guest experience after its enhancements, but it has created a huge curiosity among visitors for several reasons.
Dubai eye wheel- Overview
A unique sight that is beyond your imagination. Yes! We are talking about the tallest and most massive Dubai eye wheel-Ain Dubai. Let's discover why this giant wheel is creating a buzz all over the world,
Ain Dubai, which means Dubai's eye stands tall at the height of 250m and offers 360-degree views of Dubai city. Situated at the heart of Bluewaters island, this iconic marvel is twice the height of the very famous London eye (incredible is all we can say!).
Ain Dubai -A magnificent structure:
Dubai eye wheel has 48 wheels, and each capsule is 30 square meters and is entirely manufactured using glass. Ain Dubai capsules are large enough to fit 40 guests comfortably and take about 40 minutes for a ride to complete. The luxurious cabins of it offer an unforgettable experience and have been developed using advanced technology.
The cabins are clad in high-quality double-glazed glass, protecting visitors from UV and infrared rays while ensuring maximum visibility. The pods are spacious with plenty of space to roam and equipped with comfortable sitting. The estimated cost to build this gigantic observation wheel is AED 6 Billion.
Ain Dubai-An experience of Lifetime
Ain Dubai is a perfect location to enjoy a bird's eye view of the iconic landmarks of Dubai. Visitors can expect to view Burj Khalifa, Palm Islands, Burj Al Arab and Dubai's beautiful coastline. The panoramic views of the skyline are inviting and promise a 360-degree unrivaled experience. Visitors can also enjoy a 4D cinema presenting the rich history of Dubai and its transformation into the modern futuristic that it is today.
Dubai eye wheel is an outstanding feat of architecture and flabbergasted guests with majestic sunset views when the city is painted with ombre hues. Don't miss an opportunity to visit this iconic landmark during golden hours.
Surprising facts about Dubai eye -Ain Dubai:
Ain Dubai weighs 25% more than the Eiffel tower.
Dubai eye wheel features 48 luxurious cabins for guests.
More than ten countries, including South Korea, Germany, France, the UK, UAE, and the Netherlands, have actively participated in creating this giant eye wheel. These countries have provided engineering and project management services for Ain Dubai.
Dubai eye cabins have the capacity to accommodate more than 1750 guests at a given time.
A complete spin on the Dubai eye wheel takes 38 minutes to complete. Soak up majestic coastal views of Dubai daily from 12 pm to 10 pm. It would be best if you arrived 30 to 60 minutes before the time slot.
More than 10,000 tons of steel have been used to make it. Carnes, with a lifting capacity of 3000 tonnes, has been used to put the wheel rim in its place.
Each leg of the Dubai eye stands at the height of 126 meters and is long enough to fit 15 London buses.
Ain Dubai Location: World's largest and tallest Ferris Wheel is located in Dubai, on the Bluewaters island near Dubai Marina.
Ain Dubai Ticket Price:
Visitors can enjoy the magnificent views of Dubai Skyline with three pod experiences: Observation cabins, social cabins and private cabins.
Observation cabins offer eye-catching views, family-friendly options, and a brilliant location to capture instaworthy photos. Social cabins are meant to enjoy the social experience and relish delicious food in the Seaview Lounge of ain Dubai.
VIP pods offer ultimate comfort and luxury with a premium private cabin experience. VIP pods also host private events and extravagant parties and offer guests an exceptional dining experience.
The ticket price for Ain Dubai starts from AED 130 and can exceed AED 3800 for the ultimate luxury experience. More information on it's ticket price is available on the official website.
Ain Dubai views: AED 100 for kids, For a single person, shared a cabin with a sunset option.
Ain Dubai Family pass: 2 kids, two adults, shared cabin with sunset option
Ain Dubai Family Plus Pass: 2 kids, two adults, shared cabin , sunset views, snacks and beverages.
Ain Dubai makes your celebration more enjoyable with creative and customised packages. Be it a birthday party, engagement, or gender reveal, it has a range of packages for every occasion.
Ain Dubai Timing:
Guests can enjoy giant observation wheel rides anytime between 12:00 and 10:00 pm.
 For the best experience, plan your visit to observation wheel Dubai during sunset hours when the sun casts its warm light across the city's skyline. We also advise reaching your destination 60 minutes before their scheduled boarding time.
How to reach the Ain Dubai Ferris Wheel
Located on the Bluewater Islands, Observation wheel Dubai is straight across Jumeirah beach residences and takes a 20-minute drive from City Walk. The prime location of Ain Dubai allows convenient transport from Dubai International airport and Al Maktoum Airport and is 45 minutes from Abu Dhabi Airport.
Sheikh Zayed road connects the island with the mainland. Visitors can choose to walk on a 265-meter-long dedicated footbridge that offers a visual delight to the eyes with panoramic views of pristine Arabian waters.
Taxi offers the most hassle-free option to travel to Ain Dubai from Dubai airport. One can also catch a metro from Dubai airport to Jumeirah Lakes and then hire a taxi from Dubai airport to reach the destination .
What are the other things to do on Bluewaters Island?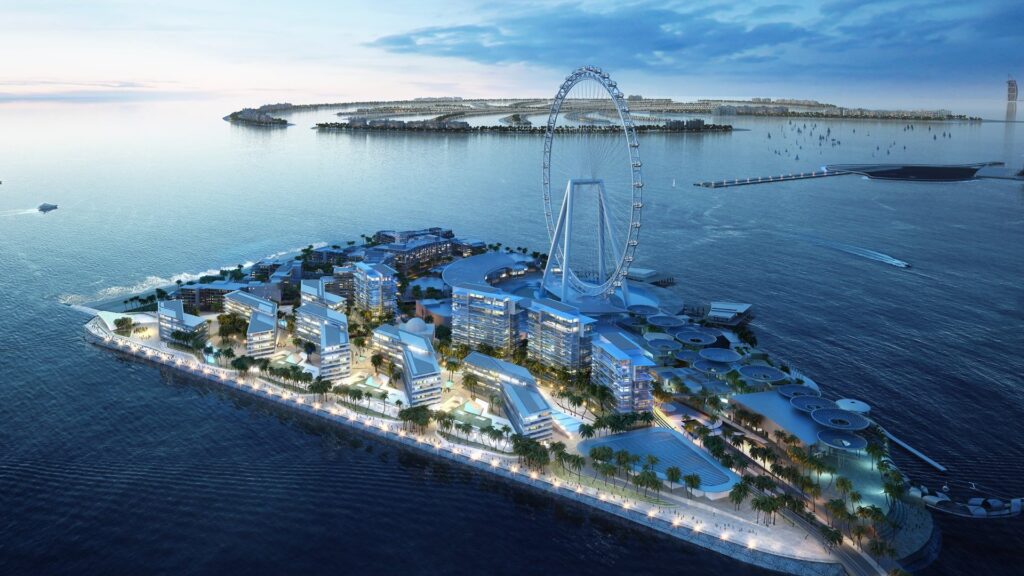 Designed as a luxury urban retreat, you will find at the heart of Bluewaters a trendy dining and retail district marked by distinctive canopy structures that look particularly sensational when lit at night.
With 132 leisure and retail units, it's undoubtedly one of Dubai's upcoming destinations to watch out for.
Ain Dubai is as stunning as any other architectural marvel in Dubai, and it serves as a fabulous entertainment zone with customized packages for a luxurious experience. A must in your Dubai itinerary Ain Dubai will leave you with memories to cherish forever.
That's it for our guide to the world's tallest Ferris wheel. Let us know your views on the latest addition to Dubai's spectacular landmark. Check out our blogs on Dubai travel for more such fun experiences.
Aim Dubai is temporarily closed for maintenance and enhancements and set to reopen soon! An announcement will be made on the Official website of it.