Are you a motor-sports fan willing to get cheap thrills on the roads of Dubai? We have good news for you! At Dubai Autodrome, the exceptional motor adventure venue in the UAE, you'll have the opportunity to fulfill your desire of driving a sports car on a professional racing track.
Located just 20 minutes from Central Dubai, Dubai Autodrome invites motor-sports lovers to test their actual driving skills on a 5.39km motor racing track. Nestled amidst the desert landscape, Dubai Autodrome is a world-class entertainment complex offering an unparalleled experience for racing enthusiasts and casual visitors alike.
Step into a world of roaring engines, screeching tires, and adrenaline-pumping action as you immerse yourself in the vibrant atmosphere of this motor-sport mecca. Are you ready to rev up your engines? Then fasten your seatbelts, and let's get started with a fun ride to Dubai Autodrome.
All you need to know about Dubai Autodrome:
Established in 2004, this entertainment complex provides a wide range of experiences. It boasts additional amenities such as a racing school, the Motor-sport Business Park, the Grandstand Retail Plaza, and an exclusive VIP Paddock section. Moreover, it includes a dedicated karting zone known as the Dubai Kartdrome, offering outdoor and indoor karting alternatives.
In addition, Dubai Autodrome hosts numerous prestigious racing competitions, which include European Touring Car Championship, FIA GT Championship, Radical Middle East Cup, Porsche GT3 Cup Challenge ME, Hankook 24H Dubai Endurance Race, Lamborghini Super Trofeo ME, and the MRF Challenge. No wonder why thrill-seekers love this place!
Driving Experiences at Dubai Autodrome:
Dubai Autodrome is a state-of-the-art facility that provides a diverse range of motor-sport and karting experiences, attracting both motor-sport professionals and enthusiasts worldwide. It is one of the region's premier motor-sport venues and has gained international recognition for hosting a variety of racing events and activities. The popular karting facility is a complete package of entertainment for families and a must-visit spot for those looking for an instant adrenaline rush. The most popular driving experiences at Dubai Autodrome include:
1). Ferrari 488 GT
Looking for ultimate driving fun? Then you must pick the Ferrari 488 GT, a powerful beast incorporating a 3.9L turbo-charged V8 engine designed to fascinate speed lovers with an output of 670HP.
Price: AED 4,880
2). F1 Experience
Had enough of watching F1 Races on Television? Then take a driver's seat and be among the very few lucky ones to get an opportunity to drive a Formula 1 car, and we are sure you'll cherish the experience for a lifetime.
Price: AED 9,995.00
3). Formula DXB Max
Put the pedal to the metal as you will have an unforgettable experience in a single-seater formula race car driving on a 2.46km club circuit. You'll get all the gear. You only need a narrow, comfortable shoe for an authentic driving experience.
Price: AED 1,100
4). Clio Cup Experience
Do you want to experience what "REAL" racing feels like? Get a live driving session from a professional instructor about driving on a manual gearbox. A 1 hour and 45 minutes long driving session with a safety briefing around the circuit is enough to get you going on the Dubai Autodrome track.
Price: AED 2,250
5). Hot Laps Passenger rides:
Not sure if you can drive a sports car but still want to experience the thrill of speed? Don't worry. Take a passenger seat next to the professional driver driving around the track at high speed.
BMW M4- AED 450
BMW M3- AED 450
Ferrari GT- AED 950
CLIO cup Ride- AED 350
McLaren Passenger ride: AED 615
Go-Karting at Dubai Autodrome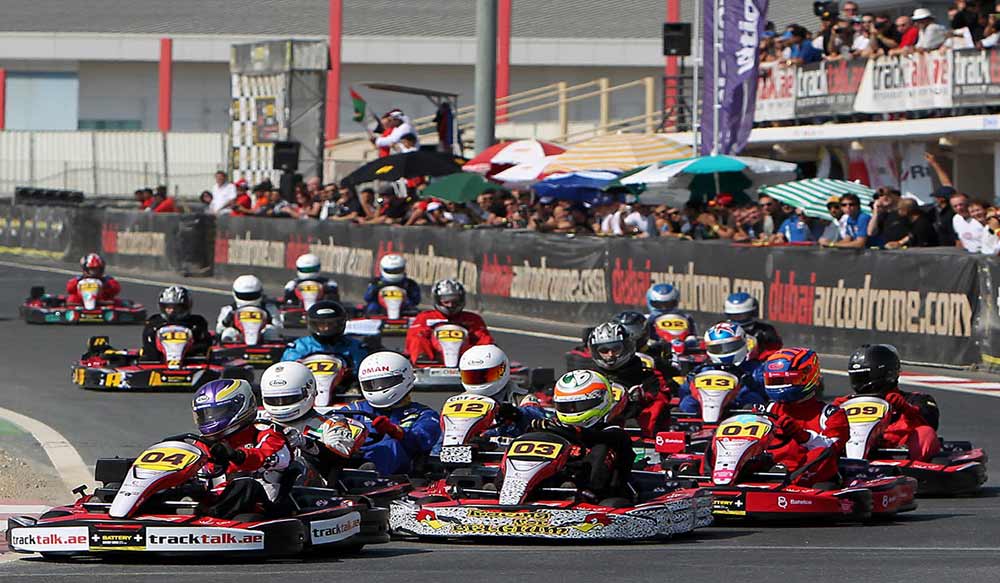 Does karting fascinate you more than anything else in the world? You guessed it right! Kartdrome is the next big thing at Dubai Autodrome after driving, and why not? After all, we all love to chase one another. With its challenging layout and top-quality equipment, the Kartdrome caters to both casual drivers and aspiring racers. It hosts various karting events, from fun-filled corporate challenges to competitive races for individuals and teams. Whether you're a beginner or a seasoned racer, Dubai Kartdrome guarantees an action-packed and memorable time on the track.
The indoor and outdoor karting tracks are hit among kids and grown-ups. With its challenging layout and top-quality equipment, the Dubai Autodrome Karting caters to both casual drivers and aspiring racers.
The 15-minute karting adventure is a must for visitors who want to explore indoor and outdoor karting with a group of friends. Autodrome Karting packages include suits, helmets, gloves, and balaclavas for your safety. Various options are available in terms of timings, lap counts, guidance sessions, and other considerations. However, be extra careful when gliding at the sharp turns of the track. It is advised to book your tickets online to avail of great discounts on ticket prices.
Indoor Karting:
620m indoor circuit ideal for 7 years and older
Starts from AED 120
Outdoor Karting:
1.2Km outdoor circuit ideal for 13 years and older
Starts from AED 145
A Car Drifting experience like Never Before:
Drifting is an incredibly thrilling experience for speed lovers. For those unfamiliar with drifting, it is a driving technique that involves intentionally oversteering the car while maintaining control through a skillful throttle, steering, and braking balance. As the tires lose traction, the vehicle gracefully slides sideways, creating an exhilarating spectacle of power and precision.
At Dubai Autodrome, they understand the importance of providing enthusiasts with top-notch equipment to ensure a safe and unforgettable drifting experience. You can choose among the following experiences:
Prodrift Academy Hot Laps (Self-drive)
Car: Chevrolet Corvette
Price: AED 350 (Per lap)
Easy Drift Experience( with an instructor)
Car: Scirocco
Price: AED 1,000
Specialized drifting cars, purpose-built and optimized for this adrenaline-fueled activity, are available for participants to push their limits without worrying about vehicle damage. So, what are you waiting for? Strap yourself in and get ready to embark on a high-octane adventure unlike any other.
Laser Tag:
Dubai Autodrome's Laser Tag arena is a sprawling battleground combining cutting-edge technology and immersive settings. Step into a realm of vibrant lights, intricate obstacles, and strategically placed hiding spots, creating an atmosphere that will leave you feeling like a real-life hero in a virtual universe. Each player has a vest and a laser gun, sensors, and advanced targeting systems. The laser guns emit harmless infrared beams that interact with the sensors on the opponents' vests, adding an element of strategy and excitement to the game.
Whether you're seeking a friendly match or a competitive showdown, Laser Tag offers an unforgettable bonding experience.
Ticket Price: AED 55
Dubai Autodrome Corporate and Private Events:
From thrilling races to exhilarating festivals, Dubai Autodrome hosts a diverse range of experiences that will leave you breathless and make your visit to the United Arab Emirates truly unforgettable.
And what if we say that you, Dubai Autodrome, can organize a bespoke event upon request? Sounds fun, right? So, take advantage of the state-of-the-art facilities and customizable packages to organize unforgettable team-building challenges, product launches, or corporate races.
Additionally, Dubai Autodrome often hosts birthday parties and family festivals, featuring engaging activities for children, delicious food stalls, and entertaining performances, ensuring every family member has a fantastic time.
And finally, follow Dubai Autodrome Live timing to stay up-to-date with tracking lap times, sector splits, and overall standings and enhance your viewing experience. Don't miss out on the excitement – Dubai Autodrome ensures you're always in the know!
Dubai Autodrome Timing:
9:00 am to 5:00 pm. For visitors' convenience, booking your tickets in advance is advised.
Buckle up for the extreme adventure:
A fun-filled adventure is waiting for you at Autodrome motor city Dubai. From FIA Sanctioned race track to a Race simulator room, this place has magnificent amenities to test your driving skills. Dubai Autodrome is the ultimate destination for those seeking adrenaline, precision, and the thrill of high-speed racing. So, the next time you visit Dubai, don't forget to explore this action-packed Motor-sports arena.
Are you seeking similar motorsport thrills, make sure not to miss out on the exhilarating experience at Ferrari World. To enhance your visit, we recommend check out our comprehensive blog on Ferrari World – Indulge in Fun for better preparation and anticipation.