Dubai is more famous for its warm and humid weather, which forces people to plan their vacations during the winter. However, the city does has attractions that will take you on a chilly tour amidst the extreme heat. We're talking about Ski Dubai here. If you are unaware and want to learn about a place that offers a real snowfall feel all year, keep reading.
Ski Dubai is a man-made fantasy world that intends to offer the utmost joy and fun while making you shiver in Dubai's high rising temperatures. The Mall of Emirates in Dubai houses the world's third largest indoor Ski slope. In the midst of a scorching desert city, the Ski offers a snow-covered experience. Ski Dubai offers a wide range of entertaining activities such as giant snowballs, sledge, climbing towers, toboggan runs, icy body slides, and more. The attraction, which spans around 3,000 square meters, is superb for spending a day out with the family and creating wonderful memories.
Sky Dubai – highlights
The Dubai Ski resort first opened its doors to the public in November 2005.
Ski Dubai's temperature is always less than zero degrees Celsius.
Ski Dubai is one of the world's largest indoor Ski resorts.
The mountain here is roughly identical to a 25-story building in height.
To keep you enthralled to the full extent, various entertainment zones and activities are available.
Cafes are nearby to provide a nice break from exciting activities.
Ski Dubai offers great times, delights, and leisure to people of varied age groups.
Ski Dubai top attractions
Ski Dubai has five different slopes with different levels of difficulty and skiing fun. These slopes can be enjoyed in two ways. You can either try them on your own or get help from qualified instructors if you are new to skiing. The activity is open for all from children to adults offering a secure and fun-filled skiing environment.
Ski School in Ski Dubai offers group or personal snowboarding learning. All are open at the Ski School, from newcomers to pros. You have the option of picking from basic or sharpening your existing skills.
Have you ever met a fascinating animal kingdom bird called a penguin? If not, Ski Dubai provides you with the opportunity to meet the one. Ski Dubai is home to King Penguins, with whom you can interact and even take photos. Meeting penguins is one of the most popular activities in Ski Dubai for both children and adults, and it can be done in four different ways: Peng-Friend Encounter, Snow Plus – Penguin Encounter, Ultimate Peng-Friend, and Swimming with the Penguins. Pricing is determined by which of the four categories you select.
Ski Dubai has a dedicated snow park zone with endless fun opportunities. The area, which is around 4,500 square meters, is suitable for both children and adults. Families can have a snow fight, build snowmen, explore ice caves, climb towers, and participate in a variety of other exciting activities. Tickets to explore Snow Park come in a multitude of price ranges and activity restrictions.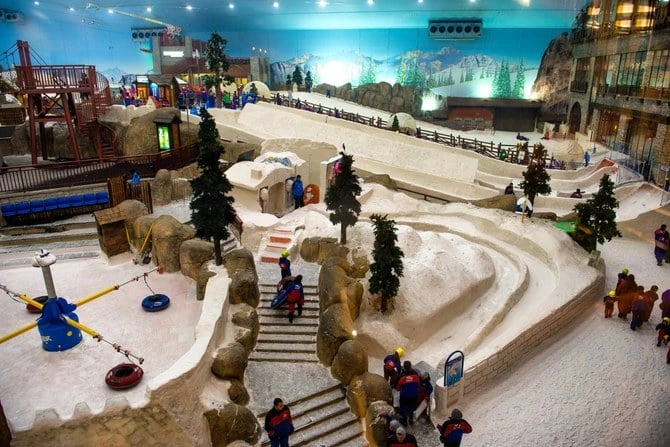 Things to do in Ski Dubai
Chairlift
Zorbing
Snow Bullet Ride
Ski or Snowboard Lesson
Penguin Encounter
Ski Dubai tickets
Ski Dubai presents a pack of tour options, hence, the Ski Dubai ticket price is based on the one you choose. Also, the Ski Dubai ticket price is not same always and varies based on the offered discounts and other factors. Generally, Ski Dubai ticket price ranges between Rs. 5,000 to 8,000. The different touring options and their approximate pricing info is given in below table
Slope

Two-hour Slope Pass (AED 210)

Full-Day Slope Pass (AED 310)

SkiFly Slope (AED 305)

Snow Plus Slope (AED 340)

Snow Premium Slope (AED 490)

Snow Park

Snow Park Basic (AED 190)

Snow Classic (AED 256)

Ski-Fly Snow Classic (AED 305)

Snow Plus (AED 340)

Snow Premium (AED 490)

Penguin Encounter

Peng-Friend Encounter (AED 230)

Snow Plus – Penguin Encounter (AED 520)

Ultimate Peng-Friend (AED 890)

Swimming with the Penguins (AED 1,390)

Snow Plus (AED 340)
Ski Dubai timings
Ski Dubai is open seven days a week, but the hours vary depending on the day. Ski Dubai timings for various days of the week can be found below.
Sun-Wed – 10:00 AM – 11:00 PM
Thurs – 10:00 AM – 12:00 PM
Fri – Sat – 9:00 AM – 12:00 PM
How to get to Ski resort Dubai
Ski resort is located in the Mall of Emirates on Sheikh Zayed Rd. One of the most popular attractions in Dubai can easily be reached by bus, metro, taxi, or car.
Restaurants near Ski Dubai
Nawab
Woodchuck Chicken
Panda Chinese Restaurant
Important tips to visit Ski resort Dubai
Ski is one of the top Dubai attractions, hence, can be crowded on some days. Booking the tickets well in advance is recommended to be on the safer side.
To take advantage of some rides and activities, the predefined height and weight criteria must be attained.
Always carry ID proof with you as it may be required anytime.
Children below 2 years are not allowed.
Children under 13 years of age must be accompanied by an adult and are required to wear helmets during activities for safety purposes.
Photography on your own is not allowed.
To help you keep your belongings safe, locker facility is available.
Endnote
Ski Dubai is a must-see attraction for those looking for exciting indoor activities. The place is ideal to enjoy a fun-filled vacation in the blistering heat. Ski Dubai's activities are truly one-of-a-kind, offering once-in-a-lifetime experiences. If you want to visit Dubai but are concerned about the Arabian Peninsula's popular heat, go to Ski Dubai. In the heart of warm Dubai, the 22,500 sq m location provides a stunning wintry experience.
To plan the best trip to Ski Dubai, reach the Holiday Square team for assistance.