Dubai is becoming extremely popular among international travelers for everything it offers. The lavish lifestyles, remarkable structural landmarks, and reasonable travel packages make this place a hit among visitors.
From luxurious lifestyles, traditional monuments, stunning architectural marvels, and adventurous desert safari to beautiful gardens, the city makes your trip memorable in every possible way. Let's take a virtual trip to Dubai and explore the Top 10 tourist destinations to help you plan your Dubai trip.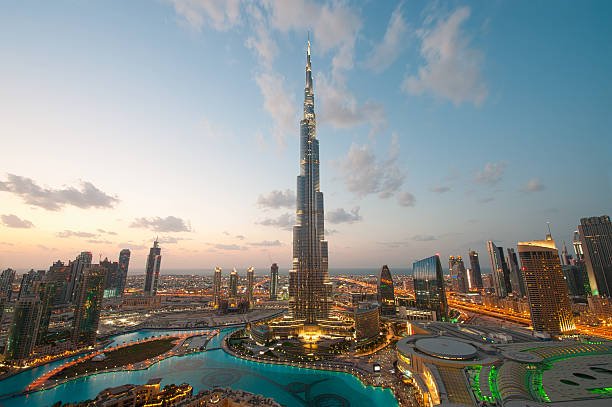 Top 10 places to visit in Dubai:
Burj Khalifa
Wild Wadi
Zabeel Park
The Palm Island
Ferrari World
Jumeirah Beach
Dubai Aquarium
Grand Mosque
Deira Gold Souk
Dubai Magical Garden
Burj Khalifa :



This iconic man-made structure is a wonder with an impressive height of 828 meters. As you stand on the 124th floor, you will get spectacular views of the city and the deep blue ocean.The building features a large swimming pool, two observation decks, world-class restaurants, lounges, and hotels. Burj Khalifa is a classic example of extraordinary architecture and appealing interiors that dazzle visitors with breathtaking views. Visit this place for a once-in-a-lifetime experience on your trip to Dubai.

Wild Wadi Water park:



If you want to beat the heat in your Summer holidays, then Wild Wadi Water park is the right place for you. This exciting place is in front of the iconic Burj Al Arab and offers a thrilling and fun experience. The amusement park has over 30 rides and slides, including the tallest and fastest ride in UAE, Jumeirah Sceirah. Famous characters of Arabian Old Stories like Sindbad and Juha are well presented in the form of rides. While kids enjoy different slides at Juha's Dhow and Lagoon, you can relax at the Wave pool. Wild Wadi waterpark will be a must-visit for an exciting and fun experience.

Zabeel Park:



Zabeel park is the largest park in Dubai and an ideal place for a one-day picnic, with advanced -technology services. The park also flaunts one of Dubai's most iconic spectacles, Dubai Frame, designed elegantly to represent Dubai's two contrasting sides: one is the ultra-modern city life of Dubai, and the other gives a glimpse of traditional Arab culture. The park features an "edutainment centre" for children and many other sporting facilities like a jogging track, fitness centre, BMX track, etc.

The Palm Island:



Have you ever seen luxurious villas and hotels built on a man-made island? Well, you must visit Palm Island, Dubai, for its stunning architecture over the ocean. The two islands, Palm Jumeirah and Palm Jebel Ali, make an eye-catching palm structure in the sea. You will get the best views of Palm Island from modern high-rise buildings. However, visitors can also book a speed boat and gaze at this beautiful construction from a close distance. Palm Island is 35km from the Dubai International Airport and is the best tourist place in Dubai.

Ferrari World:



Although Ferrari World is not located in Dubai, you can not miss the opportunity to visit this place during your visit to Dubai. Situated on Yas Island, Abu Dhabi, Ferrari makes the world's biggest indoor theme park, with more than 40 thrilling rides and sporting activities. From the world's fastest rollercoaster to advanced racing simulators, the adventures in the theme parks are fascinating and beyond one's imagination. Guests can also take advantage of driving a Ferrari and racing with an expert professional. To keep your kids entertained, Ferrari World offers a Formula Rossa Junior and many other rides, including Flying wings, Tyre Twist, Speedway Race, etc. The structure resembling the Ferrari logo is massive and can be spotted from space.

Jumeirah Beach:



Jumeirah Beach is an ideal destination for watersports activities such as kayaking, wakeboarding, and jet skiing. Beach-lovers will surely love to enjoy a relaxing holiday at Jumeirah Beach. The white sand beach is among the best tourist places and is flooded with visitors throughout the year. The Jumeirah beach hosts entertaining events such as live concerts, carnivals, and fitness competitions. The beach makes a perfect staycation in Dubai with plenty of eateries lined up on the beachfront, shopping outlets, and hotel lounges.

Dubai Aquarium:



Those who appreciate nature and its creations would love to visit the Dubai Aquarium and underwater zoo. It is one of the largest aquariums in the world, with a gigantic 10 million liters water tank that accommodates more than 33,000 marine creatures. Located inside the Dubai Mall, the Dubai Aquarium and underwater zoo offer memorable aquatic experiences, including Shark encounters, scuba diving, ray feeding, and much more. The underwater zoo features many exotic animals, including the massive "King Croc," weighing a whopping 750kgs.

Grand Mosque:



The city is best known for celebrating its rich heritage and culture with the world. Another reason to visit Dubai is the Grand Mosque, the third-largest mosque in the world and attracts thousands of visitors annually. The mosque can accommodate 40,000 visitors and is an iconic landmark in UAE. The mosque takes its name from Late Sheikh Zayed Bin Sultan Al Nahyan, and it delights the tourists with stunning white marble architecture and extraordinary interiors. The most eye-catching thing in the mosque is the world's largest carpet, hand-knotted by skilled artisans in two years. One must visit this place to know more about the artistic details and witness the religious aspects of Islamic culture.

Deira gold Souk:



Tourists also love to explore the traditional markets of Dubai, popularly known as souks. The Gold souk Deira is extremely popular for its authenticity and great prices on gold jewelry and precious gemstone products. Deira souks are also famous for various items, including spices, textile, perfumes, pashmina, art pieces, and much more. Vendors in these markets are open to bargaining and offer great prices on items. With more than 300 gold shops in Deira Gold Souk, this place is worth exploring, even if you do not wish to buy anything from the market.

Dubai Magical Garden:



Do you like the smell of fresh blooming flowers and taking a walk in a garden full of vibrant colors. Then Dubai Magical Garden is the right place for you. Located in Dubailand, just a few kilometers from the business area, The Dubai Magical garden is the world's most extensive natural flower garden. With more than a 150million flowers, all presented artistically in different shapes, a park is a must-visit place in Dubai. The unique arrangement of plants in the form of Emirates A380, stars, and a heart-shaped arch passage gives a visual treat to the visitors.
Dubai is emerging as a beautiful tourist destination with many splendid tourist attractions. The tourist spots mentioned above are the best places to visit in Dubai in 2022. The city has become an epitome of luxury and comfort with many world-known restaurants, mind-blowing adventure parks, majestic gardens, and traditional souks. If you have not been here before, now is the right time to book your tickets for Dubai, and do not forget to add the above places to your itinerary for a memorable Dubai holiday trip.