From adventurous desert safari, magical gardens, and gigantic skyscrapers to vibrant nightlife at Dubai Marina, Dubai has so much to offer to the world. The city is ready one more time to surprise you with yet another addition to your bucket list- The Global Village. A global village is a nice blend of art, culture, fashion, and food from all over the world in one place. Global Village Dubai is an excellent initiative by Emirates to unite the nations together and create a multicultural platform for talented artists, entrepreneurs, and vendors to showcase their skills.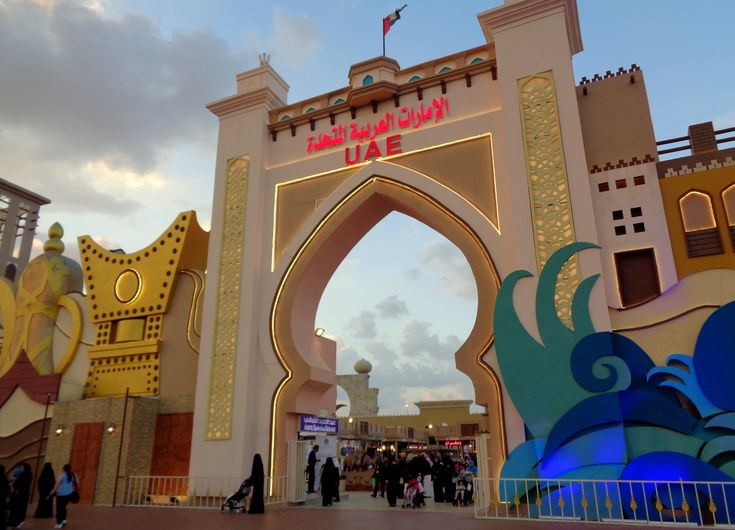 About Dubai Global Village?
The Global village was launched in 1997 and promotes the exchange of intercultural talents and cultures, making the world a better place to live. More than a shopping festival and art exhibition, The Global Village is a carnival that happens every year during the winter season in Dubai city. Every year millions of tourists visit this place and spend a memorable time with their family and friends. The entertainment park celebrated its 26th anniversary this year, open to tourists from October 26, 2021, till May 7, 2022. With more than 7 million visitors enjoying the leisure and shopping hub, the 26th season was hugely successful.
The Global Village is a massive theme park with international pavilions, numerous entertainment shows, street food varieties, and fun rides for kids and adults. The place is a stunning cultural extravaganza with heart-pounding music shows and extensive dining choices.
Global Village-Attractions and activities:
Shopping: Lined up with different pavilions showcasing their products and traditional outfits, Global Village offers an opportunity to shop various items at affordable prices. With more than 3000 shopping outlets, one can enjoy street shopping sprees and buy clothing, jewelry, carpets, home decor, and many more items all in one place. Pavilions from UAE, Bahrain, Saudi Arabia, Africa, China, America, India, Japan, Kuwait, Iran, Syria, Pakistan, Turkey, Russia, Thailand, Morocco, Lebanon, Palestine, and South Korea, offer an opportunity for traders to sell their products. Global Village brings you unique varieties of handicrafts and art pieces you may not have seen before. You can also use your bargaining skills here and get the items at a reasonable price from vendors. You will never be satisfied with shopping with a distinct variety of products from honey, Kaftans, spices, traditional jewelry, wood carvings, fancy glass lamps, and many more.
Entertainment: Kids-friendly entertainment shows featuring their favorite cartoon characters make the festival a hit among the little ones. Kids are fascinated by watching their favorite characters, PJ Mask and Peter Rabbit, perform on the show. Various artists from all over the world showcase their talents with Bollywood flashmob, street drama, and many more performances.
Action-packed stunts of professional stunt performers will instantly make your heart skip a beat. The latest addition to this is the Water-stunt show, featuring for the first time in the history of the carnival. These shows are thrilling and exciting and combine with many other attractions like jet-skiing and fly-boarding.
Dining:
One needs a break in between their shopping and adventurous rides. You cannot resist trying different cuisines with more than 150 food outlets, including cafes, dine-in restaurants, and street food options. The good thing about this park is you can enjoy cuisines from different countries without traveling.
Taking inspiration from the Umbrella market Thailand, a Railway market is designed inside the village with 14 compartments to offer mouth-watering pastries and other delicacies from Asia and other parts of the world. Floating Market, Happiness Street, and Fiesta Street will please you with many street food options. Savor your taste buds with authentic dishes from all around the world.
Fireworks and Dancing fountains:
The night sky at Global village is lit up with sparkling fireworks every Friday and Saturday at 9 pm. The stunning fireworks add colors to the sky and give a visual treat to the visitors. For its 26th season, the display offers delightful views throughout the week, at 9 pm each evening, making it an ideal destination for the Eid celebration.
In addition to the new features in 2022 is a mesmerizing fountain with an ample seating area. It makes a perfect setup for clicking some beautiful family pictures. The fire foundation also adds a startling factor to this carnival with a fire-breathing dragon.
What's more:
There are numerous photographic locations where you can click amazing selfies for your Insta feed, including Arabian Bridge, Celebration Walk, Gate of the World, LED Lake, Heritage Village, and Dry Fountain.
Most favorite among the kids is the "Carnaval," with more than 160 rides and other fascinating attractions.
Ripley's Believe it or Not with bizarre wonders with the latest addition of a 4D movie theater and 100 more attractions are worth the experience for fun and knowledge. An exciting museum displaying artifacts takes you on an unforgettable journey through incredible tales of people worldwide.
Over 40,000 shoes, including music concerts, cultural performances, street shows, and performances from international artists.
Hi-tech virtual games like shooting hoops, throwing darts, and more than 125 arcade games.
How to get there?
The Global village is located on the Sheik Mohammed Bin Zayed Road, Exit 37. The easiest way to get there is to hire a cab, or you can choose to drive your car to the destination. There are enough parking spaces available at the place. Alternatively, you can also use public transportation from various locations in the city. 102, 103, 104, and 106 will bring you to the venue from different areas. The buses are available every 30 minutes at intervals.
Dubai Global Village Tickets:
The Global Village has two different options for tickets:
The price for online ticket booking is AED 15.
If you purchase tickets from the venue, the price will be AED 20.
Children under three and seniors over 65 can visit the village for free.
Free entry for People with determination assisted by one carer.
Tickets, once purchased, are non-refundable in any conditions.
A ticket is only valid for a single entry on the day of purchase, and multiple entries are not allowed in any circumstances.
You can download Global village's mobile application to purchase the tickets, pay for parking, navigate the park and top up the wonder pass.
Important Tips before you visit the Global Village:
If you visit with your little ones, ensure that you always accompany them. The venue is massive and always crowded with thousands of visitors. Hence, there are high chances that you may get separated.
Make sure you behave respectfully inside the park with no public display of affection.
Respect the city's culture, dress modestly and cover yourself with comfortable clothes as you may have to walk for several hours.
Get the map of Global Village. It will help you find the place you want to visit with less effort.
Check the events and shows online before planning your visit and make an online booking to avoid long queues.
Timings:
From Saturday to Wednesday: From 4:00 pm to 12:00 am
On Thursday and Friday and public holidays: From 4:00 pm to 1:00 am
Mondays are reserved for families, women, and couples. Although the timings at Global Village remain the same, only families and women can enjoy the services at the park unless it is a public holiday.
Global Village is the best place to enjoy quality time with your family and friends in Dubai during wintertime. The 26th season of the carnival was full of fun, entertainment, and excitement. It was started on October 26, 2021, and the village has welcomed more than 7 million visitors this year. The visitors highly appreciated the 26th season of the global village, and due to its extreme popularity, the authorities have extended the fair by four weeks.
If you want to experience different cultures, fashion trends, and unforgettable moments with your loved ones, then Global Village Dubai is the right place. The global village will return with new experiences and adventures on October 25, 2022.