Dubai is a city that never fails to amaze with its stunning architecture, luxurious shopping destinations, and thrilling attractions. But have you ever thought about exploring the fascinating world of butterflies in the heart of this metropolis? If not, you must visit the Dubai Butterfly Garden, a unique and stunning attraction that will leave you spellbound.
Overview of Dubai Butterfly Garden
The circular garden, which has the capacity to hold approximately 300 people, is situated adjacent to the Dubai Miracle Garden, just off Sheikh Mohammed bin Zayed Road.
The Dubai Butterfly Garden is a haven of peace and tranquility located in the heart of the city. As soon as you enter the garden, you'll be surrounded by an abundance of colorful butterflies that will take your breath away. The garden is home to over 15,000 butterflies from 50 different species, all of which are bred in-house. As you stroll through the garden, you'll encounter thousands of colorful butterflies fluttering around you, making it an incredibly immersive and awe-inspiring experience.
The Butterfly Flower Park is a picturesque and peaceful location filled with vibrant flowers and colorful butterflies, offering a captivating experience to visitors as they stroll through the garden and interact with the butterflies.
In addition to the butterflies, the park features an impressive array of flora and fauna, including trees, shrubs, and various types of flowers, making it a perfect destination for nature enthusiasts who can enjoy the serene environment while exploring the garden's diverse range of plants and animals.
Must-see attractions at the Dubai Butterfly Garden
The garden has a variety of sections, including the Butterfly Museum, Butterfly Flower Park, and Butterfly Breeding Area.
1). Koi Pond
Visit the Koi Pond at Dubai Butterfly Garden's Dome 2 to see beautiful orange, white, and gold Koi swimming together. The sound of running water enhances the serene garden ambience. Koi, also known as a jingle, is a friendly fish from the Far East and treasured by hobbyists and aquarium owners worldwide.
2). Captivating Domes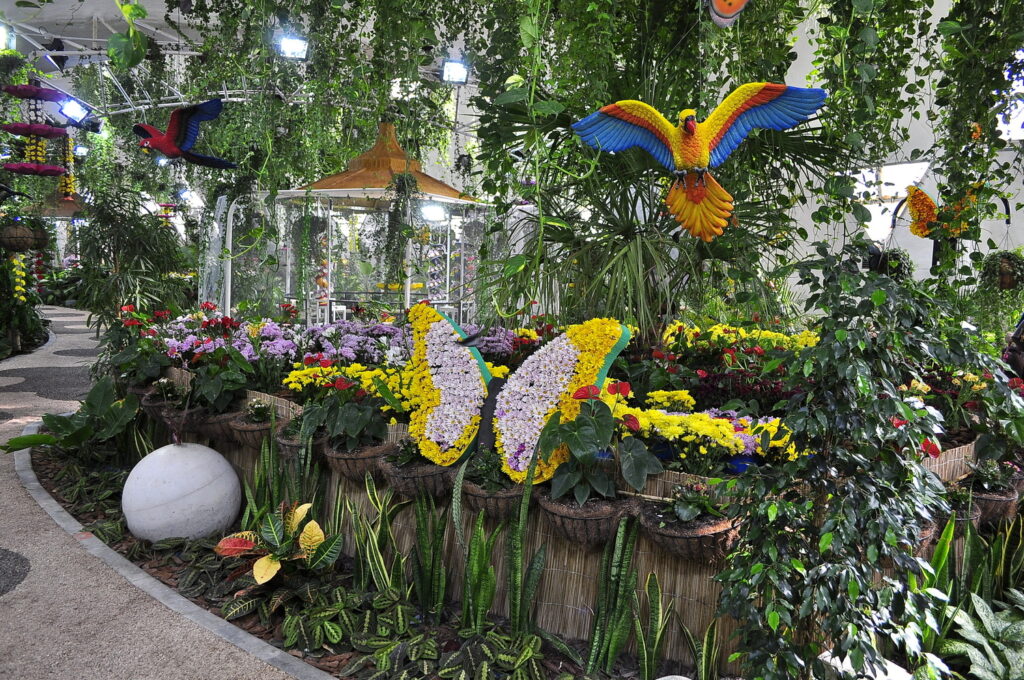 One of the highlights of the garden is the domes that are designed to provide the perfect environment for thousands of beautiful butterflies to thrive. As you enter the domes, you'll be greeted by beaded curtains leading you into a green paradise filled with colourful flowers and greenery. The temperature is carefully maintained at a comfortable 24°C, creating an ideal environment for the butterflies to thrive.
Each dome features a path lined with vibrant foliage, with ivy hanging from the ceiling to give a natural look. Above you, butterflies flit and flutter, chasing each other around the dome. They perch on nectar stations throughout the space, allowing visitors to observe them up close.
In addition to the beautiful butterflies, each dome also features netted gazebos where visitors can sit and watch these beautiful creatures up close.
3). Butterfly Museum
The Butterfly Museum at Dubai Butterfly Garden offers visitors an opportunity to learn about the fascinating world of butterflies. The museum houses a vast collection of preserved butterflies and moths from around the world, including rare and exotic species. 
4). Educational Area
The Dubai Butterfly Garden aims to educate visitors about the fascinating life cycle of butterflies. Guests can observe the various stages of metamorphosis, from pupa to adult, and learn about different butterfly species. Notable species include the Monarch, Tailed Jay, and Golden Birdwing. A cinema provides educational videos and animations for younger visitors. The Butterfly Breeding Area is a fascinating section of the garden where you can witness the process of butterfly breeding up close. Here, you can see the entire process, from the mating of butterflies to the hatching of their eggs. It offers a unique and immersive educational experience for all ages.
The garden is home to a team of experts who are dedicated to the conservation and protection of butterflies and their natural habitat. The garden conducts various workshops and educational programs to create awareness about the importance of butterfly conservation.
Food
After all the sightseeing, one may feel hungry, but the food kiosk is there to satisfy any hunger pangs. The park also features a Starbucks Coffee and a candy shop, serving a variety of refreshments like coffee, fresh fruits, juices, ice cream, and candies. These food outlets cater to families who can enjoy their visit without worrying about food.
Additional facilities include:
A parking area.
A prayer room.
Souvenir shops.
Wheelchair-accessible facilities.
Toilets.
A first aid room.
Even a car rental service.
Dubai Butterfly Garden Visiting Hours: Saturday to Friday- 9 AM to 6 PM
How To Reach Dubai Butterfly Garden?
The garden is located approximately 22 kilometers from the airport, and the journey usually takes around 20-25 minutes, depending on the traffic.
Alternatively, you can take the Dubai Metro to the nearest station, the Dubai Internet City station. From there, you can take a taxi to the garden, which is about 15 minutes away.
Another option is to book a private transfer or a shuttle bus service from the airport to the garden, which can be arranged in advance with your travel agent or directly with the garden management.
Dubai Butterfly Garden Ticket Price
Entry for children below 3 years is completely free.
Butterfly Garden Dubai entry fee is AED 55 for adults and children above 3 years.
Tickets are offered at discounted prices for group bookings.
Things to consider before visiting Dubai Butterfly Garden
Although visitors are permitted to take photos, it is advised to do so while accompanied by a staff member.
It is not allowed to leave litter or bring food and drinks into the garden.
Avoid touching or capturing butterflies that are resting or feeding.
Be cautious while walking in the garden to prevent stepping on any butterflies.
The garden has several coffee shops, a candy bar, and a food kiosk that offers sandwiches, ice cream, candy, fruit juices, and coffee.
The Dubai Butterfly Garden is not just a place for entertainment but also a center for education and research. The garden is home to a team of experts who are dedicated to the conservation and protection of butterflies and their natural habitat. The garden conducts various workshops and educational programs to create awareness about the importance of butterfly conservation.
Final Words
In conclusion, visiting the Dubai Butterfly Garden is an unforgettable experience that will leave you in awe of the beauty of nature. With its mesmerizing collection of butterflies and serene environment, it offers a unique opportunity to witness the fascinating world of these delicate creatures up close.
The garden's commitment to conservation and education is commendable, making it an excellent destination for families, nature enthusiasts, and anyone seeking a peaceful retreat from the bustling city life of Dubai. So, plan your visit to the Dubai Butterfly Garden today and get ready to immerse yourself in the magical world of butterflies.