Dubai Polo and Equestrian Club is meant not only for those who play the game but also offers plenty of options to enjoy leisure time with your family. Extending over 68 acres, the Polo club Dubai is an ideal destination if you want to escape the scorching heat of Dubai. From water slides, an indoor spa, and casual dining to pony rides for kids, the Dubai Polo and Equestrian Club has everything for everyone.
Let's explore what this place has to offer :
All about Dubai Polo and Equestrian Club
Dubai Polo and Equestrian Club were launched by the Emaar properties in 2006; the club has been a perfect destination for equestrian adventures. The club accommodates more than 300 with an array of paddocks, two large Polo fields, and show jumping arenas. Although the club is famous for sports facilities, one can enjoy various other services like relaxing in an open pool, a gym for those who do not want to miss their regular workout sessions, and outdoor play areas for children.
Located in the upscale Arabian Ranches in Dubai, the Dubai Polo and Equestrian Club is best known for hosting many sports events such as the UAE Nations Cup Emaar Polo Cup 2022, Cartier International Dubai Polo Challenge, and Sunset Polo International. Besides this, the club makes a perfect venue for social activities, including dreamy weddings, seminars, birthdays, and corporate dinners.
Polo and Equestrian
For all those who are fascinated by this game and want to try their hands on the same, the Dubai Polo and Equestrian Club hosts the game and provides private and group lessons for children and adults. Vast and well-maintained fields with advanced gears and equipment guarantee a safe game. The expert trainers ensure everyone's safety throughout the practice sessions.
The Equestrian club has a vast stable that features more than 350 horses. Expert trainers train the horses, and they are offered grooming and feeding sessions with great care.
The club also has a one-stop shop for buying horse riding equipment at the club. Bridles, saddles, and other riding accessories from known Equestrian brands are available at the Tack shop.
Fun activities for kids
Horse riding
As you drive past the paddocks, your kids will get excited to see the horses running around the vast fields.
But the best thing about the club is the kids can enjoy pony rides at AED 35. Your kids will love the horse riding sessions. Don't forget to let your kids splash in the kid's pool.
Karate Lesson
Karate is a game of coordination between the mind and your hand movements. At the Club center, your kids will learn Karate Skills to build confidence and strengthen their physical abilities.
Restaurants
From breakfast to dinner after a day full of adventure, Dubai Polo and Equestrian club restaurants will refuel your bodies with delicious food options. Set inside the club, the dine-in restaurant Sella offers a great culinary experience. The restaurant serves a variety of international cuisines and is a perfect place to enjoy your dinner as the elegant interiors define luxury and comfort. You can also view the horses and the riders enjoying their games in the fields.
A stylish lounge is designed to give some fun time for friends with the same passion for sports. At Dubai Polo Bar, you can enjoy a variety of beverages and bites while cheering for your favorite team on multiple TV screens. The outdoor scenic views are perfect for social gatherings.
Hydrate yourself with refreshing drinks while lounging at the Splash Pool Bar pool. You can also order some sandwiches and salads and enjoy the outdoor views.
Swimming pool and Spa
A refreshing dip in an outdoor pool set between the stunning fields is sure to relieve you from the dry and hot weather of Dubai.
Equestrian and other adventures can be exhausting, and all you need is a relaxing massage to make you feel beautiful inside and outside. A blend of essential oil massage treatment with the soothing aroma of scented candles will rejuvenate your body and nourishes your skin. The club also has a luxurious Jacuzzi and relaxing steam room to restore the balance between your body and mind.
Gym and Yoga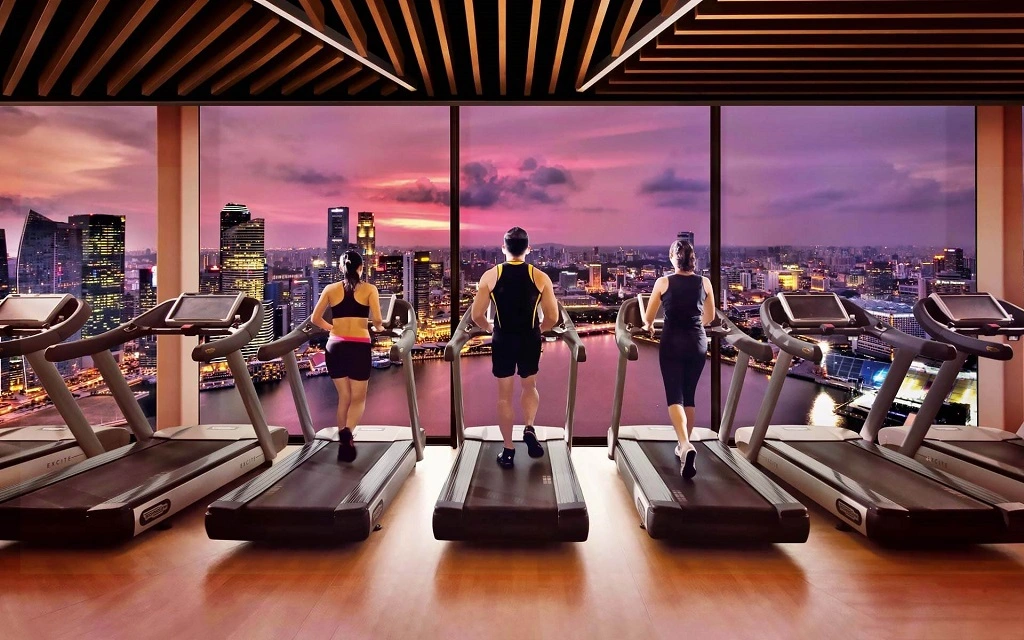 The club boasts a gym equipped with modern facilities for those who do not want to miss their regular workout sessions while on vacation. The club also hosts frequent yoga sessions by expert yoga trainers, which helps reduce stress and create a healthy balance between your mind and body.
What's more
If you are planning to host a private event or a corporate dinner in Dubai, then there is no better place than Dubai Polo and Equestrian Club. The magnificent venue can make any occasion memorable with its elegant European architecture, green fields, and excellent hospitality from staff members.
For birthday parties, baby showers, business events, family dinners, or weddings, the club allows the host to decorate the venue as per their wish. The club has an award-winning restaurant to please your guests with mouth-watering dishes.
Location
The Dubai Polo and Equestrian Club are located near Studio City on Al Qudra Road. The club is opposite the global villa community of Dubai, Arabian Ranches.
How To get there
Situated 15.3 kilometers from Dubai International Airport, the club can be reached easily by bus, metro, and car. The nearest Bus station is Studio City, and it is at 9 min walking distance from the club. Alternatively, you can book a cab ride that will conveniently get you to your destination.
Club Membership
Dubai Polo Club also offers membership benefits so you can try your hands on the game as much as possible. Members of the club can enjoy plenty of club services throughout the year. The membership is available monthly, annually, in 3-months and 6-months periods, and it may vary depending upon the number of persons included in the package.
Dubai Polo and Equestrian Club is a place to appreciate nature while enjoying your favorite sports activity. Whether horse-riding and Polo is your passion or you want to enjoy a family vacation amidst beautiful green surroundings, the club welcomes you and gives you memories of a lifetime. The club offers horse riding and Polo training sessions for adults and kids. Polo Club, Dubai is more like a home away from home.