Ever been to a place in Dubai that will remind you of a fairyland. Yes, you are reading it correctly. Dubai has a wonderful garden that will take you into a different world that is beyond your imagination. A garden full of flowers with different colors and shapes is sure to give you relief from stress. Dubai Miracle Garden is the world's largest natural garden and has over 50 million flowers blooming inside this park. This attraction is a miracle in itself, as it displays a park full of flowers in Dubai's extreme desert conditions. While the sounds of birds chirping in their sweet voices will calm your senses, beautiful butterflies flying around you will make you wonder about the Almighty's distinct creations.
Inaugurated on Valentine's Day in 2013, the Dubai Flower garden represents Dubai's love for nature. Spread across a huge area of 72,000square meters, it takes hours to explore the park entirely. The lush green landscape of the garden attracts more than 1.5 million visitors every year. The Miracle Garden displays different floral concepts every year that are unique in nature. From heart-shaped arch passage to stars, igloos to pyramids, peacocks to Burj Khalifa , the garden has flaunted different floral models of unusual shapes and sizes.
The garden showcases popular themed decorations including Airbus A380, Floral Teddy Bear, floral houses, mickey mouse and many more. Dubai Miracle Garden is home to more than 15,000 butterflies of 26 kinds, which is a unique record in itself, and it is also known as Butterfly garden ,Dubai.
Dubai Miracle Garden Location
The garden is located in Dubailand, Al Barsha ,South 3 Dubai. The garden can be conveniently reached by bus and taxi.
Highlights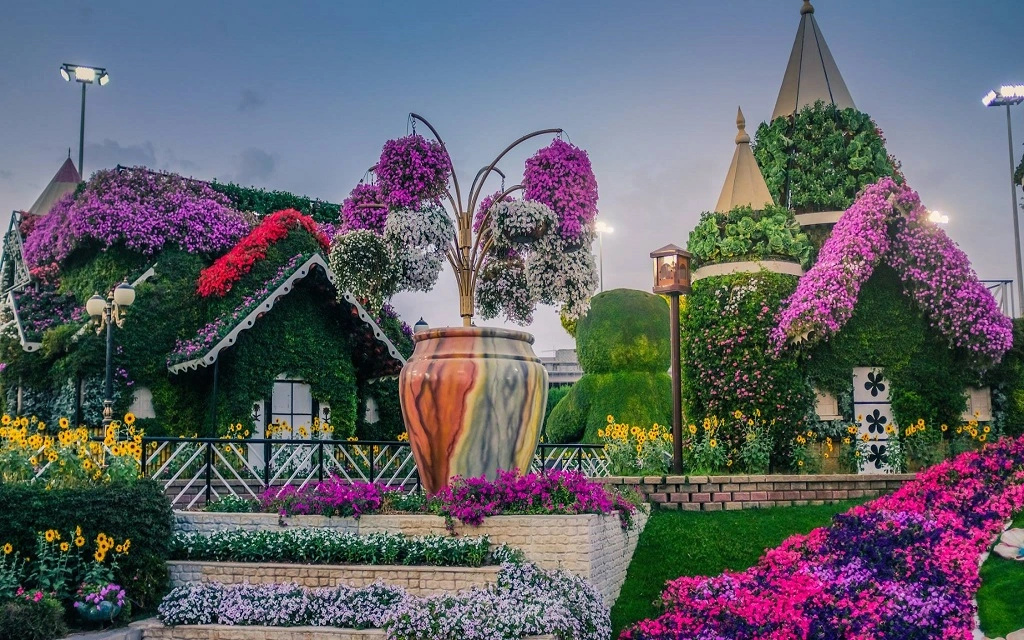 The garden comes up with innovative concepts every year. So, every time you visit the garden you will find some difference.
In-house attraction Dubai Butterfly park is home to more than 15,000 butterflies.
A sub-surface irrigation system installed in the garden to save energy and water resources makes the garden more fruitful and fascinating.The system makes the use of drip-irrigation method and recycles waste water without evaporation in the air .Thus, it gives life to more plants.
The garden is open from November to May,and closes its doors for visitors in Summer. The park then undergoes a process of renovation where old themes are replaced with new floral structures.
As per the contract with World Disney, the garden displays many Disney Cartoon characters including Mickey Mouse, Goofy, Pluto, Donald Duck, Daisy Duck, Huey, Dewey and Louie.
The Garden has been a favorite spot for promoting and shooting movies. An American Comedy Adventure Film "Ferdinand" by the famous WWE Wrestler John Cena was promoted in the Miracle Garden.
Dubai Flower Garden Attractions:
1. Emirates Airbus A380
A huge replica of Emirates A380 designed with different flowers is the main attraction of the miracle garden. The huge life-size model is created in 180 days for 10 hours a day. With over 5,00,000 flowers and living plants , the Emirates A380 airbus looks stunning and catches everyone's attention.The one-of-its-kind imitation is designed from marigold, viola, Geranium and many more varieties of flowers.
2. Umbrella roof
A colorful passage designed from beautiful umbrellas on the top will not only protect you from the scorching heat of Dubai, but it will also give you a visual delight to your eyes.
3. Floral Lady
The floral lady with its open arms is an epitome of beauty and creativity at the same time. Dressed in white and pink, the lady looks graceful with floral decoration and invites the visitors with open arms. The installation is a piece-of-art, and it is an extremely thoughtful creation and best example of floral artistry.
4. Sunflower Field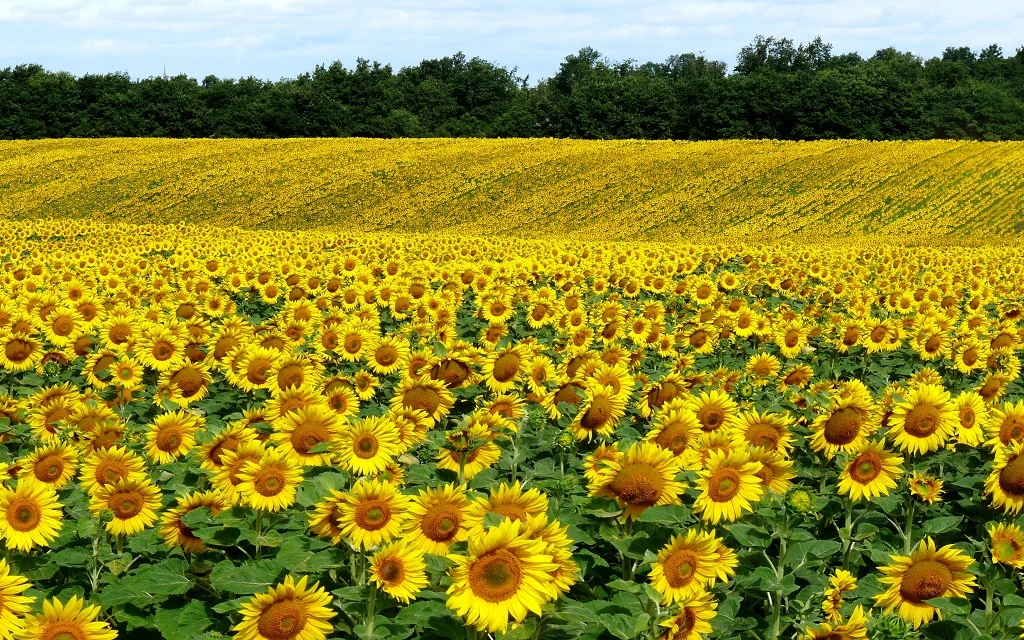 Sunflowers blooming in the sunlight always give us that happy vibes. Imagine an array of 5million sunflowers planted in a huge field, it seems the park is designed to recreate the famous scene from a Bollywood movie. With 15 distinct varieties of sunflowers , the Sunflower field becomes the major attraction in the miracle garden. Don't miss out on a chance of taking a photo with your spouse in this field.
5. Half-buried cars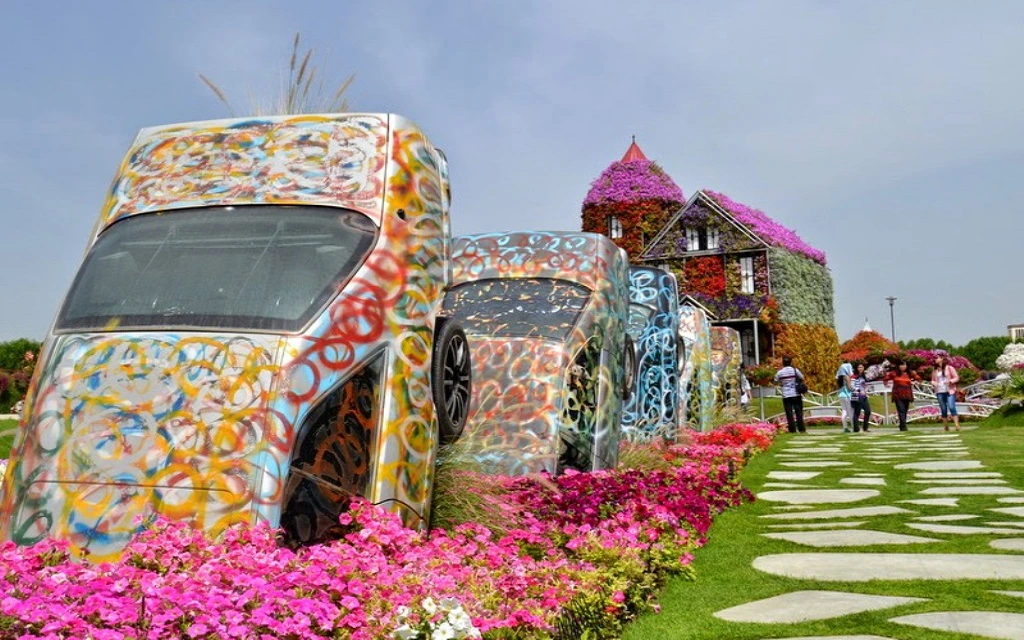 Ever thought that cars can be used in the Garden? Why not ,we say. Dubai Miracle Garden showcases the brilliant idea of using scrap materials from used cars in a floral world. The cars are aligned straight in line and inclined at 80 degrees, and it seems that they are taking a dip inside the land.
Dubai Miracle Garden Ticket Price
The Garden entry tickets are different for children and adults. While there is no entry fee for children below 3 years old, children from 3to 12 years can visit the garden for AED 40. For adults the entry ticket start is AED 55. Dubai Miracle Garden ticket prices are affordable and also include VAT.
Best Time to visit the place
Best time to witness the delightful display of flowers is from November to March as the weather in Dubai tends to be cooler during these months.Most visitors spend around 2-3 hours exploring the entire park. However, you can spend some more time if you love to enjoy being in nature.
World Recognition
The Dubai Miracle Garden is honored with not only one but three Guinness World Records. It was awarded for being World's largest vertical garden in 2013. The Garden also Won the Moselle Award in 2015 for New Garden Experience of the year. Airbus A380 flower structure is listed in Guineess World records as the world's biggest flower structure.
A famous Disney Character of Mickey mouse weighing 35 tonnes is built from nearly 1,00,000 flowers.The 18 m high structure of Mickey Mouse gained the Guinness World Records tallest topiary supported structure in the world.
Perfect place to click some pictures
For those seeking a beautiful backdrop for pictures on their Instagram wall, this garden can create magic in your photos. One can click as many pictures as they wish with different backgrounds,angles and effects. Although those with professional cameras and drones must seek permission from the garden authorities.
Dubai flower garden will undoubtedly take you on a fascinating journey with a vivid range of floral decorations. With more than 50 million flowers blooming in different spectrum of colors and shapes , the garden is truly an extraordinary example of art, nature and creativity blended in equal proportions. Nature lovers will surely appreciate the efforts that had been put into developing a garden paradise in the harsh climates of Dubai. If you are planning a Dubai trip, make sure you add world's largest natural flower gardens to your itinerary.