Planning a holiday in Dubai? You must stop by the Dubai Dolphinarium. The attraction offering a leisurely experience is one of the most captivating enclosed tourist spots that deserves your visit.
The Dubai Dolphinarium is intriguing place housing dolphins and seals. The fully air-conditioned indoor site located at Dubai Creek Park in Bur Dubai conducts the best dolphin show in the world. Suitable for people of all age groups, Dubai Dolphinarium is ideal to have an all-inclusive family experience. The Dubai Dolphinarium, which is 5000 square meters in size, allows us to get up close and personal with the extremely talented dolphins. It is a commendable place where visitors can interact with dolphins and watch them dance, juggle, play ball, and jump over obstacles. The place also lets visitors get mingled with other beautiful creatures and perform several pleasing activities.
Dubai Dolphinarium Highlights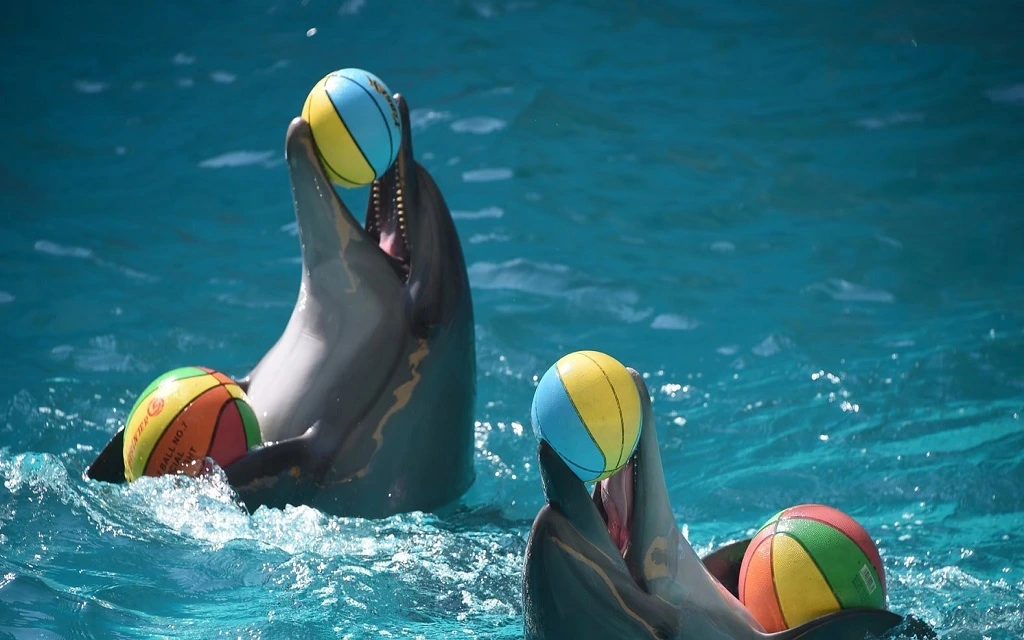 You observe the abilities of fascinating beasts through a variety of actions such as dancing, singing, and ball play.
The advanced laser, bright lights, and audio system add to the excitement and fun of your trip.
Happy Valley Restaurant, which serves an assortment of cuisines, is ideal for packing your tummy with tasty meals.
Aside from the entertaining creatures, there are other attractions to explore, including marine-themed classrooms, a multimedia library, and a kid's gym.
The fully air-conditioned facility lets you have a delightful time irrespective of the high temperature outside.
To those wanting to take a break from the bustle of the day to day life, Dubai Dolphinarium delivers an immaculate experience.
To add to your enjoyment and preserve memories of your wonderful time, you can take as many pictures as you want.
Dubai Dolphinarium Offerings
1. Dolphin and Seal Show
Dolphin and Seal Show allows visitors to engage with super talented sea animals. The 45-minute indoor experience lets you watch the skilled animals dance, sing, juggle, play ball, and jump through hoops. The breathtaking and authentic ambiance is sure to clinch you and make you fond of dolphins.
2. Creek Park Exotic Bird Show
The Creek Park Exotic Bird Show is yet another main attraction offered at Dubai Dolphinarium. The show presents more than 20 attractive parrot species and exotic birds to provide guests with an unforgettable experience. Only one of its kind, the Creek Park Exotic Bird Show allows visitors to confront exclusive bird species and is a point of attraction for thousands of visitors. Amongst bird species are Blue and Gold Macaws, Sun Conures, Eclectus Parrots, Green Winged Macaws, African Grey, and many more.
3. Swimming with Dolphins
If you've ever sought to swim with dolphins, Dubai Dolphinarium is the place to do it. The Dubai Dolphinarium allows you to feel more connected with the impressive water animals and take a dip with them. During the 20-minute interaction, you can learn a lot about the creatures, including their habitat, diet, and behavior. Throughout the activity, you will be mentored by professional trainers, hence, there is no risk to your safety. If you're in Dubai Dolphinarium, don't pass up this once-in-a-lifetime opportunity.
4. Trampoline Park
You can go to Trampoline Park after you've finished watching the animals. Though the park is enjoyable for people of all ages, children will have the most fun. Certain rules must be followed when entering the park. You cannot take outside food smoke or take pets to the park.
Top Restaurants Near Dubai Dolphinarium
Ambiente By My
Market24
Eve Penthouse & Lounge
Rolling Cones
Sufra Restaurant
Dubai Dolphinarium – Timings
Dubai Dolphinarium opens at 10 am every day and is open from Monday to Saturday.
Dolphin and Seal Show timings
The show is available in three slots – 11 AM, 2 PM, and 6 PM
Creek Park Exotic Bird Show timings
The show is available in three slots – 12:15 PM, 3:15 PM, and 7:15 PM.
Swimming with Dolphins timings
10 AM, 12 PM, 1 PM, 2 PM, 4 PM & 5 PM
Dubai Dolphinarium Ticket Price
Different offerings and activities at the Dubai Dolphinarium charge differently.
Dolphin and Seal Show ticket price
You have options to choose from discounted, regular, and VIP seating, hence, the price of your ticket may vary depending on the type of ticket you purchase.
The regular discounted type (available on Monday, Friday, and Saturday for the 11 AM slot) costs AED 75 for adults and AED 45 for children aged 2 to 11.
The regular type ticket costs AED 105 for adults and AED 50 for children aged 2 to 11.
The VIP type ticket costs AED 125 for adults and AED 85 for children aged 2 to 11.
Creek Park Exotic Bird Show ticket price
The Creek Park Bird Show tickets cost AED 55. Child tickets cost AED 30.
Swim with Dolphins ticket price
There are two choices to swim with the dolphins. You can either have a knee deep shallow water experience or deep water swimming experience. Shallow water swimming costs AED 475 and deep water swimming cost AED 630.
How to Get to Dubai Dolphinarium
The Dubai Dolphinarium is located in Dubai Creek Park in Bur Dubai and is easily accessible by car or bus. You can get to the venue by taking a 5-minute drive from Dubai Healthcare City Metro Station.
Planning a Visit to Dubai Dolphinarium – Keep the Below Points in Mind
Take out atleast 2-3 hours to visit the exciting place.
Purchase your tickets in advance, especially for weekends. Weekends are heavily packed, hence, it may be difficult to get tickets on short notice.
There will be no refunds after the booking has been confirmed.
Reach atleast 30 mins before the commencement of the show as the seating is given on a first come first serve basis.