The coffee in the Arab world is definitely different from most other parts of the world. The Emirati's love for the beverages has given the world a gift of a museum that is unique in itself. Drinking coffee in one of Dubai's heritage sites after a crappy day will surely bring a smile to your face. Although Arab emirates are not the producers of coffee, it has always been an essential part of Arabic culture.
The Dubai Coffee Museum is a hidden gem in the Al Fahidi district, tucked away in a quiet street of this historic district. This memorial to caffeine consumption is strewn with interesting artefacts and houses a large collection of antique goods that highlight regional and international coffee history and culture. The aroma of roasted coffee beans is sure to give you a sensual delight.
History of coffee in Dubai Coffee Museum
As described by the legend of Kaldi, the journey of coffee dates back hundreds of years ago from the mountains of Ethiopia, when a goat ate some berries from a tree and was conscious throughout the night. The locals then roasted the berry like beans to prepare a drink which helped worshippers from local Montessori stay awake during prayers. The beverage was a hit among the locals, and it rapidly covered the long-distance journey to the Middle East in a short period.
The museum serves a variety of freshly brewed coffee that includes traditional tastes of Ethiopia, Turkey and Egypt. Visitors in the museum will learn the conventional grinding, brewing methods and pots used in the process of coffee production.
Museum Layout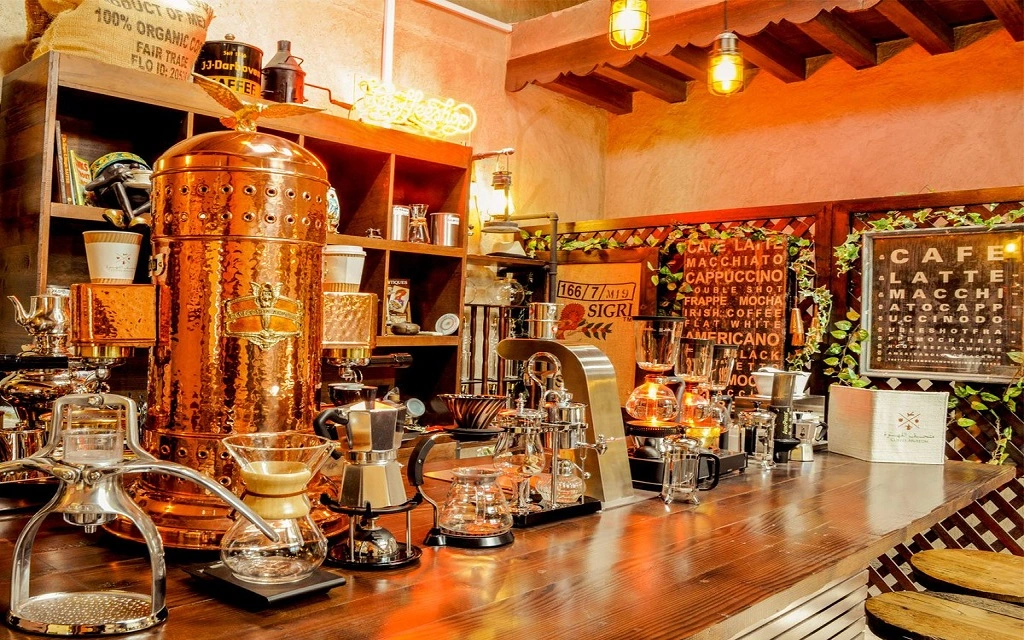 The architecture of the place is designed with great care to reflect the importance of Arab customs and tradition. Spread across two floors, the museum exhibits antiques from Middle Eastern countries. On the ground level are a gift shop, antique collections, and a traditionally designed Majlis for Emarati style gatherings. A particular room named coffee origins displays a variety of coffee beans.
You will see Arabian Hospitality on the cafe table with old coffee cups and other utensils. An attractive Arab desert landscape with camels, mountains, palms, and Bedouin sitting on the terrain brassy with coffee is seen in a large photo in one of the central rooms.
The unique collection of antique cups, coffee grinders, roasters, pots, kettles, weighing scales, and sorting trays demonstrate utensils used in serving the beverage. A shiny metallic exhibit placed in the Egyptian section is impossible to miss.
On the first floor, you will find a small yet fantastic section dedicated to coffee literature, including the original print of Johann Friedrich von Pfeiffer's encyclopaedia Corrections, published in 1784. There are few audio-visual tutorials in this section. A large information board explain the difference between Arabic and Robusta coffee.
Inside the museum, you will also find a cosy and welcoming cafeteria with comfortable seating to enjoy your sip of fresh aromatic coffee. The barista will artfully present your favourite cup of hot drink as you read the story of coffee lining the walls. Enjoy a variety of options such as Ethiopian, Turkish, Vietnamese and Arabic flavours in the coffee museum Dubai menu.
Gift shop
The coffee museum Gift shop is a perfect place to get beautiful souvenirs to take back home. The gift shop has a fascinating jewellery collection designed in coffee bean shapes. Surprise your loved ones and friends with special presents and tell them about this unique museum.
Kids Corner
The museum has a separate kids corner to keep your kids entertained, where your kids can learn about the coffee origin and many other exciting activities.
Coffee Museum Dubai Timing
The Dubai Coffee Museum is open from Saturday to Thursday, 9 AM to 5 PM. The museum is closed on Fridays.
Dubai coffee Museum Location
A divine paradise for coffee- addicts, the Dubai Coffee Museum is located in the historic neighbourhoods of the Al Fahidi district. The cozy, modern, historical museum is located at Villa 44, Al Hisn Lane, Al Fahidi, and Dubaí Coffee Museum.
Coffee and Arabic Customs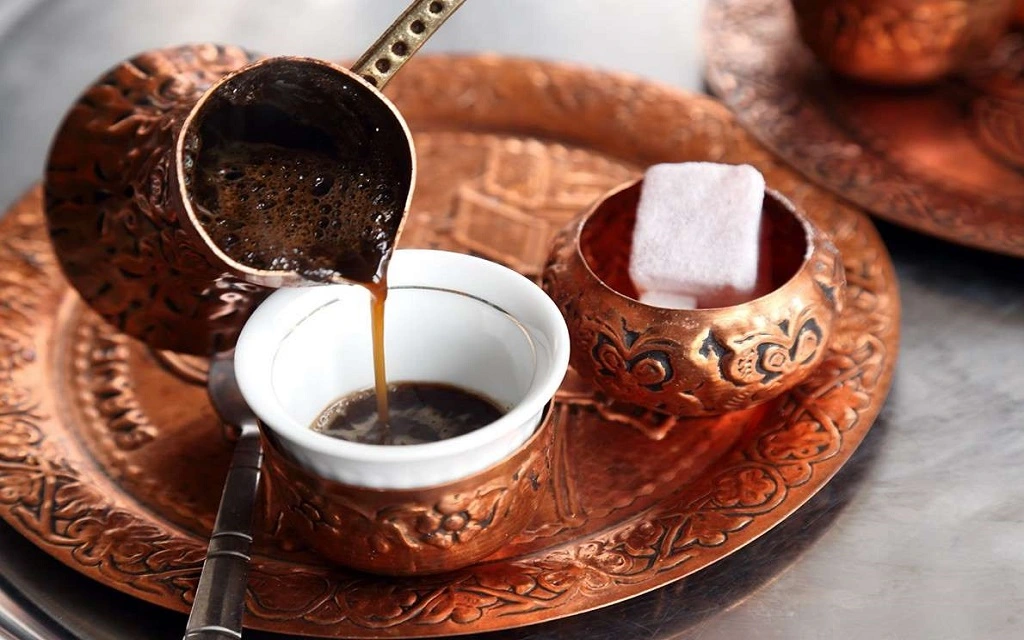 Most people in Middle Eastern countries enjoy coffee as much as any other nation. It is also a symbol of hospitality and sophistication. Many important events like marriages, contracts and business agreements are settled over a cup of coffee.
A traditional Arabic pot that brews and serves Qahwa (an Arabic coffee) is called Dallah. The server must hold Dallah in his left hand and pour it into the cup in his right hand as serving an item using the left hand is considered bad manners in their tradition. The traditional approach is to serve coffee to the important guest first and the youngest guest last. For richness and flavour, Arabian coffee is brewed with cardamom, clove, cinnamon, and saffron. To overcome the bitter taste of coffee, it is often served with dates, nuts and dried fruits.
Visit the Coffee Museum, Dubai
For many reasons, coffee has always been loved globally. From gossiping with old friends at the coffee table, having an intimate conversation or securing a white-collar job, coffee has been an integral part of our lives for many years.
Whether you are a coffee lover or not, the Dubai coffee museum will fascinate you with exciting stories related to this hot beverage and the Arab traditions. The engaging process of roasting, brewing and presenting this aromatic drink at the coffee museum is worth the experience when you are in Dubai.