Dubai is famous for its uniquely designed skyscrapers, hot desert safari adventures, eye-catching souks, and amazing theme parks. This time Dubai has surprised the world with the largest indoor aquarium in the world. The Dubai Aquarium located on the ground floor of the Dubai Mall is one of its kind and home to thousands of exotic aquatic animals. Get ready to have a close look at marine animals in the world's largest aquarium, Dubai.
Explore the unseen world of thousands of aquatic animals living in a massive 10 million liter tank in the world's largest suspended aquarium. The main aquatic tank of the Dubai Aquarium is 51 metres in length, 20 metres wide, and 11 metres in height, and it is home to more than 140 marine species.
The aquarium has an incredible collection of more than 300 sharks, rays, and sand tiger sharks. Dubai Mall also holds the record for building a 750mm broad acrylic panel that can resist the massive force of millions of gallons of water.
Dubai Aquarium – Highlights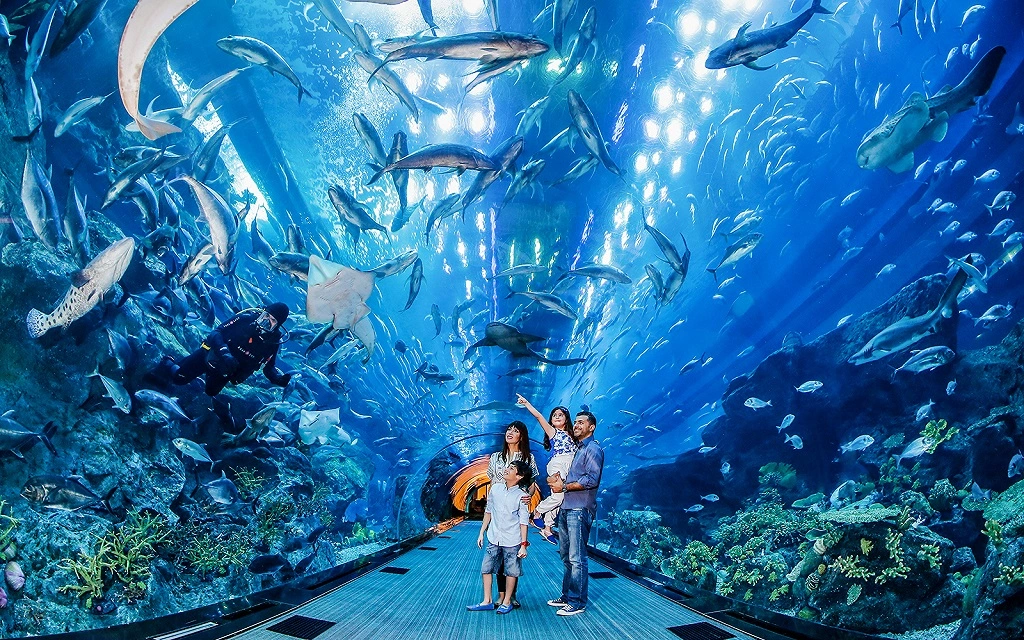 A snorkelling experience for certified and non-certified divers
Once in a lifetime opportunity to feed sharks, rays, penguins, otters, etc.
A 2-day scuba diving training with PADI certification
A close encounter with penguins, piranhas, water rats, seahorses, jellyfishes, etc.
Glass boat ride with a visual treat of different marine species.
A chance to see Arabian nightlife creatures.
Dubai Aquarium Activities
It is carefully designed to give a divine and memorable experience to the visitors. A series of exciting activities are sure to increase your love towards marine creatures.
1. Shark encounter
Be prepared for the up-close meeting with the sharks. While the divers distract the sharks towards them for food, you will have a face-to-face encounter with this animal. After this activity, you will have an opportunity to feed the baby shark and learn about the shark breeding program. This experience is accessible by every individual as it does not require prior diving experience.
2. Cage snorkelling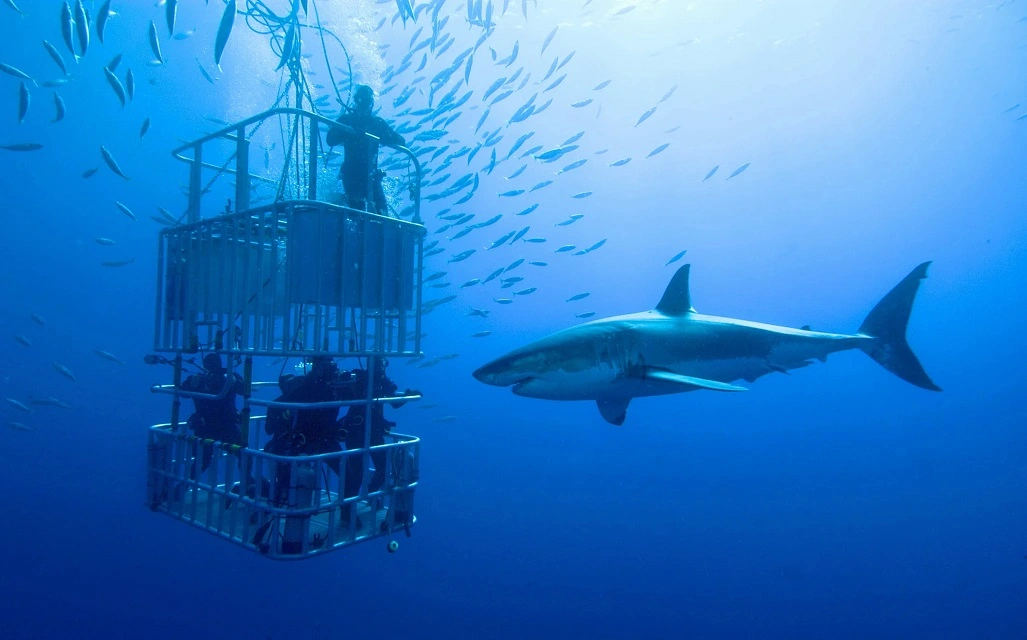 For those who do not wish to take a full dive into the water, can undergo a safe cage setting for an exhilarating experience while ensuring safety. A close encounter with more than 70 marine species including rays is beyond your imagination.
3. Shark Walker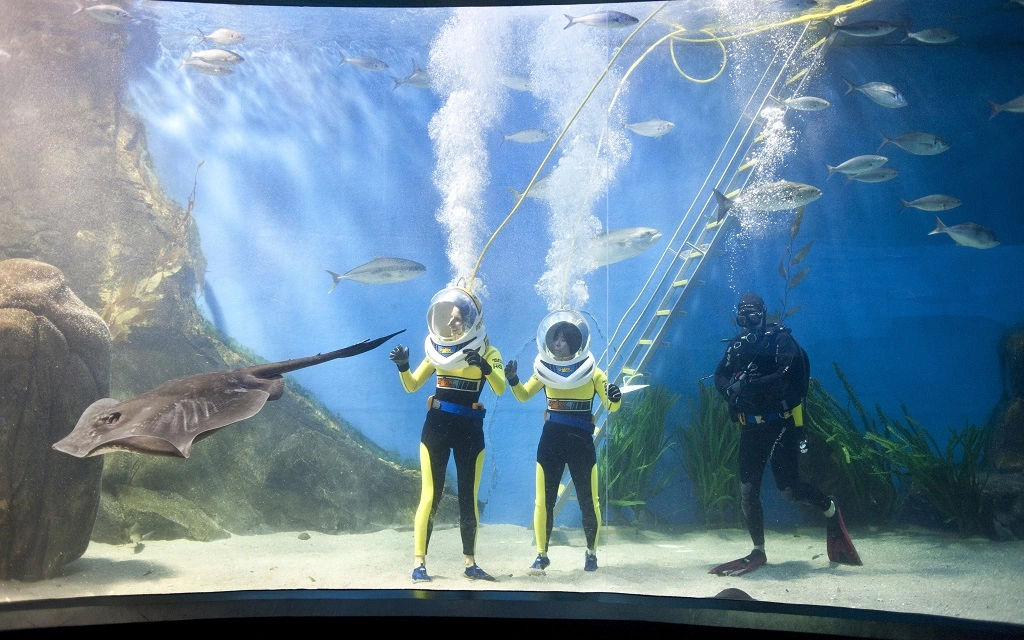 Enjoy a once-in-a-lifetime opportunity to walk with your favourite animals wearing an oxygenated helmet to help you breathe underwater.
4. Scuba diving and speciality diving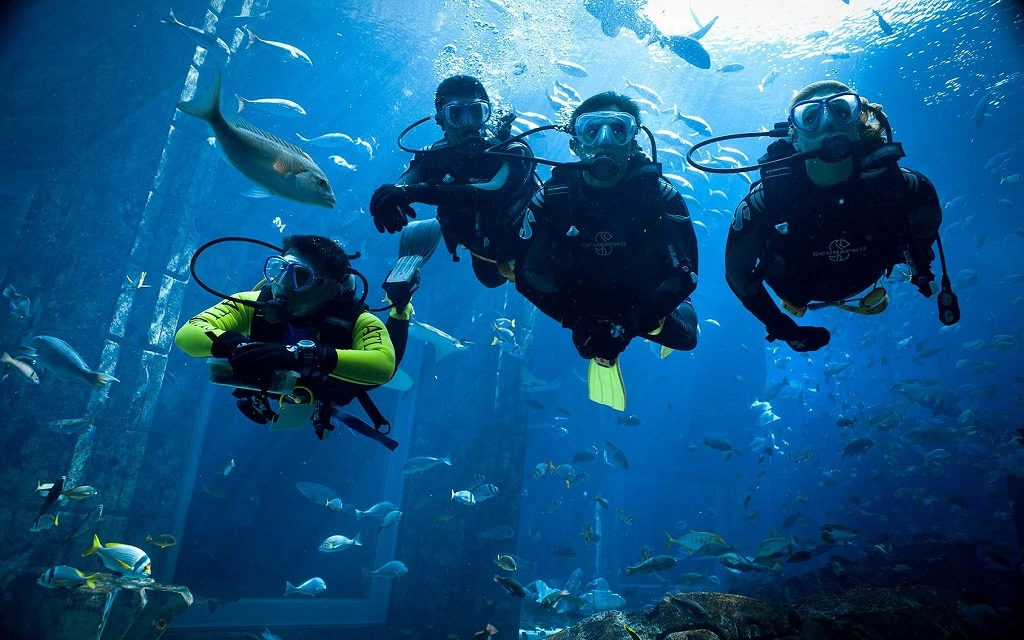 Do you want to discover what it feels like to live underwater? Well, then you must try a 2-day scuba diving course as a beginner and get a recognised PADI certification. The Diving instructor will give you quick theory lessons before you head out for your venture into a massive aquarium.
5. Glass-bottom boat rides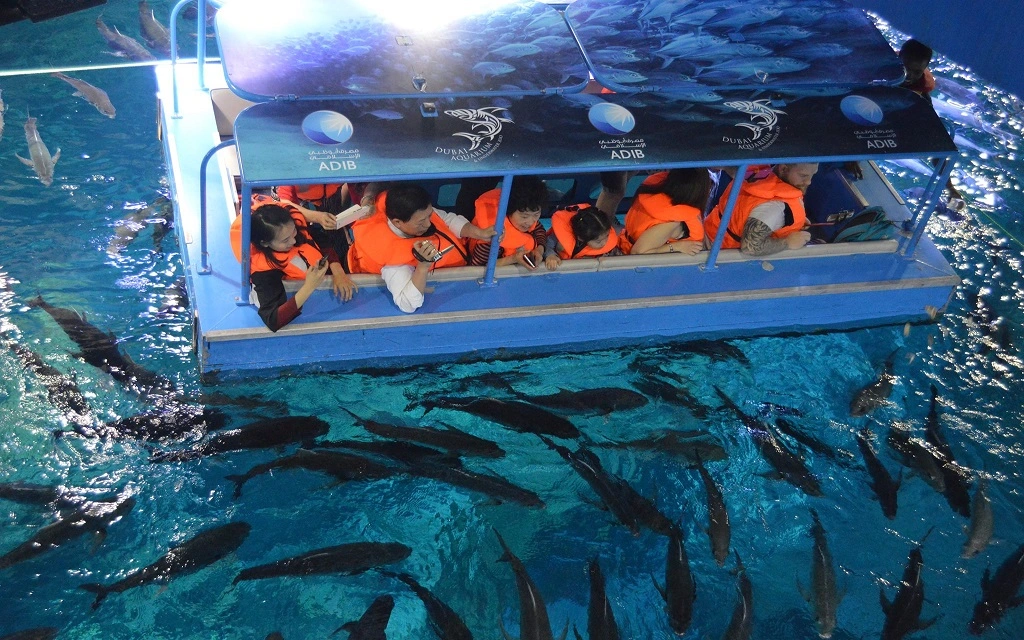 through the transparent surface, you will see an amazing underwater world of marine creatures. The 15-minute long ride gives a dazzling experience to the visitors.
6. Animal Feeding
This is an exciting element of the aquarium. As the team of divers jumps into the 10 million litre tank, thousands of these hungry animals fly through the water to enjoy dinner. Ray feeding, shark feeding, and king croc feeding is the amazing attractions of the Dubai Aquarium.
Do not forget to click pictures of this unique wonder. Ask your instructor to film your experience to share it with your friends. If you have more time on hand, you can visit the underwater zoo on level 2, which features exotic species of crocodiles, otters, penguins, and everything beyond your imagination.
Additional Educational program:
Apart from the exciting activities, the aquarium also offers education to create awareness among the visitors to preserve the species that are on the verge of extinction.
A shark preservation program that is conducted after shark feeding gives an insight of the importance of sharks in building a perfect marine ecological unit.
Under a specific program, the aquarium showcases diverse Arabian wildlife featuring the Arabian Oryx, Flamingos, Sea Turtles, and many more. The study involves how these animal species thrive in the extreme desert environment of wadis, rocky mountains, and sand dunes.
The "lunar-cyclic" lighting system adds a special theatrical effect to the ambience of the Dubai aquarium depending on the time of the day.
Dubai Aquarium Tickets:
The entry fee for Dubai Aquarium and the underwater zoo is AED 145(Rs. 2757). The ticket price varies as per the attractions and experiences you choose to see. However, kids under three years old are allowed to visit the aquarium without an entry fee. Dubai Mall aquarium also offers discounts on group visits and has special arrangements for children's birthday celebrations.
How to reach:
The location of the Dubai Mall is easily accessible through bus, train, or taxi, as it is one of the prime destinations in many visitors' itineraries.
By Metro: Metro train is the most convenient way of commuting to this place. The nearest metro station is Dubai Mall or Burj Khalifa station.
By Bus: If you are planning to arrive by bus, there are two options. Either take route 27 from Deira Gold souk station or choose route 29 from Ghubaiba bus station.
By car: You can book a cab that will drive up to the Dubai Mall or you can choose to drive up to Dubai from different parts of Dubai.
Opening hours:
The Dubai Mall aquarium is open from Monday to Sunday, between 10 AM to 11PM, except Thursday to Saturday on which it closes at midnight.
Dubai Aquarium is an absolute treat to the visitors and a gift to the world. The astonishing coral world is a wonder in itself and has its own charm. The aquatic animals have been carefully selected and nourished in a magnificent aquarium tank. Indulge into the colourful underwater world and escape from city life to enjoy the beautiful life of the aquatic animals. Sea sharks, otters, rays, and many more marine creatures will amaze you through their actions in the deep blue water.
The thrilling underwater activities offered by the world's biggest aquarium in Dubai are worth trying. Your trip to Dubai is incomplete without a visit to this popular tourist attraction. So, don't wait anymore and book your tickets today for a wonderful water expedition and dive into the world's largest suspended aquarium for an unforgettable experience.