Are you planning a trip to Dubai and looking for the best venues to make memories with the family? Don't forget to include Dreamland Aqua Park in your itinerary.
Dreamland Aqua Park, inaugurated on June 12th, 1997, is one of the largest family amusement parks and a viable location for family leisure. Dreamland Aqua Park, is one of the UAE's largest theme parks. It is nestled on the gorgeous coastline of Umm Al Quwain and gives a perfect feel to people looking to escape the hustle and bustle of city life, relax, and spend unforgettable time with their families or friends. Dreamland Aqua Park is stretched across 250,000 square meters and is covered by beautiful, bright, and planted grounds.
Dream Aqua Park – specialties
The park is open throughout the year and can accommodate 12,000 visitors per day.
With a vast collection of over 30 exciting rides, various restaurants, food shops, and much more, the park is among the most enjoyable holiday locations present in Dubai.
Within the park, there is an area called mini pet where animal lovers can indulge their passion.
Plenty of other fascinating activities like dry gaming zones, volleyball, basketball, and tennis, are available to those less interested in water rides.
Dreamland Aqua Park offers nighttime waterside camping in tents or cabanas to assist tourists to plan an immaculate short vacation.
The park's rides are arranged into three "thrill levels": low, moderate, and high to serve varying kinds of adventure lovers.
Swimsuits are available for varied age groups and sizes. Apart from swimsuits, several other shopping items including mementos, toys, and apparel are available at the park.
Once you enter Dreamland Aqua Park, you have unfettered access to all attractions.
Attractions at Dreamland Aqua Park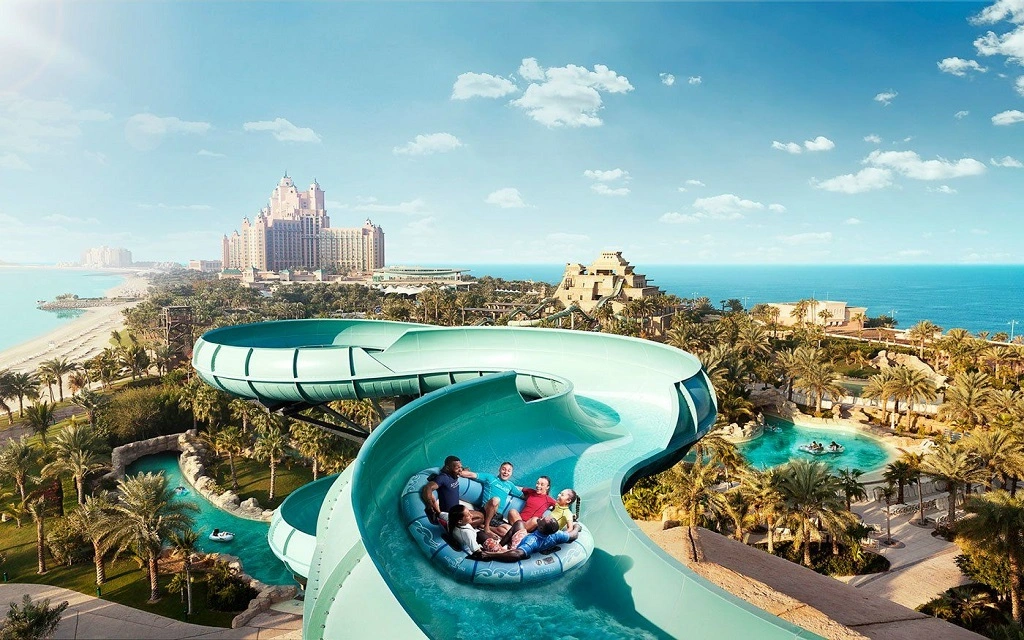 Dreamland Aqua Park include a variety of interesting features such as thrill rides, family rides, kids' areas, overnight camping facilities, restaurants serving delicious food, a mini zoo, and much more, providing people with lots of reasons to visit the fascinating locale. Among the most popular attractions at the park are
Thrill Rides
Black Hole
Twisting Dragons
Slide Five
Family Rides
Family Raft Ride
Twister
Kamikaze
Dead Sea
Kids Special
Aqua Play Kids Pool
Hippo's Island
Restaurants in Dreamland Aqua Park
Golden Kiosk
Pool Bar
Atlantis
Snack Attack
Camping Facilities
The park's nighttime waterfront camping facilities are among the park's many exciting fortes. Upon reserving camping at the park, you gain two days of access to all of the park's places of interest, waterside camping access, amenities like airbed mattresses, pillows, sleeping bags, BBQ stove and cooler, and three meals a day (breakfast, lunch, and dinner), sunbed lounges, camping tables, and chairs, night swimming in the specified pool, and many other perks. However, camping reservations are only allowed from November 1st to April 30th each year. The following is the pricing for the same.
Tents (2 adults) – AED 550 per night from Saturday to Wednesday.
Tents (2 adults) – AED 650 per night on Thursdays and Fridays.
Cabanas (2 adults) – AED 700 per night from Saturday to Wednesday.
Cabanas (2 adults) – AED 900 per night on Thursdays and Fridays.
Mini Zoo
Dreamland Aqua Park offers a mini zoo to cater to the interests of animal enthusiasts. The zoo allows us to engage with many species and take photographs for remembrance. When you've had your fill of water and slides, you can head over to the tiny zoo to learn more about the animals.
Best hotels near Dreamland Aqua Park
Palma Beach Resort & Spa
Flamingo Beach Hotel
Pearl Hotel & Spa
Best restaurants near Dreamland Aqua Park
Das Brauhaus
Thunder Road Pizza & Grill, Barracuda
Al Liwan
Seven Heights
Dreamland Aqua Park location and timings
Dreamland Aqua Park, one of the world's most popular water parks, is located in Umm Al Quwain, about 45 minutes from Dubai. The water theme park is open daily from 10:00 a.m. to 6:00 p.m. You'll have eight hours to play in the waves, ride the water slides, and see the other attractions. The convenient Dream Aqua Park location makes it very easy to get to the park. The excellent family resort is about an hour's drive from Dubai city and is easily accessible by public transportation or car.
Dreamland Aqua Park ticket price
| | | |
| --- | --- | --- |
| General (adults) | Above 120cm | AED 160/- |
| Junior (kids) | Between 120cm – 80cm | AED 100/- |
| Senior citizens | 65+ | AED 100/- |
| Infant | Under 80cm height | Free |
| Persons with disabilities | – | Free |
Planning a trip to Dreamland Aqua Park – here are a few points you must note down
Book your tickets well in advance to avoid future hassles.
You are not allowed to carry food and drinks while entering the park.
Pets and other dangerous belongings are not allowed inside the park.
Don't forget to carry a valid id while commencing the trip.
Offensive swimwear and attires are not allowed.
You need atleast 4-5 hours to give a worthwhile visit to the exciting park.
Booking once done cannot be cancelled.
Conclusion
Dreamland Aqua Park is a must-see for anyone visiting Dubai. This affordable, lightly populated waterpark is unrivalled and is a wonderful option to fill your holidays with delights and pleasure. One of the most popular attractions in Umm Al Quwain (UAQ), Dreamland Aqua Park is ideal for people of any age. If your preferred vacation comprises both land and water experiences, Dreamland Aqua Park is worth a shot.