Dubai is one of the fascinating destinations among travellers around the world. From sky-touching skyscrapers to fun-filled adventure parks, the city has mind-blowing attractions that offer a once-in-a-lifetime experience. But, have you ever thought of camping in a desert? Dubai's overnight camping in the Arabian desert can be fun for those who enjoy camping under the moonlight.
Desert camping in UAE is one of the most popular activities as it offers the best means of experiencing a star-studded night in the secluded desert of Dubai. This article will take you on a virtual tour of overnight desert camping in Dubai.
Best places for overnight desert camping in Dubai:
1. Al Qudra Lakes:
Take a half an hour drive from Dubai city, and you will be in a whole new world. Al Qudra is a popular spot for desert camping with the family. Experience distinct species of birds, including beautiful swans, lapwings, ducks, and flamingos resting in the lake's shallow waters.
Al Qudra Lake is a treat for those seeking to reconnect with nature. As the night begins to fall, witness some truly spectacular sunsets. The unpolluted skies will give you the best views of twinkling stars and complex constellations when it goes darker. Expect waking up to the morning chips of birds hiding in the bushes and trees, and ready to be fed.
2. White sands beach:
The " White sands beach is a perfect place to enjoy overnight desert camping is the "White sands beach." Located between the Fins and Wadi Shab, this place is ideal for water activities, including paddle boarding, snorkelling, diving, and fishing in emerald pools.
Pitch your tents on the sandy beach, and relax while gazing at the dark sky. The beach offers mesmerising views with crystal clear water and white sand. Look out for the sea urchins, as many tourists and locals often spot them close to the beach.
3. Acacia Forest: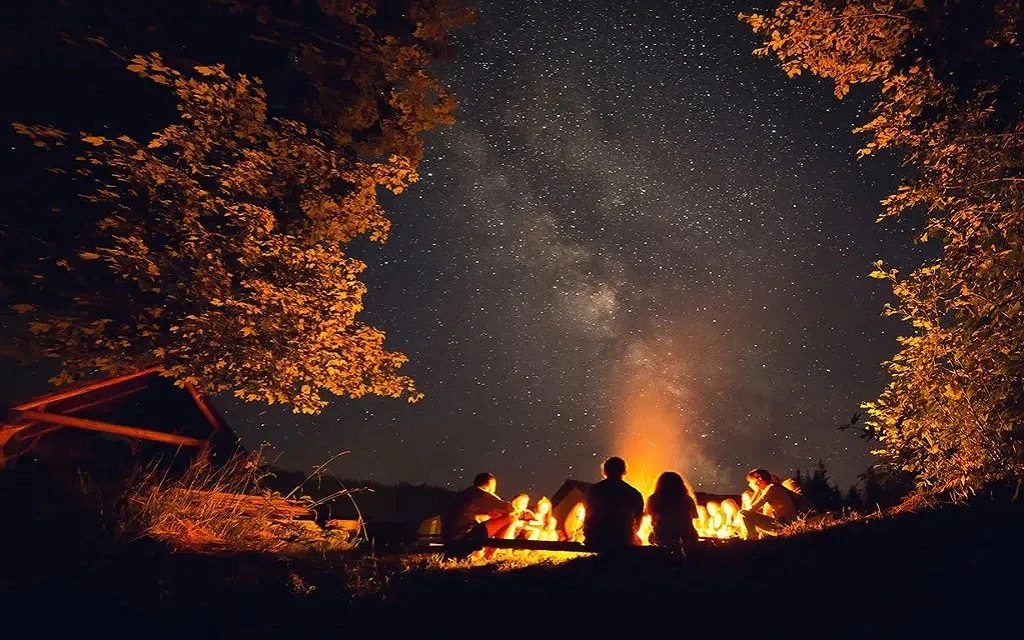 Acacia Forest is a good escape spot to disconnect yourself from the world. Unlike other camping spots in UAE, this place is located amidst the mountain ranges of Musandam mountains.
We recommend you be accompanied by a local guide or a group of tourists as it is located in an isolated area. The forest gives the best view of Jabal Al Harim, and it is usually calm at night. Although it is very close to the military firing range, tourists are advised to look out for the restriction signboards.
4. Liwa: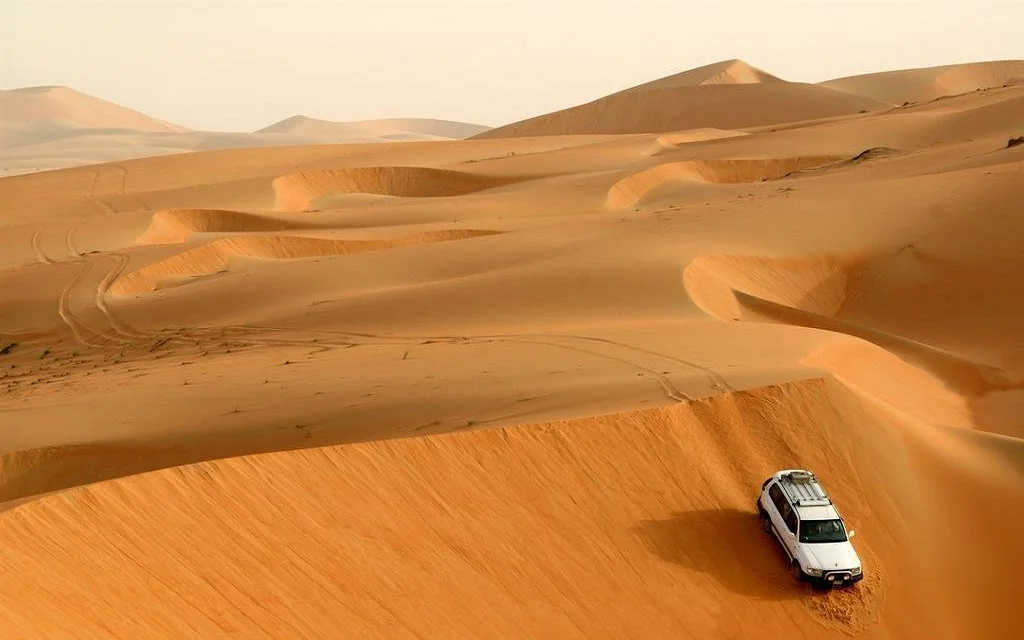 Your desert camping expedition is incomplete without visiting one of the most serene deserts in the world, which is also named "Empty Quarter." A beautiful desert located in Abu Dhabi requires an off-road vehicle to drive through the dunes.
The tourists eagerly anticipate the Desert safari in Liwa as it brings an unmatched camping experience. Get the best view of the desert horizon as the sun sets and conquer the world's tallest dunes in your SUV.
A photo with Liwa camels will be a lifetime memory of your desert camping in Liwa. Camping in Liwa calls for prior arrangements of a compass, enough water, and a tank full of petrol.
5. Fossil Rock, Sharjah:
Fossil Rock, located in Sharjah, is among the best places in UAE for night camping. The desert has an abundance of marine fossil deposits on its slopes and is hence named Fossil Rock. Located close to the city, the desert is worth visiting for fun-filled adventurous activities.
Set up your camp in the desert and wake up with a magical sunrise in the desert. From dune bashing to buggy rides, the desert offers plenty of adventurous activities for the brave ones.
6. Bedouin Camping:
Bedouin camping, located in the Wadi Rum protected area, is a luxury camping site in UAE that will give you a glimpse of Arab culture while offering spectacular views of the desert.
The Bedouin camping site is unique compared to other desert camping in Dubai, a perfect place to relax and enjoy an evening with your family. You will get everything from cushions to bonfires and barbeques for a lavish camping experience. From authentic Arab food to entertaining events, all your wishes for an overnight dream camping will be fulfilled here.
Desert guides and professionals will give you an insight into the Bedouin history and traditions. A truly eventful evening with educational tours and magnificent views makes an unforgettable night for many tourists.
Best time to go for overnight desert camping in Dubai:
Like many other Middle Eastern and Asian countries, the weather in Dubai is dry and humid for much of the year.
From November to April, the winter months are the best time for outdoor adventure in Dubai. Also, during this time of the year, you will find a clear sky with bright stars for a magical night camping.
Best tips for desert camping in UAE:
Have a good GPS and offline maps for directions.
Check if you require a government permit for camping. Short-term camping does not require a permit. However, for long-term camping, some regulations may apply.
Bring enough water with you as you are camping in the desert.
To clean up after you visit the place, always carry garbage bags.
You will need a tent, sleeping bag, a pillow, and food during your camping.
Plan ahead for a safe trip. List all the essentials you'll need for a secure and stress-free holiday.
Do's and Don't for safe camping:
Do's:
Check your mobile and other pieces of equipment
Pack warm clothes, blankets, and trekking gears
Inform your friends about the place and how to contact you in an emergency.
Wear proper footwear for walking in the desert.
Be prepared for the weather changes.
Pitch up your tents before camping as it might be difficult to set up in the dark.
Don'ts:
Camp on private property without consent.
Set up your camp at the base of the dunes.
Leave food items around, as it could invite animals and insects.
Start a fire without permission.
Camp close to the beach as it is not safe in any conditions.
Drive alone- go with a group of friends or tourists to handle breakdowns in the desert.
Desert Camping in UAE is a must if you plan your trip to Dubai. Desert camping in Dubai will amaze you with various activities, including magical stargazing, breathtaking sea views, adrenaline-pumping dune bashing, and fun camel rides. So, do not miss out on exploring the best camping spots in Dubai.