Well, well, if it isn't Dubai, the land of glitz and glamor, where towering skyscrapers kiss the clouds and luxurious hotels offer a taste of the high life. But wait, what's this? A hidden gem tucked away in the industrial area of Al Quoz? Yes, my dear reader, I'm talking about Alserkal Avenue, a cultural district that's bursting with creativity, innovation, and inspiration.
You won't find any over-the-top extravagance or flashy displays of wealth here, oh no. Instead, you'll discover a vibrant community of artists, designers, and entrepreneurs pushing the boundaries of what's possible. From contemporary art galleries to funky cafes and boutique shops, there's something for everyone at Alserkal Avenue.
So, forget about the fancy cars and diamond-encrusted everything for a moment and immerse yourself in the real heart of Dubai. Who knows, you might just find a new perspective on this incredible city.
Overview of the outstanding – Alserkal Avenue Dubai
Alserkal Avenue presents an exceptional opportunity to discover and appreciate Dubai's vibrant art scene. The brainchild of Emirati entrepreneur Abdelmonem Bin Eisa Alserkal, the Avenue was established in 2007 to bring people from all over the world together to connect over art and culture.
It goes beyond simply showcasing art. The Avenue provides artists with the opportunity to showcase their work to a larger global audience. Additionally, design studios on the premises offer services such as artwork production and framing.
The Avenue is located in the Al Quoz district within a refurbished and unique large warehouse building. Visitors can find the adaptable 'Concrete' venue that transforms into a dynamic space for art and fashion events, pop-up concerts, museum-grade exhibitions, and performing arts events.
Things to do at the Alserkal Avenue Dubai
Looking for things to do at Alserkal Avenue Dubai? Here are some of the favorite tourist activities you can do at Alserkal Avenue.
1). Explore the art galleries
Alserkal Avenue is home to several art galleries that showcase the works of both emerging and established artists. From contemporary art to photography, there's something for every art lover.
2). Attend a workshop or talk
The Avenue regularly hosts workshops and talks on various topics, from design and architecture to literature and photography. These events provide a unique opportunity to learn new skills and interact with experts in various fields.
3). Check out the design studios
Are you passionate about design? If yes, then Alserkal Avenue is a dream destination for you! This vibrant cultural district is home to several design studios specializing in different areas, including architecture, interior design, furniture design, and fashion.
Whether you're an aspiring designer or simply appreciate beautiful design, visiting the studios at Alserkal Avenue is a fascinating experience. You'll have the chance to learn about the design process, explore the latest trends, and discover new techniques and materials. So why not take a tour of these studios and see the creative minds at work? It's an experience that you won't forget!
4). Experience live performances
The Avenue's flexible event space, Concrete, hosts live performances by local and international musicians, dancers, and theater groups. These performances are a great way to experience different cultures and art forms. With its state-of-the-art sound and lighting system, Concrete creates an immersive and intimate atmosphere perfect for enjoying live performances. From up-and-coming artists to established performers, the stage at Concrete showcases the best of the art world, making it a must-visit destination for anyone interested in live entertainment. 
5). Visit the Alserkal Residency
The Alserkal Residency is a program that provides artists from around the world with a space to create and showcase their work. Visitors can tour the studios and interact with the artists in residence.
6). Shop at the boutiques
Apart from the art galleries, workshops, and performances, Alserkal Avenue also boasts several independent boutiques that offer unique and stylish clothing, accessories, and home decor items. These boutiques are an excellent destination for fashion enthusiasts looking for something extraordinary and different. The boutiques at Alserkal Avenue showcase a wide range of styles, from contemporary to vintage, and cater to different tastes and preferences.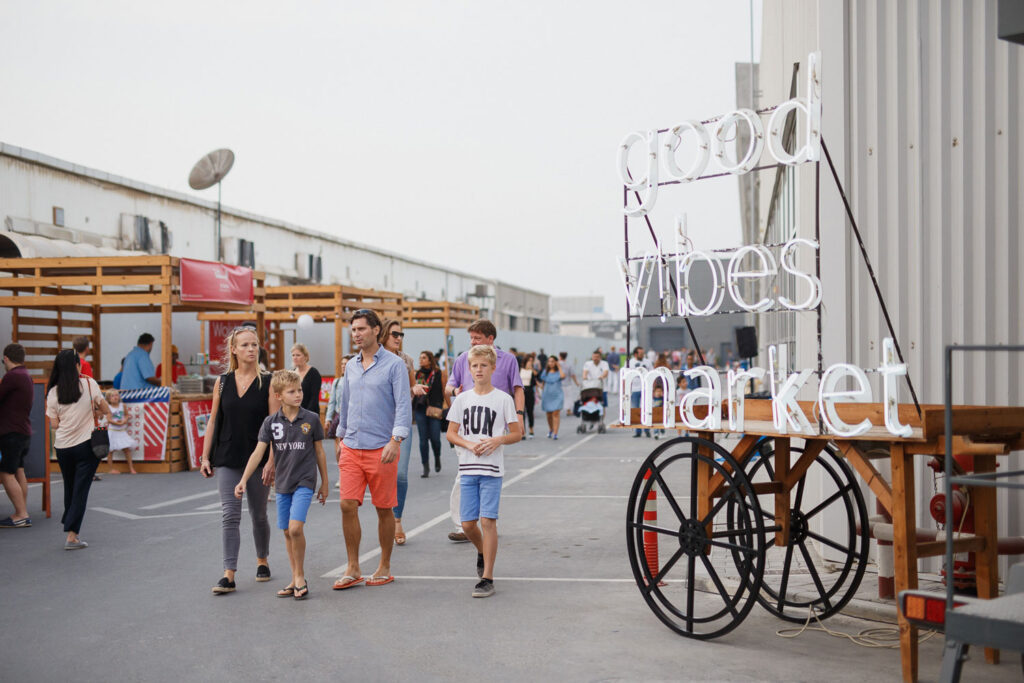 7). Dine at Alserkal Avenue Restaurants
Alserkal Avenue has several restaurants and cafes that cater to different tastes and preferences. Whether looking for a quick snack or a fine dining experience, you will find something to satisfy your cravings. Some popular restaurants include Wild & The Moon, a vegan cafe, and The Folly by Nick & Scott, a fine dining restaurant.
Popular Cafes at Alserkal Avenue Dubai
Hungry for a taste of something new? Alserkal Avenue is home to various cafes and restaurants catering to different tastes and preferences. Here are some of the popular Alserkal Avenue cafes:
1). Wild & The Moon
This vegan cafe is a popular spot for health-conscious food lovers. The cafe serves various vegan dishes, including smoothie bowls, salads, and wraps.
2). Nightjar Coffee
This specialty coffee shop offers a range of handcrafted coffee blends made from high-quality beans. The shop also offers a variety of pastries and baked goods to pair with your coffee.
3). Project Chaiwala
This Indian-inspired cafe offers a range of chai teas, coffee, and snacks. The cafe's relaxed atmosphere and colorful decor make it a great spot to unwind and enjoy a cup of chai.
4). CRUMBLE Cafe
This cozy cafe is known for its delicious desserts, including cakes, pastries, and crepes. The cafe also offers a range of savory dishes, such as sandwiches and salads.
5). The Espresso Lab
This speciality coffee shop offers a range of unique coffee blends, including cold brews and pour-overs. The shop also offers coffee-making workshops for coffee enthusiasts.
6). Appetite
The Shop at A4 Space, also known as Appetite, is a cafe that prioritises eco-friendliness. It's well-known for its selection of organic juices, sodas, and blends of coffee and tea that are all made in-house. In addition, this cafe serves a variety of healthy options, such as salads, breakfast pots that feature chia seed pudding and healthy rolls, as well as indulgent treats like chocolate and banana cookies. 
Location: Street 8, Al Quoz 1, Dubai.
Timing:
Alserkal Avenue's operational hours are from 10:00 am to 7:00 pm, Sunday through Thursday. On Fridays, the avenue remains closed.
Best time to visit Alserkal Avenue Dubai
For the best experience at Alserkal Avenue, visit between November and March when the heat and humidity are low. Don't miss the Winter Art Nights, a vibrant event where street food vendors, artists, musicians, and art educators come together in a festive atmosphere.
During this time, the outdoors is lit up, and you can immerse yourself in the local culture. Whether you're with family or friends, it's a unique and memorable experience that's not to be missed. We promise you won't regret your decision!
How to Reach Alserkal Avenue Dubai?
Alserkal Avenue is located roughly 22.5 kilometres away from Dubai International Airport and can take about 25 minutes to reach, depending on traffic. The fastest way to get there is by taking Sheikh Zayed Road/ E11. Once you pass Airport Road/ D89 and Al Khail Road/ D68, turn right onto 17th Street to arrive at Alserkal Avenue.
Wrapping Up
Alserkal Avenue is a hidden gem in Dubai that offers a refreshing break from the city's glitz and glamour. Whether you are an art enthusiast, a culture buff, or just looking for a different experience, Alserkal Avenue has something for everyone. The district's dynamic and vibrant atmosphere will inspire and energise you.
So, the next time you are in Dubai, don't forget to add Alserkal Avenue Dubai to your itinerary.